Si j'ai été capable de modifier les Ableton GUI même un peu, la conception Id une lumière pour briller comme les rayons bas du ciel sur quelques-uns des différents plug-ins qui viennent avec Ableton parce qu'ils sont des changeurs pur jeu!
Un de ceux-ci seraient l'effet Grain Delay, qui est peut-être l'un des plus sous-estimée. Son emballage plaine cache le fait qu'il est capable de créer des textures et des sons surprenants de tout ce que vous lui lancez. En fait, Ive a utilisé pour générer aléatoirement des sons qui ont laissé les gens perplexes tard en termes de comment je réellement fait de leur création.
Une technique que j'aime serait d'utiliser le Grain Delay de randomiser frappe du tambour différents en temps réel, et d'enregistrer ce processus au sein d'Ableton en utilisant la fonction Rééchantillonnage, puis éditer les sons générés aléatoirement pour toute une nouvelle série.
Laissez-moi vous montrer ce que je veux dire:
Etape 1 - Trouver un patch Synth partir
Im va démarrer avec un simple, boucle de batterie self-made que j'ai fait dans Ableton Live avec un rack de batterie. N'hésitez pas à utiliser ma boucle comme un fichier audio, ou essayer de le recréer, si vous voulez, avec votre propre batterie.
[Audio id = "9459"]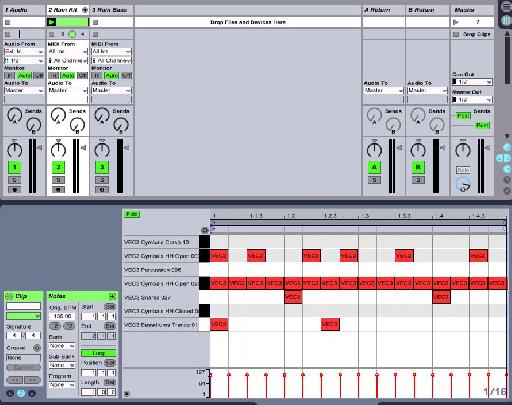 Ne sentez comme vous avez besoin de passer beaucoup de temps sur le temps, car on va le déchirer!
Étape 2 - Ajouter un effet Grain Delay
Bon, maintenant bien déposer un retard de grains sur notre piste de boucle de batterie. C'est là que le plaisir commence. Le Grain Delay est essentiellement un kit d'outils temps réel pour la destruction.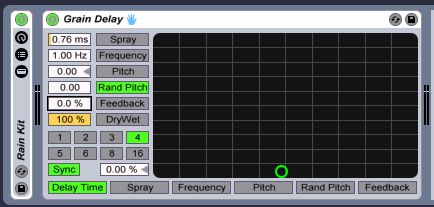 Dans cet exercice, allaient avoir le bouton Dry / Wet tout le chemin jusqu'à. Normalement, vous ne devriez pas faire cela, car lorsque vous exécutez n'importe quoi par un retard dans le mode mouillée pleine, vous obtenez une latence graves. Toutefois, ne sont que l'enregistrement ce qui faisait, et de l'agriculture de l'enregistrement des sons; nous n'avons pas besoin d'être précis!
Etape 3 - Mise en place d'une piste Rééchantillonner
Presse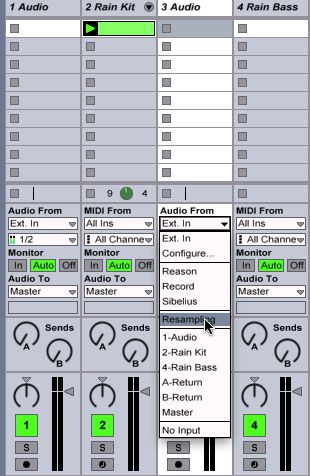 Étape 4 - Enregistrez vos Tweaks Grain Delay
Enregistrement permettra à votre suivi Rééchantillonner, et ensuite commencer à jouer votre battement de tambour. Lorsque vous êtes prêt, lancez l'enregistrement sur votre piste Rééchantillonner.
Remarque: Personnellement, j'aime aller à un rythme faible de sorte que j'ai une possibilité d'obtenir des sons individuels traités avec un peu d'espace entre les deux. Cela rend plus facile pour éditer plus tard!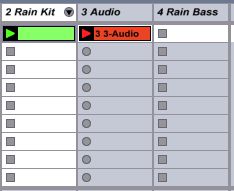 [Audio id = "9461"]

Pendant l'enregistrement, voici quelques commandes de navigation sur le Grain Delay qui font vraiment de cette session presque comme conduire:
Spray: Adds random delay changes and can be used for smearing and noise. Between this, Frequency and Random Pitch, I rely on this function for creating textures and distorted beats. At low levels with Frequency, this will slow down the speed of your signal to some degree...very cool.
Random Pitch: At low levels, adds a slight pitch randomization. At higher levels it produces random destruction. I sprinkle this in here and there as I tweak.
Frequency: The higher you increase this setting, the faster the spray and Random Pitch begin to modulate. Experiment with these three for textures, dirty beats and sounds.
Pitch: Not to be confused with Random Pitch! This setting changes the complete pitch of your incoming signal. I usually oscillate around with this.
Gardez à l'esprit, il n'ya pas de réglages parfaits sur ce point. Juste tordre et amusez-vous!
Étape 5 - Terminer et Chop, Chop!
Une fois que vous êtes fini avec votre session d'enregistrement, arrêtez l'enregistrement et la copie de votre travail dans la fenêtre d'arrangement. De là, il est facile de morceaux copie soit de votre enregistrement à leurs propres clips, faites glisser les segments en Impulse ou simple , Ou d'exporter votre enregistrement et le hacher avec votre éditeur préféré d'onde.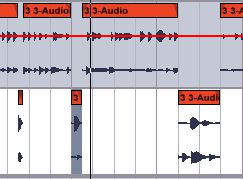 Voici deux sons que j'ai obtenu pour mon nouveau kit!
[Audio id = "9458"]
[Audio id = "9460"]

Regardez de plus près à Ableton Live avec notre gamme complète de tutoriel vidéos ici .