Se eu fosse capaz de modificar o Ableton GUI até mesmo um pouco, design Id uma luz para brilhar como os raios do céu sobre alguns dos diversos plug-ins que vêm com Ableton porque são mudanças do jogo puro!
Um destes seria o Delay Grain, que é possivelmente um dos mais subestimados. Sua embalagem simples esconde o fato de que é capaz de criar algumas texturas e sons surpreendentes de qualquer coisa que você jogue com ele. Na verdade, Ive usou para gerar aleatoriamente sons que deixaram as pessoas coçando suas cabeças mais tarde em termos de como eu realmente fiz criá-las.
Uma técnica que eu amo estaria usando o atraso de grãos para randomize várias batidas graves em tempo real, e registrar esse processo a partir do Ableton usando a função Resampling, em seguida, editar os sons gerados aleatoriamente para um novo conjunto.
Deixe-me mostrar-lhe o que quero dizer:
Passo 1 - Encontre um patch Synth Iniciando
Im vai começar com um simples loop de bateria, self-made que eu fiz no Ableton Live com um Rack de bateria. Sinta-se livre para usar o meu laço como um arquivo de áudio, ou tentar recriá-lo, se você gosta, com sua bateria própria.
[Audio id = "9459"]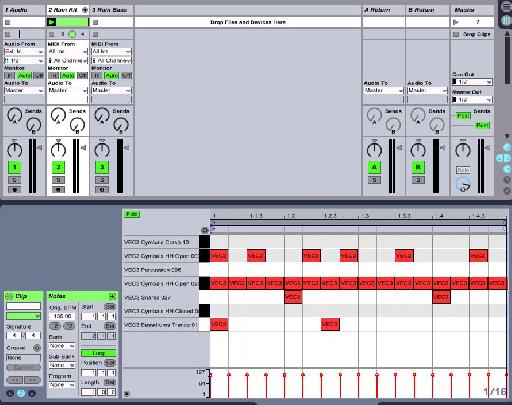 Não sinto que você precisa gastar muito tempo nas ruas, porque iriam ser rasgá-lo acima!
Passo 2 - Adicionar um Delay Grain
Tudo bem, agora bem soltar um atraso de grãos para o nosso track loop de bateria. Este é o lugar onde a diversão começa. O Delay Grain é basicamente um kit de ferramentas em tempo real para a destruição.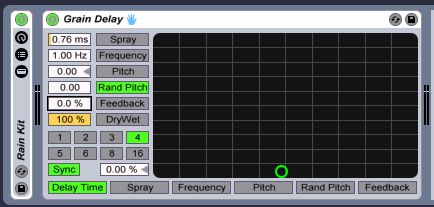 Neste exercício, iríamos ter o botão Dry / Wet todo o caminho até. Normalmente, você não faria isso, porque quando você executar qualquer coisa através de um atraso no modo molhada cheia, você começa a latência sério. No entanto, só foram gravar o que estavam fazendo, e da agricultura para a gravação de sons; não precisamos ser precisos!
Passo 3 - Configure uma Pista Resample
Imprensa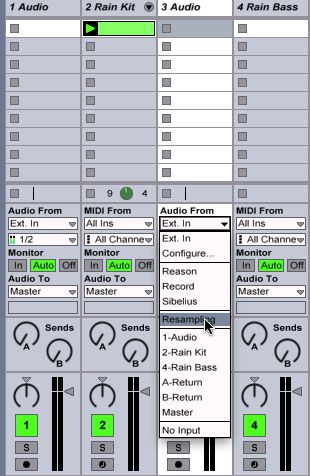 Passo 4 - Anote seus Tweaks Delay Grain
Registro permitir a sua faixa Resample, e depois começar a jogar o seu tambor. Quando estiver pronto, iniciar a gravação no seu track Resample.
Nota: Pessoalmente, eu gosto de ir a um ritmo baixo de modo que eu tenho uma possibilidade de obter sons individuais tratados com algum espaço entre eles. Isto torna mais fácil para editar mais tarde!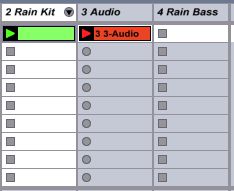 [Audio id = "9461"]

Durante a gravação, aqui estão alguns controles de navegação na Delay Grain que realmente fazem esta sessão quase como dirigir:
Spray: Adds random delay changes and can be used for smearing and noise. Between this, Frequency and Random Pitch, I rely on this function for creating textures and distorted beats. At low levels with Frequency, this will slow down the speed of your signal to some degree...very cool.
Random Pitch: At low levels, adds a slight pitch randomization. At higher levels it produces random destruction. I sprinkle this in here and there as I tweak.
Frequency: The higher you increase this setting, the faster the spray and Random Pitch begin to modulate. Experiment with these three for textures, dirty beats and sounds.
Pitch: Not to be confused with Random Pitch! This setting changes the complete pitch of your incoming signal. I usually oscillate around with this.
Tenha em mente, não há cenário perfeito sobre o assunto. Apenas ajustar e se divertir!
Passo 5 - Concluir-se e Chop, Chop!
Uma vez que você está acabado com a sua sessão de gravação, parar a gravação e cópia de seu trabalho no Arrangement View. A partir daqui, é fácil de copiar peças de sua gravação para seus próprios clipes, arraste segmentos em Impulse ou simples Ou exportar a sua gravação e pique-o com seu editor favorito onda.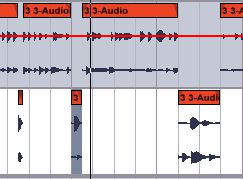 Aqui estão dois sons que eu tenho para o meu novo kit!
[Audio id = "9458"]
[Audio id = "9460"]

Dê uma olhada em Ableton Live com a nossa gama completa de tutorial-videos aqui .