I met up with renown Beatle's expert Scott Freiman for coffee the other day to chat about the Beatles. Scott is the creator of Deconstructing the Beatles —a series of multimedia presentations, lectures and courses about the composition and production techniques of the Beatles.
Scott's exclusive Ask.Video course: Deconstructing the Beatles: Chords and Progressions.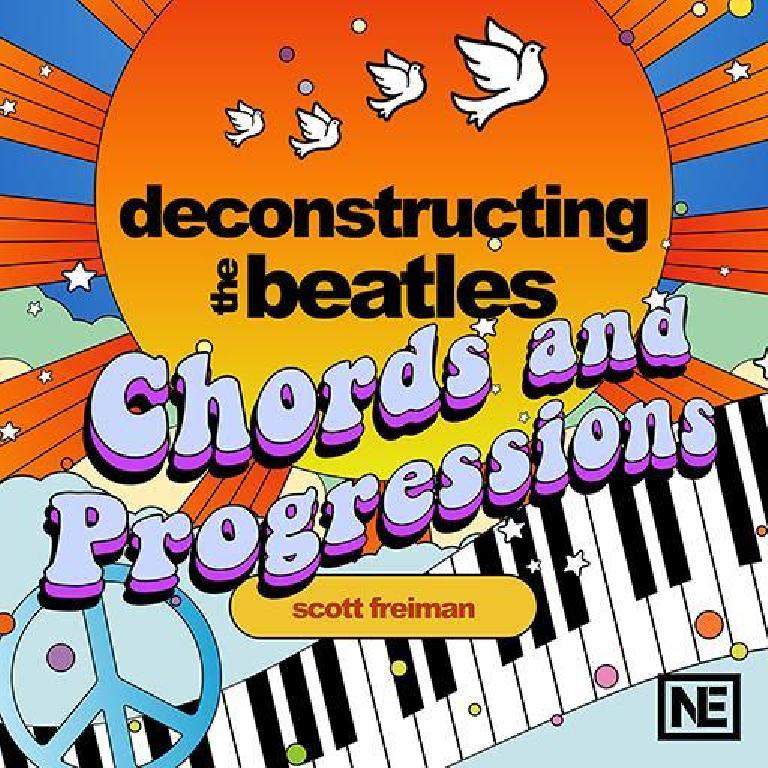 A man of many talents
Besides being a Beatles expert, Scott's adventures have led him on a many journeys: For instance, he has a degree in music from Yale. He was a finalist for Ernst and Young's Entrepreneur of the Year award for software that he created —custom software to let car dealers instantly communicate financial data with banks to help car buyers secure their loans (really!). But that's not all. Concurrently with his Beatles career he is the CEO of Qwire –a technology company that provides a cloud-based collaborative tools for music clearance, rights and cue sheet reporting
Scott knows the Beatles.
From the chord changes to the complicated tracking techniques, Scott's knowledge of the Beatles music and production techniques runs deep. He has thoroughly analyzed every Beatles song, every piece of gear, every instrument they played and every musician and producer they collaborated with and compiled all this vast information into a series of very entertain and enlightening presentations.
I once had the pleasure of travelling with Scott to London for a day at Abbey Road studios where we got a behind-the-scenes tour of studio complex. We even got to share the thrilling experience of hearing the playback of the surround recording of John Lennon's Imagine in the very studio where it was mixed!
So let's get started before we run out of caffeine!
Steve: The Beatles have become a huge part of your life. How did this musical obsession all start?
Scott: I grew up playing and listening to classical music. My parents' musical tastes centered around Broadway and Herb Alpert. When I got interested in rock and roll, I saved up to buy my first album – The Partridge Family. Thankfully, my uncle introduced me to the Beatles when I was 12. From then, I was hooked.
Steve: I know you've listened to and analyzed absolutely every Beatles' song from their opening chords to their fade-aways. You've studied the individual tracks. You researched the recording equipment and techniques and the instruments they used. You've interviewed everybody (who's still around) who was involved in these recordings. What stands out in your mind?
Scott: The thing that I learned and that continues to amaze me is how four teenagers from Liverpool became the Beatles and continued to evolve with each song and album. I also developed a great respect for the people that surrounded the Beatles and helped bring their songs to life. Obviously, their manager Brian Epstein and their producer George Martin. But also the engineers at Abbey Road who were continually pushing the limits of recording technology.
Steve: Have you ever met any of the Beatles? And, if not, what would be the first question that you'd ask Sir Paul or Ringo?
Scott: I have never had a conversation with a Beatle, although I have been within a few feet of Paul and Ringo in the past few years! I've always wanted to do what Rick Rubin did with Paul McCartney in the recently released McCartney 3-2-1 – just sit around talking music and hearing their stories.
Steve: Which song "production" of the Beatles was the most challenging to analyze from a technical point of view and why?
Scott: "I Am The Walrus" is one of the most interesting Beatles tracks to analyze because there are so many things going on in the arrangement and the production. To put the song together, the Beatles used internal bouncing (when several tracks of a tape are merged to another track) and tape-to-tape bouncing (where tracks from one four-track tape are merged to fewer tracks on a second tape). They recorded 25 takes and then bounced the 25th take back into the earlier take 17. And then they mixed in a radio broadcast of King Lear live during the final mix. The song, written primarily by John Lennon, was pretty simple to start. But the arrangement got quite wacky by the time they were done with it. I finally got to hear George Martin's vocal arrangement for the Mike Sammes Singers in isolation, and it really is wonderful.
Steve: It occurs to me that you soon might be running out of Beatles albums to deconstruct! So where do you go from here?
Scott: I've got one more album to deconstruct, and that is Let It Be. I am not sure where this journey will take me after that, but I would love to dive into some of the Beatles' key solo albums like Band On The Run, Imagine, and All Things Must Pass. And there are other great albums from other artists that would be fun to deconstruct. All I can say is stay tuned!
Steve: I heard that you're setting up your own "in-person" live Beatles tour in England. Tell us more!
Scott:
My friend and fellow Beatleologist Kenneth Womack and I have been hosting a monthly "master class" on the Beatles (
fabfourmasterclass.com
). We started it near the beginning of the pandemic, and it built quite a following. Many of our regular attendees suggested that Ken and I lead a Beatles tour, and that's what we are doing. In August of 2022, we'll be leading 30 people on an extraordinary Beatles tour of London, Liverpool, and New York. We'll include tours of the Beatles boyhood homes, the Cavern and Casbah Clubs, Abbey Road Studios, and the Ed Sullivan Theater along with many other Beatles sites. And we'll be accompanied by an all-star roster of Beatles experts along the way, including Beatles engineer Ken Townsend, author Mark Lewisohn, and the expert on the Beatles in Liverpool, David Bedford.
Steve: Tell us about your latest project.
Scott:
I had a fantastic time creating my latest two films,
Deconstructing A Hard Day's Night
and
Deconstructing Help!
I've always loved this period of Beatles history (1964-1965), and it was really fun to dive into the outtakes and uncover the story behind the songs. Analyzing the incredible chord changes in songs like "And I Love Her" and "Things We Said Today" confirmed how quickly the Beatles were progressing in their songwriting. I also researched the story of how the Beatles ended up breaking in America. Both lectures are out on DVD and streaming now (
deconstructingthebeatles.com
), and I'll be doing live presentations of both lectures as theaters start to open back up.
Just as we finished our coffee and headed out of our favorite cafe, Scott's cell phone lit up and as he waved goodbye I could have swore I heard him say, "Hey Paul what's new?" Hmmm, I wonder...
Scott Freiman and Steve Horelick at Abbey Road Studios