Giorgia Angiuli Explores Sound & Color, On Creating 432 Hz Sounds in Ableton Live For Sylphyo
Multi-instrumentalist, performer, producer and sonic explorer, Giorgia Angiuli reveals how she brings healing frequencies into modern productions and designing meditative sounds for Sylphyo.
AskAudio: You've recently become involved with an unusual instrument / MIDI controller, Sylphyo. Can you tell us more about it?
Giorgia Angiuli: Sylphyo is an electronic wind instrument with built-in sounds and also a MIDI controller; it is wireless and this is fantastic because, especially on stage, it gives you a lot of freedom.
It is designed to replicate the air flow of a wind instrument and this gives you the feeling of playing an acoustic instrument. Thanks to its gestures, you have many possibilities and you can create special sounds even if you are not a trained musician.
You've begun talking openly about synesthesia and how you love to feel music in terms of colours. Have you always had a relationship between the two and how does it influence how you create music?
Music to me has always been a handsome multi-dimensional container. But, to be honest, I always have felt weird about the way I was perceiving music and I never wanted to talk about this experience in public, I thought it was a kind of disease!
In the last few months I started to read several books on neuroscience and I understood that there is nothing wrong in having this perception. It is a physiological phenomenon dependent on the integrity of certain areas of the cortex and the connection between them. 1 person in every 2,000 has synesthesia.
Since I was kid when I was listening to the music, I used to imagine immediately specific and vivid colors and it happened also in the opposite way..I mean, If I saw yellow I was hearing a specific harmonic key. This happens to me also with art and paintings. For example when I look at "The Sunflowers" by Van Googh, I clearly hear in my head "Four Seasons" by Vivaldi (my Mum used to listen to classical music every day).

Recently, I finally felt comfortable enough with myself and I started sharing on my social channels some content related to the topic of synesthesia and a few days ago I got 2 messages from fans asking me for advice, because all their friends and family considered them crazy. Actually it is not easy at all to explain this experience to other people but I learned that we should not be afraid to be ourselves at the fullest.
What influenced you co-creating the pink Sylphyo, Giorgia Angiuli edition?
I've supported the brand since the beginning because I fell in love with this instrument and I played it in many shows … then we decided to make a colorful edition and I created 5 sounds for them in 432 Hz. I will soon make new sounds. Actually, I started to use it also for breath sound meditation and It is so relaxing. I remember few years ago my friend told me that he was learning bansuri flute and he was spending a few hours every day to feel more relaxed. This sounded really weird to me and made me very curious so I tried with Sylphyo and it really worked, that's why I wanted to share with people this nice experience.
We made the Giorgia Angiuli's edition in pink and baby blue; I know that many people simply don't care about the aesthetics and the color of musical instruments but, I feel much more comfortable in playing something with a design that I love. It's like wearing a colorful t-shirt or eating a dish with a nice colorful dish composition, all the little things mean a lot considering that playing music is an immersive experience.
How did you create the sounds for it?
I used Ableton Live and I chose these names for my sounds: Fluid Heart, Purple Choirs, Ancestral, Blue Hugs and Pink Sky because they perfectly described my moods.?I first created these sounds for myself, to slow down my thoughts. I can play many instruments but I have never learned how to play wind instruments. That's why I love Sylhpyo because It is effective but at the same time very easy and accesible.
I created these sounds only with Ableton's built-in effects like Resonator, Delay, Flanger (as Metallizer), Reverb and the LFO from Max. Sylphyo has many gestures that means you can map it, having infinite possibilities… you can change the sound with: breath control, shaking ,elevation control, inertia mode, roll, moving you fingers on the slider etc .
During my meditation it works well also with the concept of stillness because Sylpho can be very sensitive so if I breathe and I move my body too much I will immediately hear this change the sound and I can then correct my posture.
432 Hz vs 440 Hz tuning is turning into a phenomenon amongst sound and music healing circles. Can you tell us more about how 432 Hz tuned instruments and sounds affects you?
When Covid-19 arrived my life changed completely and I started having panic attacks, feeling a lot of anxiety around me, so I decided to follow an online course about sound therapy and I became aware how to find a new balance with sounds.
432 Hz is a peaceful tone and there are several scientific studies that show its significant calming effects: decreasing sympathetic nervous system activity, reducing anxiety, blood pressure (BP), heart and respiratory rate and has positive effects on sleep via muscle relaxation and distraction from thoughts.
The ancient Greek scientist and philosopher, Pythagoras, was one of the first to highlight the impact of music on the human body, introducing the concept of "musical medicine"; as he wrote: "Every melody synchronizes the operation of the internal organs. This happens because our bodies are a source of energy and electromagnetic waves given frequency, as well as the sounds of music are also waves. They come into resonance with them and the 'settings' of our bodies change. When the melody sounds, its acoustic field is imposed on the body's acoustic field, and it turns out that we experience a kind of cell massage.
Wind Instruments, for example, are said to purify the bronchi and improve the respiratory system, as well as having a positive effect on blood circulation; playing the piano harmonizes the mind, clears the thyroid leads to normal operation of the genito-urinary system, etc…
So I feel very grateful for becoming involved in this area of research and I would suggest everyone to choose the path of energy, because we are made of energy and the frequencies of sound can change matter.
What do you need to do, on a practical level, to create music in 432 Hz in Ableton Live?
It is really easy to create sounds in 432 Hz with Ableton Live, it depends on the plug-in you are using …here are some examples:
For Collision look under the Resonator Parameter and change Fine Tune to -32c
For Analog change the Detune Setting to -0.32 for the Oscillator.
For Electric look in the Global Section and change the Detune to -0.32
For Sampler look for the Detune Parameter and change this to -32ct
For Simpler look for the Detune Parameter. Change this to -32ct
Operator is a little different from the others, so you will need to lower the Coarse Knob first and then raise the Fine Tune Parameter to bring it back up just below the original octave.
At the end of each plug-in chain I always use the tuner to check if it is really in 432 Hz (You will need to change the reference from 440 to 432 Hz).
Can you tell us more about the creative aspects of designing sounds for the Sylphyo?
As I mentioned before, I primarily started to design all these sounds for myself. I mean for my daily sound meditation practice. They are mystical, dark and relaxing. I also recorded and sampled my voice and I transformed it in a synth as a choir pad.
I created them being focused on the possibilities of the Sylphyo's gestures, here a full description:
FLUID HEART: Let your heart fly with this aerial and resonant sound. Depending on your mood, go from softness to strongness in one gesture. Tuned in 432 Hz.
SLIDER: Add snoise
BOTTOM EDGE SLIDER: Lenghtens notes
ELEVATION: Brightens the timbre
ROLL: Adds resonance to the filter
PURPLE CHOIRS: These choirs from another world will color your tunes in purple. Tuned in 432 Hz.
SLIDER: Increases LFO amount
BOTTOM EDGE SLIDER: Adds delay
ELEVATION: Increases the LFO frequency
ROLL: Modifies the cutoff frequency of the filter
ANCESTRAL: Take a trip to the land of Aborigines with this didgeridoo sound universe. Tuned in 432 Hz.
SLIDER: Adds reberb
ELEVATION: Increases LFO level
ROLL: Modifies cutoff frequency of the filter
BLUE HUGS: If you feel blue, come in my arms, my sound will soothe you. Tuned in 432 Hz.
SLIDER: Adds delay
ELEVATION: Increases the LFO level
ROLL: Modifies the cutoff frequency of the filter
PINK SKY: This is the right moment to look at the sky, the light is pink and the clouds are flying. Tuned in 432 Hz.
SLIDER: Adds crunch
ELEVATION: Increases the vibrato level
ROLL: Modifies the vibrato frequency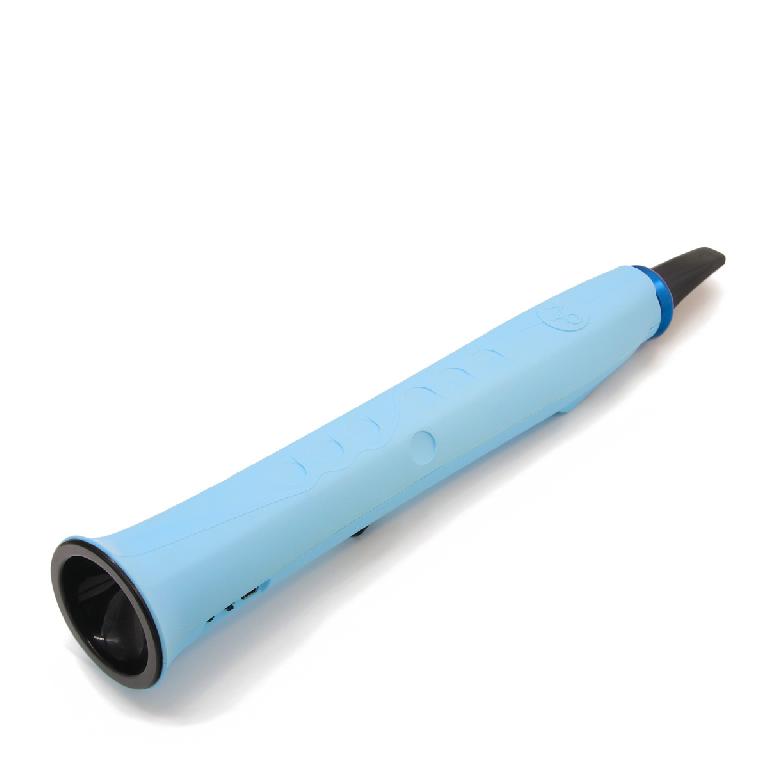 Did you have any challenges when translating instruments or sounds that might not be normally connected with a wind-style instrument?
As Sylphyo is a hydrid instrument it gives you the feeling of playing a breath or wind instrument and this, in itself, is relaxing and intriguing. All the sounds I created for it evoke electronic wind-style sounds.
Now you're interested in the way 432 Hz sounds affect the body and mind are you incorporating these into your normal electronic productions?
Yes! I started to include beneficial frequencies (432 Hz is just one of the great "magic" frequencies) and also some binaural beats; I know it is not an easy challenge but I would like to play them in techno productions …It is common connecting healing music with ambient music but I think that also techno can be hypnotic and very relaxing so, with the right intention, it can have a healing effect.
What do you have planned for the rest of 2021, even though it's very difficult to plan in this time of Covid?
Unfortunately it is still impossible to make plans, of course live music is suffering a lot and I really hope to be back on stage very soon. We need music events to raise our vibration, sharing emotions all connected in the name of life and in the name of our social nature.
Recently I did a live stream music event from Firenze, from the Torre di Arnolfo, 95 metres high, and I hope that the sky listened to my notes as a prayer for letting the music scene come back very soon .
More about Sylphyo: Here
More about Giorgia Angiuli: Facebook | Instagram | SoundCloud | YouTube | Spotify |