Wenn ich konnte das ändern Ableton GUI sogar ein wenig, Id-Design ein Licht zu leuchten unten wie Strahlen vom Himmel auf ein paar der verschiedenen Plug-Ins, die mit Ableton kommen, weil sie reine Spiel-Wechsler sind!
Einer von ihnen würde die Grain Delay, was möglicherweise einer der am meisten unterschätzten werden. Sein neutraler Verpackung verbirgt sich die Tatsache, dass es in der Lage, einige erstaunliche Texturen und Sounds von allem, was Sie an ihm werfen zu schaffen. In der Tat, Ive es verwendet, um zufällig zu erzeugen Klänge, die Menschen sich am Kopf kratzen später in Hinblick darauf, wie ich eigentlich tat ihnen zu schaffen verlassen haben.
Eine Technik, die ich liebe wäre mit dem Grain Delay, verschiedene Drum-Hits in Echtzeit zufällig, und notieren Sie diesen Prozess innerhalb Ableton mit dem Resampling-Funktion bearbeiten Sie dann die zufällig generierten Sounds für eine ganze Reihe neuer.
Lassen Sie mich Ihnen zeigen, was ich meine:
Schritt 1 - Finden Sie einen Starting Synth Patch
Im gehend, beginnen mit einem einfachen, selbst gemachten Drum-Loop, dass ich in Ableton Live-gemacht mit einem Drum Rack. Fühlen Sie sich frei, meine Schleife als Audio-Datei zu verwenden, oder versuchen Sie neu zu erstellen, wenn Sie wollen, mit Ihrem eigenen Trommeln.
[Audio id = "9459"]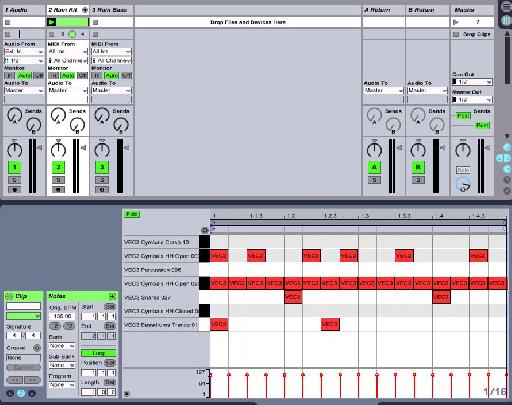 Lassen sich wie Sie zu viel Zeit auf dem Schlag zu verbringen, da sein würden reißen es brauchen!
Schritt 2 - Hinzufügen eines Grain Delay
Okay, nun auch Drop eine Grain Delay auf unsere Drum-Loop zu verfolgen. Hier beginnt der Spaß. Das Grain Delay ist im Grunde eine Echtzeit-Tool-Kit für die Zerstörung.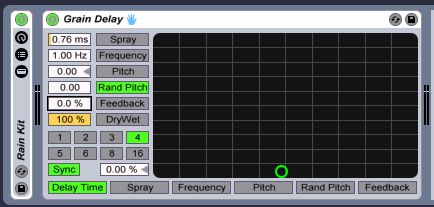 In dieser Übung wollten die Dry / Wet-Regler ganz nach oben. Normalerweise werden Sie wouldnt dies zu tun, denn wenn man etwas laufen durch eine Verzögerung in vollen nassen Modus, bekommen Sie es ernst Latenz. Allerdings wurden nur aufnehmen, was taten, und die Landwirtschaft die Aufnahme von Ton, wir brauchen nicht zu genau!
Schritt 3 - Einrichten eines Resample Spur
Drücken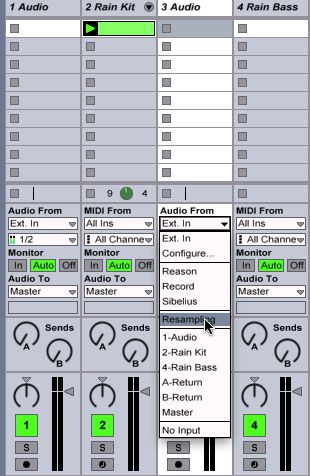 Schritt 4 - Nehmen Sie Ihre Grain Delay Tweaks
Aufnahme aktivieren Sie Resample Spur, und starten Sie die Wiedergabe Ihrer Trommel schlagen. Wenn Sie fertig sind, starten Sie die Aufnahme auf Ihrem Resample verfolgen.
Hinweis: Ich persönlich mag auf niedrigem Tempo zu gehen, so dass ich eine Möglichkeit, sich einzelne Töne mit etwas Platz dazwischen verarbeitet haben. Das macht es einfach für die Bearbeitung später!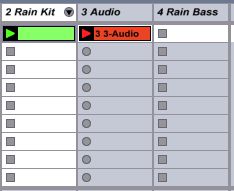 [Audio id = "9461"]

Während der Aufnahme, hier sind einige Steuerelemente zur Navigation auf der Grain Delay, die wirklich mit dieser Sitzung wie das Fahren:
Spray: Adds random delay changes and can be used for smearing and noise. Between this, Frequency and Random Pitch, I rely on this function for creating textures and distorted beats. At low levels with Frequency, this will slow down the speed of your signal to some degree...very cool.
Random Pitch: At low levels, adds a slight pitch randomization. At higher levels it produces random destruction. I sprinkle this in here and there as I tweak.
Frequency: The higher you increase this setting, the faster the spray and Random Pitch begin to modulate. Experiment with these three for textures, dirty beats and sounds.
Pitch: Not to be confused with Random Pitch! This setting changes the complete pitch of your incoming signal. I usually oscillate around with this.
Denken Sie daran, es gibt keine perfekte Einstellung zu diesem Thema. Nur zwicken und Spaß haben!
Schritt 5 - Fertigstellen und Chop, Chop!
Wenn youre mit Ihren Aufnahmen fertig sind, stoppen Sie die Aufnahme und kopieren Sie Ihre Arbeit in der Arrangement-Ansicht. Von hier aus ist es einfach, kopieren Sie entweder Stücke Ihrer Aufnahme um ihre eigenen Clips per Drag-Segmente in Impulse oder Simpler , Oder exportieren Sie Ihre Aufnahme und hacken Sie es mit Ihrem Lieblings-Wave-Editor.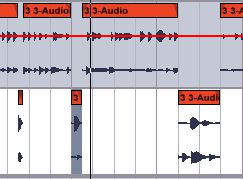 Hier sind zwei Töne habe ich für mein neues Kit!
[Audio id = "9458"]
[Audio id = "9460"]

Werfen Sie einen genaueren Blick auf Ableton Live mit unserer vollen Palette von Tutorial-Videos hier .