Se fossi in grado di modificare il Ableton GUI anche un po ', il design Id una luce a brillare giù come i raggi dal cielo su alcuni dei vari plug-in che vengono con Ableton perché sono cambiavalute gioco allo stato puro!
Uno di questi sarebbe il ritardo grano, che è forse uno dei più sobrio. Sua confezione pianura nasconde il fatto che è in grado di creare alcune texture sorprendenti e suoni da tutto ciò che ti buttare a questo. In realtà, Ive ha usato per la generazione casuale suoni che hanno lasciato la gente a grattarsi la testa avanti in termini di come Io in realtà li creano.
Una tecnica che amo sarebbe utilizzando il Ritardo Grain di randomizzare vari colpi di batteria in tempo reale, e registrare questo processo dall'interno Ableton utilizzando la funzione di ricampionamento, quindi modificare i suoni generati in modo casuale per un set tutto nuovo.
Lasciate che vi mostri quello che voglio dire:
Fase 1 - Trovare una Patch Synth partire
Im intenzione di iniziare con un semplice self-made loop di batteria che ho fatto in Ableton Live con un Drum Rack. Sentitevi liberi di usare il mio ciclo come un file audio, oppure prova a ricreare, se volete, con la vostra batteria stessa.
[Audio id = "9459"]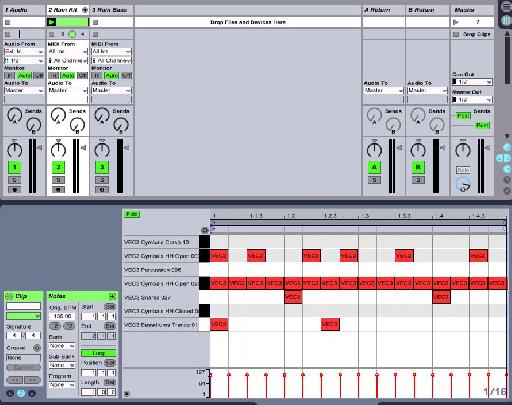 Non sentire come è necessario spendere un sacco di tempo sul beat, perché stavano per essere lo strappo in su!
Fase 2 - Aggiungere un ritardo grano
Bene, ora ben cadere un ritardo di grano sul nostro traccia drum loop. È qui che inizia il divertimento. Il ritardo Grain è fondamentalmente un kit di strumenti in tempo reale per la distruzione.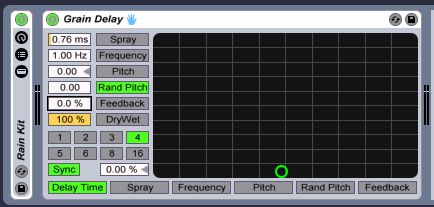 In questo esercizio, stavano per avere la manopola Dry / Wet tutta la strada fino. Normalmente, si wouldnt fare questo, perché quando si esegue qualcosa con un ritardo in modalità completamente bagnato, si ottiene la latenza serio. Tuttavia, sono stati solo registrare quello che stavano facendo, e l'agricoltura per la registrazione suoni; noi non è necessario essere precisi!
Fase 3 - Impostazione di una traccia Ricampionamento
Stampa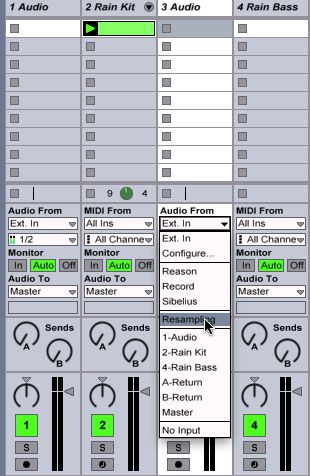 Fase 4 - Registra i tuoi Tweaks ritardo Grano
Attivare per la registrazione la traccia Resample, e poi iniziare a giocare il vostro colpo di tamburo. Quando si è pronti, avviare la registrazione sulla traccia Resample.
Nota: Personalmente, mi piace andare ad un ritmo basso in modo che ho una possibilità di ottenere suoni individuali elaborati con un pò di spazio in mezzo. Questo lo rende facile per la modifica più tardi!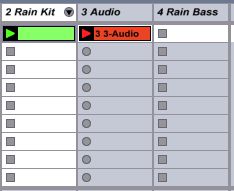 [Audio id = "9461"]

Durante la registrazione, ecco alcuni controlli di navigazione sul ritardo grano che fanno davvero questa sessione quasi come guidare:
Spray: Adds random delay changes and can be used for smearing and noise. Between this, Frequency and Random Pitch, I rely on this function for creating textures and distorted beats. At low levels with Frequency, this will slow down the speed of your signal to some degree...very cool.
Random Pitch: At low levels, adds a slight pitch randomization. At higher levels it produces random destruction. I sprinkle this in here and there as I tweak.
Frequency: The higher you increase this setting, the faster the spray and Random Pitch begin to modulate. Experiment with these three for textures, dirty beats and sounds.
Pitch: Not to be confused with Random Pitch! This setting changes the complete pitch of your incoming signal. I usually oscillate around with this.
Tenete a mente, non ci sono le impostazioni perfette per questo. Basta modificare e buon divertimento!
Fase 5 - Fine e Chop, Chop!
Una volta che youre finito con la sessione di registrazione, interrompere la registrazione e copiare il vostro lavoro nella Arrangement View. Da qui, è facile sia pezzi copia della registrazione per i loro propri clip, trascinare i segmenti in impulsi o semplici , O esportare la registrazione e tritarlo con il vostro editor preferito onda.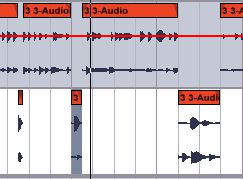 Qui ci sono due suoni ho avuto per il mio nuovo kit!
[Audio id = "9458"]
[Audio id = "9460"]

Date un'occhiata più da vicino a Ableton Live con la nostra gamma completa di tutorial video .