Download Primary for free from zemaGamez here.
Ask: For those who don't know, tell us what Primary is.

Martin Sitter: Primary is a puzzle game by zemaGamez. It falls into the tradition of a match puzzle game where you match colors to make lines or different patterns to pop the pieces off the board and get new pieces on. But, unlike other match games, Primary lets you mix primary colors to make secondary colors. It forces your mind to think through multiple dimensions as you play!
Allison Cociani: And it's super fun. Really fun to play. There's also a great gang of art school characters that you'll get to know as you play through levels, which makes the game very personal and more interesting to artsy adults like me than games like Candy Crush Saga which are really aimed at kids.
Ask: The sound and music in your previous games, Finger Ninjas: Zombie Strike-Force and Bucket Dan, are very well integrated with the visuals and overall feel. When do you start considering the sonics when developing a game?
MS: With my audio background, the sound design aspect of any game we make is something that's extremely important. It's very handy that I have one of the best sound designers in the world right here'"my good friend Allison Cociani. As far as making the soundtrack we weren't worried as we knew it'd be great right out of the gate. We gave Allison an idea of the types of sound we wanted and let her run with it. With Primary we wanted it to be very uplifting in contrast to Finger Ninjas which was modeled after the sound of ancient Japan, so lots of taiko drums and rhythms and deep, ancient sounds. Primary was a completely different thing for Allison to do and we think she just nailed it.
AC: There were a few pieces in Primary where we leaned a little bit towards the dark side. Especially in the trickier levels. Maybe not dark overall, but in terms of it being uplifting we did explore some darkness too.

Mark (zemaGamez CEO) and Martin basically showed me their ideas and I listened to different samples and sounds and started putting together combinations of instruments, creating little blips and sending them off until we agreed upon one. We then used that as a base for the rest of the pieces.

"With Primary we wanted it to be very uplifting in contrast to Finger Ninjas which was modeled after the sound of ancient Japan."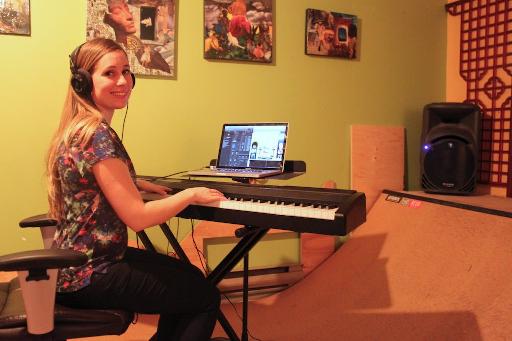 Alison Cociani caught working on the soundtrack to Primary.
Ask: At what point did you start to match the visuals of the game play with the sounds you were creating?

AC: Mark sent me some images of what the game and the characters would look like. So I was able to make unique sounds for the different characters in the game, and think about who they are and what they do.

Ask: Which character stands out for you in the game?

AC: Hans was more minimal - the German minimalist and we had to prescribe him a song that really made the mundane uniformness of his character interesting.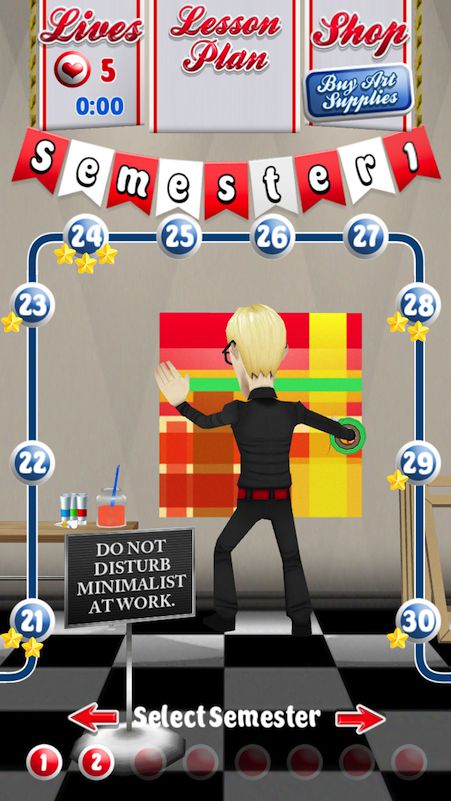 The characters make an interesting backdrop to an addictive game and influence the soundtrack for Primary.
Ask: When I was playing - and my goodness this is an addictive game, the music blends into that background. Yet these are loops?

AC: They are loops. It's a little tricky because all the instruments are classical so to loop the pieces without them clipping off at the end and sounding bad is a bit of a puzzle in itself. Creating a song that can loop on itself that's not too irritating is a challenge.

"The challenge for Allison was to make loops that acted like loops but could account for this tiny little glitch that you get towards the end of the file. I think she pulled it off brilliantly."
MS: From a technical aspect, when you're creating loops for video games, you're always going to be compressing to formats like MP3 or AAC. The way an MP3 compression is put together, you can never actually make a perfect loop as there's always a little trail off at the end of the file, and this is always going to create somewhat of a glitch no matter how tightly you try to trim the loop. The challenge for Allison was to make loops that acted like loops but could account for this tiny little glitch that you get towards the end of the file. I think she pulled it off brilliantly.

AC: Yes, you have to be aware of how many notes you put at the end of the phrase, where they sit and how long each one resonates for. So, when the loop returns to the beginning, you don't feel like you're cutting it off or skipping a beat or creating a hiccup.

Ask: Martin, are there file types which can be looped seamlessly?

MS: The only one I've found is IMA 4:1. But that's only 4 to 1 compression, and when you're making video games, compressing things is one of the most important factors. For example, when you're making an iPhone game, its size has to be less than 50 MB in order for it to be downloadable over a cellular network. So every byte counts.

Ask: What proportion of visuals to audio do you find works with zemaGamez titles?

MS: Well, as in all other areas, sound considerations always come last. So, once you compress all your visuals and game assets then whatever you have left over is what you'll squeeze your audio into. Our full soundtrack for this game compressed to less than 7 MB, which is pretty typical for our games.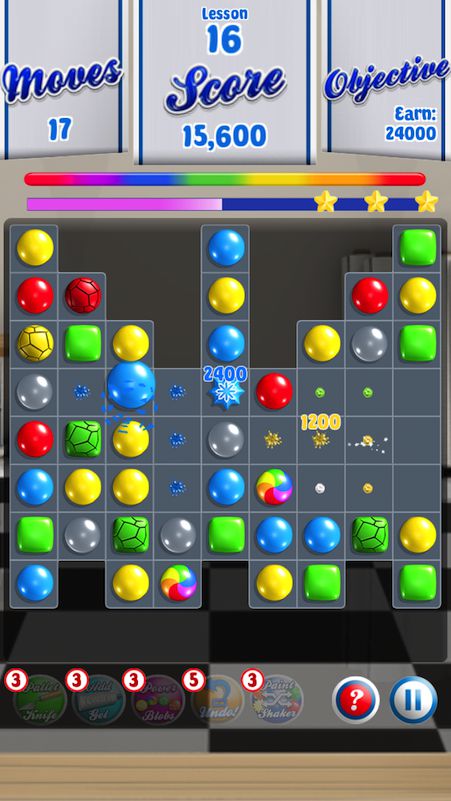 Primary is notoriously addictive!
Ask: Allison, what software and hardware did you use for Primary?

AC: I used Logic Pro and my trusty East West samples, which for this style is perfect. It has a large acoustic, symphonic library. It has everything I needed and with my Korg SP-170 keyboard I was good to go.

Ask: What was your process for creating music loops for Primary?

AC: I sat down, gave myself a moment and started playing something. Usually I began playing the first thing that came to me and just went for it. I started creating around it, thinking of it from beginning to end and tried to think through to the end so it could grow and evolve naturally.

Then I'd send the rough copy to Mark Stope, CEO of zemaGamez, and based on his opinion I'd determine how much further to go with the piece.

Ask: Did you have quite a few iterations of each piece before you'd settle on the final one?

AC: Some of them yes, some of them no. Sometimes we'd keep going around on ideas and other times the first draft would be mostly perfect. You never know which tracks Mark is going to like!

MS: Allison created about 15 original pieces for Primary that were accepted for the game. Then there were plenty of outtakes. So, there's quite a bit of sound design that's gone into making each level unique. The six instructors, characters, have their own theme song, so musically it's quite an involved game.

"[for sound design] we have David Earl as part of our family, who has worked extensively on AAA video game titles!"
Ask: Alison, How did you feel when you first played the game with the music?
AC: Well, I tend to get stressed out with video games. But as I played it further, I really enjoyed it! I thought the sound effects that were chosen complimented the music really well.

Ask: Did you also do the sound effects in the game?

MS: All the sound effects in the game were done by David Earl, one of our macProVideo.com Logic trainers and a professional video game sound designer by trade. He did an amazing job.

Ask: Did David approach the sound design after he'd heard the music?

MS: Yes, he did. Mark and I already had some sounds from sample libraries, but quickly came to realize the sounds we'd chosen didn't even come close to matching the caliber of the soundtrack that Allison had laid down. Fortunately, we have David Earl as part of our family, who has worked extensively on AAA video game titles, so it was an easy choice!

All the voice over recordings were done in my studio. That was fun: Allison, Mark and some other friends sat around one evening recording all the dialogue into Logic through a Rode NT1 microphone and an Apogee Duet.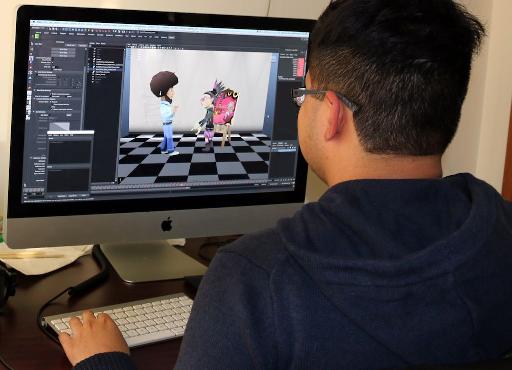 The team at zemaGamez used Maya for the character rigging.
Ask: What processing did you apply to the voices? I know your voice well, and I don't recognize your voice in the game!

MS: Well, I'm the voice of Mr Bob, the funky, Isaac Hayes style character in the game. So, I had to pitch shift my voice down several semitones to give it a more baritone feel. I used Logic Pro's Vocal Transformer plug-in and the Pitch Shifter to get a real sounding voice effect. In fact, all the plug-ins used for the voices in the game are all native Logic plug-ins, including my favorite effect: Channel EQ almost religiously on everything. I love it! The Pitch Shifter and the Compressor were featured heavily in this project and every single voice in the game got some sort of pitch transformation to make it more comical and game-like.

"I used Logic Pro's Vocal Transformer plug-in and the Pitch Shifter to get a real sounding voice effect."
Ask: How long does a game like Primary take to develop?

MS: From beginning to end, Primary took us 6 months with a team of 8 developers. We thought it'd take us 3 months, but as we got deeper into the game we realized we wanted to add more to it and improve the gameplay. It was a long haul.

AC: I can't say how long the music took. I did the first 10 pieces in a month or so. But then another month at least was spent working on more pieces and refining the existing ones. It took a while.

Ask: zemaGamez is going from strength to strength with some high-quality (and addictive) games. What do you have planned for the future?

MS: We have another game coming out soon called Coinz. You could think of it as a cross between Fruit Ninja and Galaga, if anyone remembers that game! It involves coins and aliens and you basically have to swipe your screen to gather coins. It has an interesting twist to it though. Coinz features real-money tournaments. You can play other people and actually bet and make real money!

Beyond Coinz, we're working on another game which is going straight to console in the Steam environment. So, yeah our next journey goes beyond mobile games into console games. All I can say about this one in advance is that it's a game based on the horror movie genre. Beyond that I can't say any more. Actually, I've probably said too much'"hope Mark doesn't scold me for that.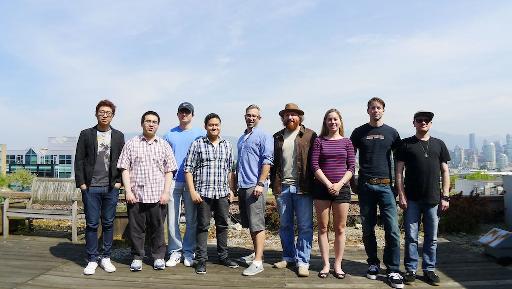 The zemaGamez crew. They may look relaxed, but they're really hard at work on a number of exciting new titles!
AC: And it'll be a lot of work for me and I'm very excited. I haven't started working on it yet, but when the time comes I'll be right in there.

Ask: Allison, what are you working on outside of zemaGamez?

AC: Well, I'm also a classically trained opera singer, so I'm in practice for an opera in the spring. I'm also working on my own stuff right now. In fact, it's more house music and electronic based. Then for next year I'm looking to work with my husband, David, on producing one of my original operas locally here in Vancouver. So, I need to get that written by August so he can start stage designing for spring 2015.

Ask: And Primary is available for iOS and Android...

MS: Yes, across the board for iOS and Android.

Ask: Do you prefer one platform over the other?

Actually, it's interesting that BETA testing on Android is easier than in the iOS platform, where Apple review everything before it can go live on the store. With Android, you can publish your app and it's available instantly, so it's really easy to make BETA versions and distribute them to others to test which they can download from the store rather than needing to come to your office and have a version put directly on their device. It's very easy to BETA test with Android and that makes me prefer it for game development.

Ask: What about developing for the vast number of hardware devices which run Android?

MS: Fragmentation in the Android ecosystem is always a problem. But, developing through the Unity platform, as we do, means a lot of the fragmentation issues are dealt with for you. There's still some issues which you have to hammer out. But we didn't find it to be a problem with any of the games we've developed so far. The biggest problem is with older Android devices and those are rapidly retreating into the distance.
Primary is available to download FREE from the iTunes App Store and the Google Play Store and is well worth checking out!