Vicetone: On New Legacy Album & Why It Pays To Build Your Own Music Production PCs
On the eve of the release of their first album, Legacy, we caught up with Vicetone to talk music production and why they love building their own super powerful workstation PCs.
AskAudio: We heard you started out as DJs. What drew you both to DJing together and then transitioning to producing music?
Vicetone: ??We actually started out as music producers and then started DJing as it was the best way to perform our music live. We're music producers at heart although we do love the art of DJing and the raw energy of performing music live. They go hand-in-hand for us, and we have a deep love and appreciation for both.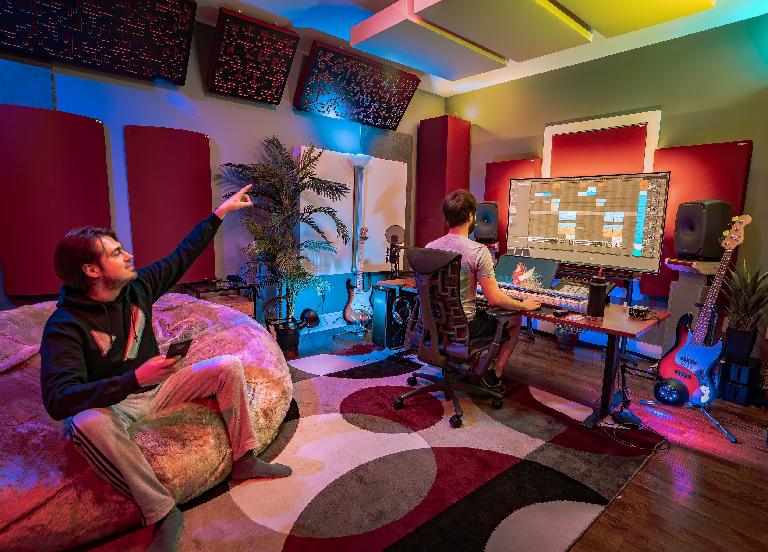 Your new album, 'Legacy,' has a range of styles and influences in the tracks from reflective, vocal-driven pop ballads to dance floor fillers. Can you talk a little about the inspirations and roots that have been channeled through your productions??
We get inspired by everything! On this album though we wanted to make sure that there'd be a track for everyone, old fans and new fans. We wanted it to be an homage to our whole career as Vicetone to date and we feel like we've done that.
How long have you been working on the album? Has the global pandemic affected you both and how you've been able to finish working on the tracks??
The pandemic certainly influenced the creation of the album and its production process. We've been working on the album for about 2 years. Initially the plan was to release everything in 2020, but we all know how that year turned out.
Is Ableton Live your preferred DAW? What attracts you to Live? ?
Yes, we love Ableton Live for its intuitive workflow and how quickly you can edit sounds and samples. Additionally, there are some features that Live does better than other DAWs, like group chains within channels, and at this point we're just too used to it to change to another DAW.

Have you had a chance to try out Live 11? What new features like Comping, Chance note, etc are finding their way into your productions??
Yes! We're loving comping the most, it was about time that was added to Ableton Live.

What's your general creative process when approaching producing a new track? Is an idea or emotion already with you before you enter the studio, what do you reach for you to start expressing that idea??
It's different every time. Sometimes a synthesizer or sampled sound will inspire us. Other times we will be playing on the piano and get started on a song idea there by chance. Occasionally we'll listen to an old song from our youth and get inspired to create something new from that. We feel it's important to never get stuck in a specific set way of creating things - so we try not to maintain a lot of rules and just go with the flow in a childlike state.

Do you both mix your tracks or work with an engineer? Depending on your answer, what draws you to that option??
We both mix our tracks, always. We do the writing, production, mixing and often mastering as well. The reason is because we are simply too picky about how our music should sound to let someone else do it - we want to retain full control of the mix from start to finish, and we love the mixing process to boot as well, so it's a win-win situation.

We heard you don't just purchase off the shelf high-end PCs or Macs for your studio machines. You build your own PCs? What inspired you to do so??
That's true! We love building high-end custom PCs, it's a big hobby of ours. We've built many gaming rigs and studio rigs over the years. The main reason is because we like to fine-tune every single element of the build, to create the best possible PC for its purpose. For example, our studio PCs are overclocked with a custom-built dual-pump waterloop, which keeps the system very cool and extremely quiet as well. We never, ever hear our PC fans spinning up because we designed the cooling loop ourselves and selected the best fans we could find. This is another reason why we always build our own PCs - we never found a pre-built PC that met all of our requirements, it's just easier and more effective to build it ourselves. And it's really fun as well! The satisfaction of building it from start to finish is hard to put into words until you've experienced it yourself.
What are the biggest challenges involved in building your own music rigs for live and studio use??
Probably selecting the best components before you start building. It takes a lot of research, often on niche websites or forums, to figure out what component is best for our needs. The prep work is much more time consuming and daunting than building the actual PC, which we usually do in a few hours max. And you are on the line for everything - you can't just take it to a single store and return or exchange it - we are comfortable with these risks and we've never had issues, but we understand why people don't want to deal with it and just get something ready-made and covered by a singular warranty. Different strokes for different people.
What tips would you give to other producers for building their own PC rigs??
Do a lot of research, then do even more research! The answers are out there on the internet, you just really have to look for them. Custom watercooling seems daunting at first, until you complete your first custom watercooled build, at which point you'll never want to go back again. It's also a bit nerve-wracking in the beginning, but luckily the PC building community is really huge and there'll always be someone who's had a problem similar to you and can provide you with solutions online.
And what advice would you give to new "bedroom" producers starting out?
Do a lot of research too, but then put it to practice! Finish songs completely and make a habit of not abandoning songs in the middle stages of production. There's a lot of experience you'll gain from finishing songs and it's invaluable.
Links:
https://www.instagram.com/vicetone/
https://www.facebook.com/VicetoneOfficial
https://www.youtube.com/user/vicetoneofficial