How to Finger Drum Like OddKidOut
Following on from yesterday's release of On My Mind, super-creative and finger-drumming powerhouse, OddKidOut, chats with us about pad drumming, production and Maschine.
You mentioned how your father saw you air drumming in the back seat of your car and offered you drum lessons. How old were you at that point and were there other instruments you were interested in?
I was about 4 years old. I was too young at the time to really know what instrument I wanted to play but I loved being around music and listening to it. I think drums just kind of came naturally to me and that's why I started banging on random shit all over the house. Luckily my dad picked up on that and offered to get me lessons.
What styles of music did you originally begin drumming to?
I grew up playing classic rock and death metal. I went to School of Rock, which is an after-school music program, and a lot of the shows we put on were covers of bands like Led Zeppelin, Boston, ACDC, etc. And some of the older kids who went there introduced me to metal bands. So that was really the world I lived in up until age 10. But as I got older, I joined Jazz Bands and eventually dove into funk, r&b and hiphop. My drum teacher, Jim Love, trained me to be a studio drummer. So every month I was learning a new genre which really helped expand my musical horizon.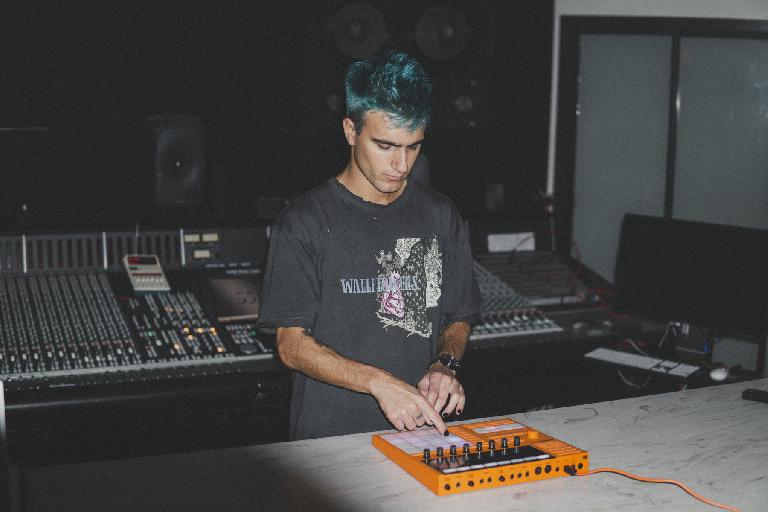 How has been able to play drums on a traditional drum kit helped you become the finger drummer you are today?
I wouldn't be able to do what I do on the Maschine without the knowledge I learned from the drum kit. I always say, my fingers are just becoming drum sticks when I'm playing. All those years of studying syncopation, and working on my speed and coordination have really shaped my finger drumming.
Are there any tips for non-drummers you could give to help them finger drum better on their Maschine, MPC or other Pad controller?
Get a copy of "Progressive Steps to Syncopation for the Modern Drummer" on Amazon for like under $10 and study that book. You don't have to actually be able to play an acoustic drum kit to be a good finger drummer, but you need to have rhythm and need to understand the basis of drumming to really excel. If you refuse to read, download the app "Melodics" and check out some of my finger drumming lessons on there :)
Editor's note: You can also find finger drumming video tutorials in the AskAudio Academy.
What makes Native Instruments Maschine your instrument and controller of choice?
I got my first Maschine when I was 16. I chose Native Instruments first because of how well it seemed to integrate with my Mac computer at the time. But once I got my hands on it, I realized that I loved everything about it. I had this goal in high school that I wanted to work with Native Instruments and I practiced every day in hopes that I would get their attention. I finally did my second year into college and now NI is family. I've toured the world with them, launched products with them...it's surreal. The Maschine is just kind of synonymous with the OddKidOut brand now.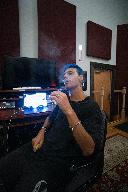 And what about Logic Pro and Ableton Live? Which is your primary DAW these days? What features draw you to it?
My very first DAW was Garageband when I was 13, and then I got Logic Pro when I was 15. Logic served me well but when I got Ableton around 20 years old, it changed everything for me. I've been on Ableton only for the past 5 years and it's by far my favorite DAW. I love the way I can organize my samples, VST's and Plugins. I love Ableton's warping abilities. Overall, I personally believe it's a more creative DAW than any other and has the most room for experimentation.
With many instruments there's advised playing posture or stance. Even typing on a keyboard can cause strain injuries. What advice could you give other finger drummers to ensure they keep their digits intact and flexible and injury free?
I am definitely not qualified to answer this question ahah. I'll probably have carpal tunnel in 10 years. The extent of my finger warm up is shaking my hands and cracking my knuckles, which is probably not great. I'd say keep your fingers moisturized. I have Raynaud's Disease, so my hands and fingers are constantly cracking and bleeding. I have to really keep up with that.

Now that NI have released the standalone Maschine+ are you using it? What are your thoughts on it? Does it affect the way you produce or play live?
I actually haven't gotten one of my own yet. I tried out the prototype in the office at the end of last year and it was awesome. I think this was a feature everyone wanted and it certainly was something I constantly bugged them about the past couple years. But I've been super busy and NI has been as well, so maybe we will connect on it once things settle down a bit.
Is there any other analog gear you use in your studio? How do you connect it up? Do you mainly sample it or play/trigger it live?
There are a few studios that I work out of that have a Moog, Juno and Nord. I'll sometimes run them through an audio interface and capture direct audio into Ableton. I also sometimes record guitar or sample vinyl from my vinyl player, which I record the same way as the latter. But on a day to day basis, especially when I'm in my home studio, I really only use my MacBook. I trigger notes on my QWERTY keyboard, or draw the MIDI in. My workflow is half MIDI, half re-sampling. So I'm constantly turning MIDI into audio and chopping it up, pitching it up or down, and reversing it.
Can you give us an overview of the production techniques and workflow you used when creating On My Mind?
This track was made solely in Ableton Live, and the only exterior gear used was my Maschine. The drums in the track came from my Maschine...I would record the pattern in, and then go in and chop it up and move it around, or sometimes keep the original loop in there. I started the track with the kalimba melody. I pulled up a patch in Omnisphere and started messing about with some chords until I came across the progression you hear now. From there on, I built out the verses with some drums and 808. Then did the same process for the build, where I tried to introduce a new vibe and progression without losing the theme of the song. For the drop, I took familiar parts and intensified them with some energy. Some VST's used in the track include Omnisphere, Serum, Pigments and Massive X. As far as plugins, I used all stock Ableton plugins such as Reverb, EQ Eight, Glue Compressor, Color Limiter, OTT, Amp and Utility.
OddKidOut Links
YouTube | Spotify | Facebook | Website
Learn finger drumming techniques with Jeremy Ellis: AskAudio | macProVideo