Interview: Bronson (ODESZA & Golden Features) Reveal Their Production Processes
Recently released on Ninja Tune, Bronson's debut album follows the transition of ODESZA and Golden Features' collaborative transition from arena dance to an edgy, darker underground sound.
Bronson is the new project from grammy-nominated ODESZA (Harrison Mills & Clayton Knight) and platinum-selling Golden Features (Tom Stell). Their debut record together isn't like anything they've done before and they describe it as "a creative departure from the worlds of ODESZA and Golden Features" with ideas bouncing between them all. "BRONSON was born out of a need, almost subconsciously, to push our creative boundaries and build something bold and free of any expectations; it was a really cathartic process."
We chat with the three of them about their self-titled debut album, the process behind its creation, production tech and what they plan to do next...
AskAudio: Hi guys tell us about the artists and genres that have inspired you in your musical journey.
Bronson: Time spent writing the album was fractured so our tastes and influence changed quite a bit. When we started this project, we didn't really know what it was going to be or sound like. Some early influences were people like Lorn and Lapalux, but to be totally honest we took so many different turns with the album it's hard to trace them back to anything.
Your sounds has arguably gone more underground in this project. Tell us more about how this came about for you.
There was this massive oversaturation of electronic music that seemed to combust a few years back. It feels like the underground resurfaced out of the ashes of that and it's made dance music more exciting than ever. We've always loved artists like the Chemical Brothers and Daft Punk who still pay homage to the underground despite being a little more accessible.
The whole album is atmosphere-soaked, was it a conscious motivation to bring this kind of energy to the project from the get-go?
Not particularly. The songs all were the result of laying down ideas and following whichever direction they took naturally. In both our respective projects we are pretty liberal with reverb and BRONSON wasn't an exception, hah.

What DAW is your go-to and why? What aspects of it draw you to it?
We produced the album in Ableton Live and it was mixed down in Pro Tools. Ableton's incredible for generating ideas because it just feels limitless. It's very similar to modular synths in that once you understand routing and signal flow you can achieve so much. It's also the most flexible audio editor we've found which is handy when a lot of the songs included long modular synth takes that need massaging in.
For tracks like, HEART ATTACK (feat. lau.ra), DAWN (feat. TEED) and KNOW ME (feat. Gallant), what came first, the lyrics, the beat, or the melody?
The vocal tracks with the guest features actually all came together really quickly - they're all such talented artists who we just clicked with during the writing process. They each understood exactly what we were going for and what each respective song needed - in different ways. For example, HEART ATTACK came together in less than a week, we were going back and forth with lau.ra and she just nailed that almost melancholy tone in the vocals. With DAWN, it was the last song we wrote, and Totally Enormous Extinct Dinosaurs took the rest of the album, listened to it, and managed to synthesize and encapsulate all of its themes into one with the lyrics and the magnetism he brought. And with KNOW ME, we gave Gallant a simple demo loop and he just worked his magic - we talked about the lyrical content and in turn he matched the emotive, R&B energy perfectly. We really can't thank all three of them enough for what they brought to the album.
There are some lush, dreamy moments in your music… for example, the almost choir-like break in DAWN. Does creating and producing lyric-based electronic music afford you space to delve into musical spaces you might otherwise not go? If so, how?
It's just a very different process to writing instrumental electronic music. You find yourself having to think very early on in writing "will this be a vocal track?" If it is, we've found the best results come from leaving your ego at the door and allowing a lot of space for a singer to work with. Generally you want the vocal to shine above everything.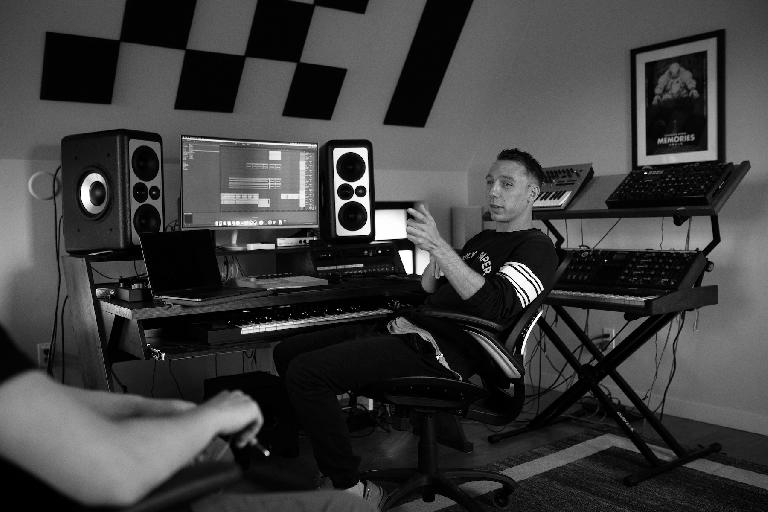 What will your live setup look like for BRONSON?
Unfortunately, the pandemic stopped these plans in their tracks right as we we're about to start figuring it out. As it stands we can see the live show going the way of bringing the studio to the stage, lots of synths and sequencers that we can manipulate live.
How have you been coping with / spending your time during lockdown?
(Harrison & Clay): Well, this is really the longest stretch of time we've been in one place and at home for a while, which in a weird way, we can't help but be grateful for since we've been on tour pretty much nonstop for the past three years. It really has given us space to finish and focus on the BRONSON album, and also to work on writing for other projects. That said, we've definitely hit moments of going a bit stir crazy and itching to get back on the road, haha.

(Tom): Well, to be honest, the lockdown hasn't affected my lifestyle as hugely as you might think - I'm very much a homebody and the lockdown kind of caters to that, haha. I've been working on lots of music and just really immersing myself in that. Thankfully, things are starting to open back up in Australia as well, so it's a little less intense than it was a few months ago.
What comes next after you release the album?
We're really keen to tour the project live - so, we hope that someday soon we'll be able to do that (when it's safe to do so), but as we all know the music landscape is so uncertain right now. In the meantime, we're just focusing our energy into putting this album out and looking forward to sharing the project with the world finally. After that, we'll see!