Muitos instrumentos de bateria nos dias de hoje vêm com um conjunto abrangente de padrões e preenchimentos, que pode ser uma grande ajuda para criar uma parte da bateria, especialmente para arranjadores / compositores que don
1. Don't Overdo It
isto
Tanto o próprio pulso básico, e os mimos extras, precisa estar consciente do que as outras partes musicais estão fazendo, e trabalhar com eles
Quando se trata de preenchimentos, que pode ser um pouco mais difícil, uma vez que os tambores são muitas vezes estabelecidas / programado antes do acordo é completa. O que eu freqüentemente fazer é criar uma parte muito básica tambor (de preferência com, pelo menos, uma ligação (ou zero) vocal como referência), com a ranhura como perto do que eu acho que deveria ser, em última instância, mas com muito simples
2. Don't Forget Those Fills
Mesmo que você don
Conheça o seu gênero
Menos é mais
Empurre o preenchimento
Exemplo de áudio 1
[id áudio = "37757"]
3. Don't Be Too Perfect
Quantização pode ser tanto uma bênção e uma maldição, especialmente quando se trata de tambores de programação. Se você
Agora, para alguns gêneros musicais que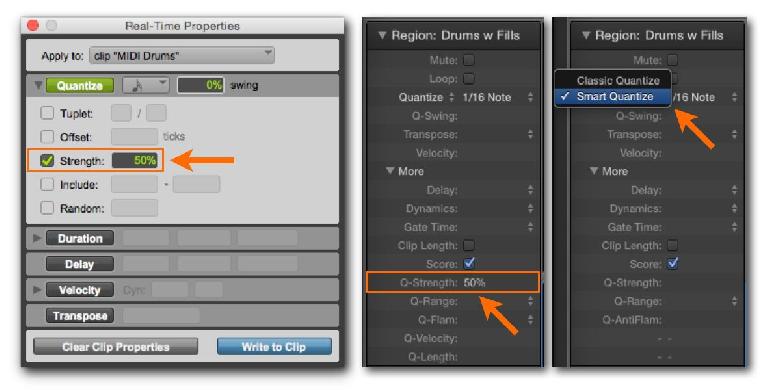 Fig 2 Algumas opções de quantização para tambores, incluindo Quantização parcial (Quantization Força, no Pro Tools) e
Recentemente, Logic X introduziu uma outra alternativa, apelidado
4. Don't Get Unreal
Não cada tambor parte destina-se a soar como ele foi interpretado por um baterista ao vivo, mas quando você
Se você ouvir bateristas reais

A nota 16 parte aparentemente contínuo oi-hat, na verdade, tem o chapéu de abandono na (armadilha) contratempo.
Exemplo Audio 2
[id áudio = "37847"]
Se deve ou não manter o chute ou pedal oi-chapéu através de um preenchimento (que é tecnicamente possível) é mais uma questão de escolha
5. Don't Be Stiff
Um dos aspectos mais importantes de um bom desempenho de tambor é dinâmica. O som de um tambor (ou pratos) muda consideravelmente quando se
Exemplo Audio 3 Tambor Dynamics: vários sotaques programado no batidas de tambor e enche:
[id áudio = "37848"]
Claro, dinâmica / acentos ganhou
Obviamente, há
Learn a ton of tips, tricks and techniques for programming drums and more in
The Academy
.