Molti strumenti di batteria in questi giorni sono dotati di una collezione completa di modelli e riempimenti, che può essere di grande aiuto la creazione di una parte di batteria, in particolare per arrangiatori / cantautori che don
1. Don't Overdo It
Esso
Sia il ritmo di base in sé, e fiorisce in più, hanno bisogno di essere consapevoli di ciò che le altre parti musicali stanno facendo, e lavorare con loro
Quando si tratta di riempimenti, che può essere un po 'più difficile, poiché i tamburi sono spesso stabilite / programmata prima la disposizione è completa. Quello che ho spesso faccio è creare una parte molto essenziale di batteria (idealmente con almeno un cavo (o zero) vocale come riferimento), con la scanalatura più vicino a quello che penso che dovrebbe essere definitiva, ma con molto semplice
2. Don't Forget Those Fills
Anche se don
Conosci il tuo genere
Meno è di più
Spingere il riempimento
Audio esempio 1
[id audio = "37757"]
3. Don't Be Too Perfect
La quantizzazione può essere sia una benedizione e una maledizione, soprattutto quando si tratta di fusti di programmazione. se tu
Ora, per alcuni generi musicali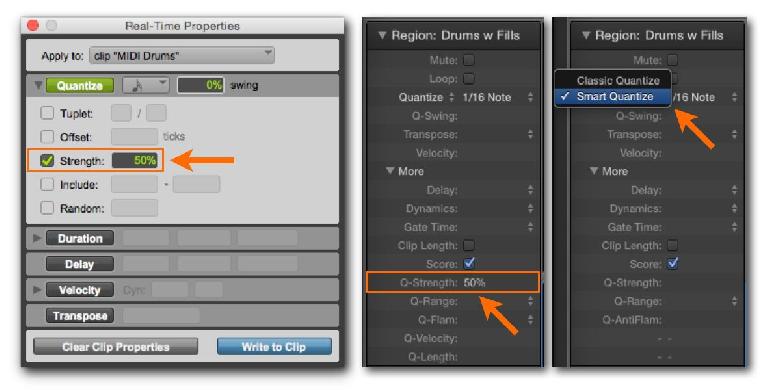 Fig 2 Alcune opzioni di quantizzazione per tamburi, tra cui quantizzazione parziale (quantizzazione Forza, in Pro Tools) e
Recentemente, Logic X ha introdotto un'altra alternativa, soprannominato
4. Don't Get Unreal
Non ogni tamburo parte è destinata a suonare come è stato interpretato da un batterista dal vivo, ma quando si
Se si ascolta batteristi reali

Un 16 ° nota parte apparentemente continua charleston in realtà ha il cappello abbandono sul (rullante) controtempo.
Esempio Audio 2
[id audio = "37847"]
O meno di mantenere il calcio o il pedale hi-hat attraverso un riempimento (che è tecnicamente possibile) è più una questione di scelta
5. Don't Be Stiff
Uno degli aspetti più importanti di una buona prestazione tamburo è dinamica. Il suono di un tamburo (o piatto) cambia notevolmente quando
Audio esempio 3 Tamburo Dynamics: vari accenti programmati nel drum beat e riempie:
[id audio = "37848"]
Naturalmente, dinamica / accenti vinto
Ovviamente, ci
Learn a ton of tips, tricks and techniques for programming drums and more in
The Academy
.