العديد من الصكوك طبل هذه الأيام تأتي مع مجموعة شاملة من أنماط وتعبئة، والتي يمكن أن يكون عونا كبيرا خلق جزء طبل، وخاصة لترتيب القرض / كتاب الأغاني الذين دون
1. Don't Overdo It
هو
كل من ضربات الأساسي نفسه، ويزدهر إضافية، تحتاج إلى أن تكون واعية لما تقوم به الأجزاء الموسيقية الأخرى، والعمل معهم
عندما يتعلق الأمر يملأ، التي يمكن أن تكون أكثر صرامة قليلا، لأن كثيرا ما وضعت براميل أسفل / مبرمجة قبل الترتيب الكامل. ما أنا في كثير من الأحيان القيام به هو خلق جزء أساسي جدا طبل (مثالي مع ما لا يقل عن الرصاص (أو الصفر) صخبا كمرجع)، مع الأخدود أقرب إلى ما أعتقد أنه يجب أن يكون في نهاية المطاف، ولكن مع بسيطة جدا
2. Don't Forget Those Fills
على الرغم من أنك لا
أعرف النوع الخاص
الاقل هو الاكثر
دفع التعبئة
مثال الصوت 1
[معرف الصوت = "37757"]
3. Don't Be Too Perfect
تكميم يمكن أن تكون نعمة ونقمة، وخصوصا عندما يتعلق الأمر الطبول البرمجة. اذا أنت
الآن، بالنسبة لبعض الأنواع الموسيقية التي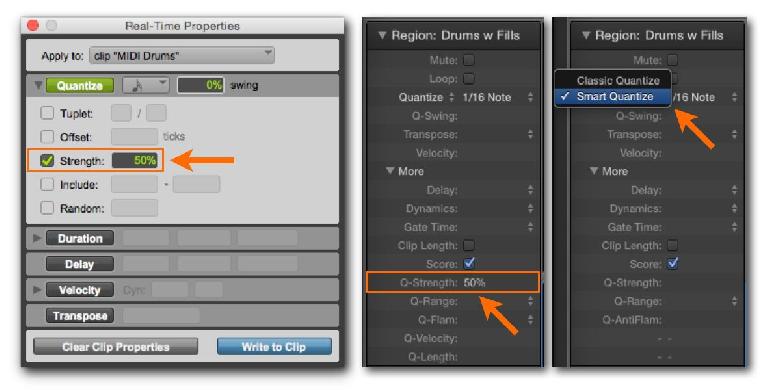 الشكل 2 بعض الخيارات تكميم للبراميل، بما في ذلك تكميم الجزئي (تكميم قوة، في أدوات برو) و
مؤخرا، قدم المنطق X بديل آخر، يطلق عليها اسم
4. Don't Get Unreal
والمقصود ليس كل طبل جزء ليبدو وكأنه كان لعبت من قبل لاعب الدرامز العيش، ولكن عند
إذا كنت تستمع إلى الطبول حقيقية

وعلى ما يبدو-المستمر المذكرة 16 مرحبا قبعة جزء له في الواقع قبعة التسرب في (فخ) بكبت.
مثال الصوت 2
[معرف الصوت = "37847"]
أم لا للحفاظ على ركلة أو دواسة مرحبا قبعة من خلال تعبئة (وهو أمر ممكن من الناحية الفنية) هو أكثر مسألة اختيار
5. Don't Be Stiff
واحدة من أهم جوانب الأداء الجيد طبل هو ديناميات. صوت طبل (أو الصنج) يتغير بشكل ملحوظ عندما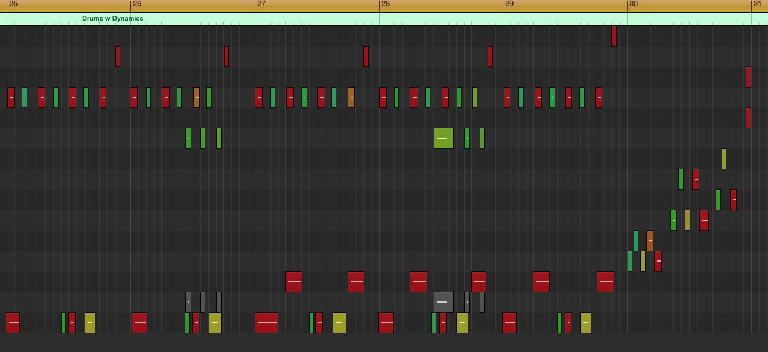 وثمة نمط طبل الديناميكي مع لهجات المناسبة (البرنامج التشغيلى
مثال الصوت 3 طبل الديناميات: مختلف لهجات المبرمج في قرع الطبول وتملأ:
[معرف الصوت = "37848"]
بطبيعة الحال، وديناميات / لهجات فاز
ومن الواضح أن هناك
Learn a ton of tips, tricks and techniques for programming drums and more in
The Academy
.