Muchos instrumentos de percusión en estos días vienen con una amplia colección de patrones y rellenos, que puede ser una gran ayuda para crear una parte de batería, especialmente para los arreglistas / compositores que don
1. Don't Overdo It
Ello
Tanto el ritmo básico de sí mismo, y los adornos adicionales, tienen que ser conscientes de lo que las otras piezas musicales están haciendo, y trabajar con ellos
Cuando se trata de rellenos, que puede ser un poco más difícil, ya que los tambores están a menudo establecen / programado antes de la disposición es completa. Lo que con frecuencia hago es crear una pieza muy básica tambor (idealmente con al menos una pista (o cero) vocal como referencia), con la ranura lo más cercano a lo que yo creo que debería ser, en última instancia, pero con muy simple
2. Don't Forget Those Fills
A pesar de que usted no
Conozca su género
Menos es más
Empuje el relleno
Ejemplo de audio 1
[id de audio = "37757"]
3. Don't Be Too Perfect
Cuantificación puede ser tanto una bendición como una maldición, sobre todo cuando se trata de los tambores de programación. si tu
Ahora, para algunos géneros musicales que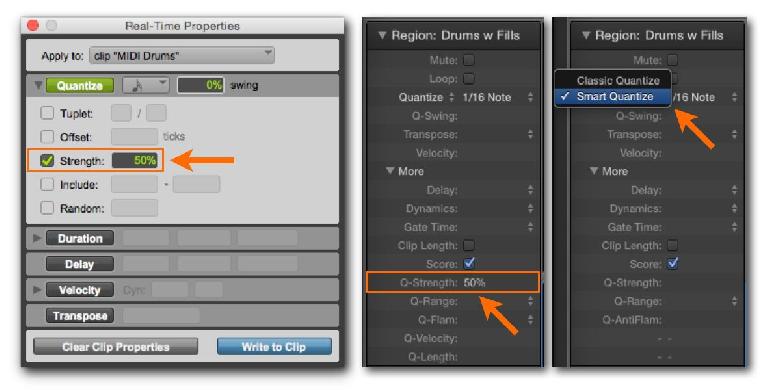 Fig 2 Algunas opciones de cuantificación para tambores, incluyendo cuantización parcial (Fuerza de cuantización, en Pro Tools) y
Recientemente, Lógica X introdujo otra alternativa, apodado
4. Don't Get Unreal
No todos tambor parte tiene la intención de sonar como que se jugó por un baterista en vivo, pero cuando
Si usted escucha a bateristas reales

Una nota decimosexta parte aparentemente continua charles en realidad tiene el sombrero de la deserción en la (trampa) ritmo de fondo.
Ejemplo de audio 2
[id de audio = "37847"]
Sea o no de mantener la patada o el pedal hi-hat a través de un relleno (que es técnicamente posible) es más una cuestión de elección
5. Don't Be Stiff
Uno de los aspectos más importantes de un buen rendimiento del tambor es dinámica. El sonido de un tambor (o címbalo) cambia considerablemente cuando se
Ejemplo de audio 3 Dinámica de tambor: diversos acentos programados en golpes de tambor y rellenos:
[id de audio = "37848"]
Por supuesto, la dinámica / acentos ganaron
Obviamente, hay
Learn a ton of tips, tricks and techniques for programming drums and more in
The Academy
.