De nombreux instruments de percussion ces jours viennent avec une collection complète de modèles et de remplissages, qui peut être d'une grande aide la création d'une partie de batterie, en particulier pour les arrangeurs / auteurs-compositeurs qui don
1. Don't Overdo It
Ce
Tant le rythme de base elle-même, et les fioritures supplémentaires, doivent être conscients de ce que les autres parties musicales font, et travailler avec eux
Quand il vient à remplissages, qui peut être un peu plus difficile, car les tambours sont souvent fixées / programmé avant l'arrangement est terminée. Ce que je fais est fréquemment créer une pièce très basique de tambour (idéalement avec au moins un conducteur (ou zéro) vocale comme une référence), avec la gorge comme proche de ce que je pense qu'il devrait en fin de compte, mais avec très simple
2. Don't Forget Those Fills
Même si vous ne
Connaître votre genre
Moins est plus
Poussez le remplissage
Exemple audio 1
[id audio = "37757"]
3. Don't Be Too Perfect
Quantification peut être à la fois une bénédiction et une malédiction, surtout quand il vient à tambours de programmation. Si vous
Maintenant, pour certains genres musicaux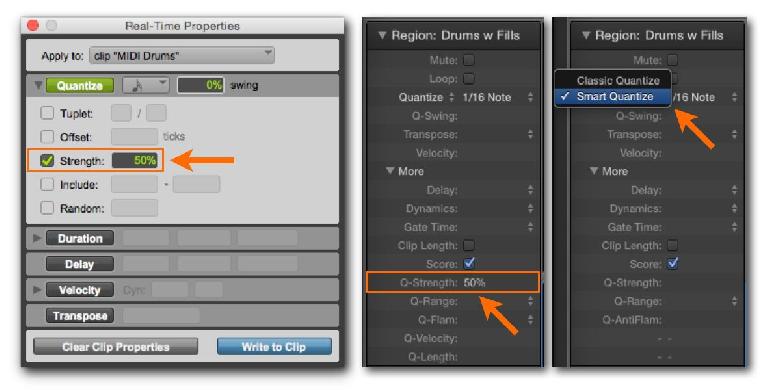 Fig 2 Quelques options de quantification pour les tambours, y compris la quantification partielle (quantification de la force, dans Pro Tools) et
Récemment, Logic X introduit une autre alternative, surnommé
4. Don't Get Unreal
Non chaque tambour partie est destinée à sonner comme il a été joué par un batteur en direct, mais quand vous
Si vous écoutez de vrais batteurs

Un salut-chapeau partie apparemment continu 16e note a fait le chapeau décrochage sur le (caisse) backbeat.
Exemple audio 2
[id audio = "37847"]
Que ce soit ou de ne pas maintenir le coup ou la pédale salut-chapeau par un remplissage (qui est techniquement possible) est plus une question de choix
5. Don't Be Stiff
Un des aspects les plus importants d'une bonne performance de tambour est dynamique. Le son d'un tambour (ou cymbale) change considérablement quand il
Audio exemple 3 tambour Dynamics: divers accents programmés dans battements de tambour et comble:
[id audio = "37848"]
Bien sûr, dynamique / accents gagné
De toute évidence,
Learn a ton of tips, tricks and techniques for programming drums and more in
The Academy
.