Je suis à un concert, djing avec Ableton Live . A mi-chemin à travers mon jeu, je ne peut subitement pistes de repère. Je pousse le bouton sur ma Native Instruments Audio Kontrol 1, rien. Oh boy. C'est une bonne chose, je sais que mes clips bien.
I finish the gig, and I start the long process of uncovering all the things I've done wrong to have this situation occur. My first call of course is to my friend Jon, Author of "Ableton Live 8 Power!". First thing he asks is if I'm using an internal drive, or an external drive. I am in fact using the internal laptop drive for all my music files. I was smart enough to have installed a 7200 rpm drive- many drives are 5400, and considered too slow for music work.

However, what I did was use up 495 gigs out of the available 500 gigs. This resulted in Ableton simply not having enough disc cache available to run properly. With 95% of my drive full, the Drive head has to travel all over the place as well, which slows it down.
Donc, la première astuce, laisser des tonnes, et je veux dire des tonnes d'espace disque dur libre. 10% au minimum.
Jon dit que beaucoup de gens vont encore plus loin, et d'utiliser un disque FireWire 800 pour des échantillons de musique, et laisser le lecteur interne pour fonctionner le système. La théorie ici est que le lecteur de musique a une tête de lecture dédié à la musique des échantillons de lecture, et rien d'autre. Encore une fois, assurez-vous que le disque externe est 7200 rpm.
Le système et le programme ont alors tête de lecture du disque dur interne dédié à la scène tout le fonctionnement du système et les fonctions d'opération du programme.
Deux têtes de lecture sont mieux qu'une seule tête de lecture.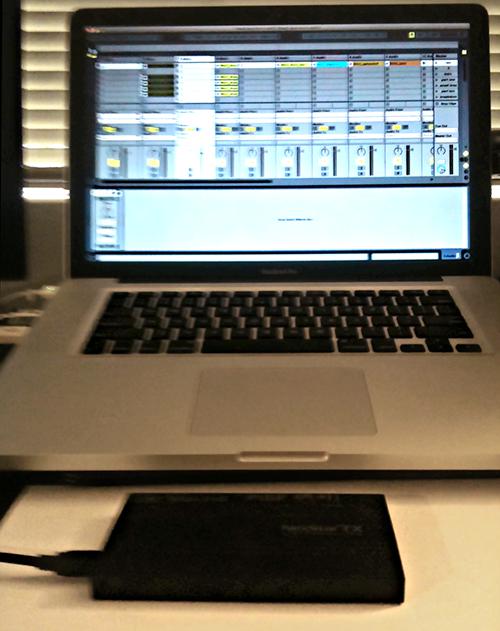 Pourquoi Firewire 800?
Vous avez des Ableton, Logic, du matériel ou des problèmes logiciels? Ne pas traîner visiter les forums macProVideo de l'aide et des conseils!