Ich bin bei einem Gig, DJing mit Ableton Live . Auf halbem Weg durch meinen Satz, ich kann plötzlich nicht mehr Cue Tracks. Ich drücke den Knopf auf meinem Native Instruments Audio Kontrol 1, nichts. Oh Junge. Gut, dass ich weiß, dass meine Clips gut.
I finish the gig, and I start the long process of uncovering all the things I've done wrong to have this situation occur. My first call of course is to my friend Jon, Author of "Ableton Live 8 Power!". First thing he asks is if I'm using an internal drive, or an external drive. I am in fact using the internal laptop drive for all my music files. I was smart enough to have installed a 7200 rpm drive- many drives are 5400, and considered too slow for music work.

However, what I did was use up 495 gigs out of the available 500 gigs. This resulted in Ableton simply not having enough disc cache available to run properly. With 95% of my drive full, the Drive head has to travel all over the place as well, which slows it down.
So der erste Tipp, lassen Tonnen, und damit meine ich Tonnen von Speicherplatz auf der Festplatte frei. 10% auf ein Minimum.
Jon sagt, dass viele Menschen sogar noch weiter gehen, und verwenden Sie ein FireWire 800-Festplatte für Musik-Samples, und lassen Sie die interne Festplatte für System zu arbeiten. Die Theorie ist hier, dass die Musik-Laufwerk zu lesen Kopf gewidmet Notenlesen Proben, und nichts anderes hat. Wieder stellen Sie sicher, das externe Laufwerk ist 7200 Umdrehungen pro Minute.
Die System-und Programm haben dann die interne Festplatte Lesekopf gewidmet nur die Durchführung Betrieb und Programm Bedienfunktionen.
Zwei Abspielpositionen sind besser als einer zu spielen Kopf.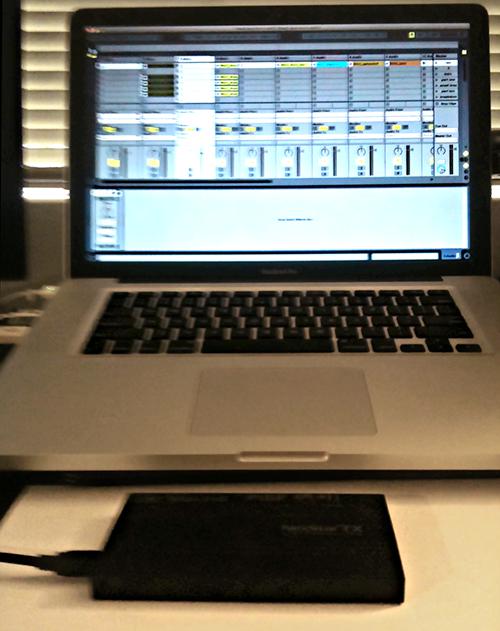 Warum Firewire 800?
Haben Sie irgendwelche Ableton, Logic, Hardware-oder Software-Probleme? Nicht rumhängen besuchen Sie die macProVideo Foren um Hilfe und Rat!