Eu estou em um show, djing com Ableton Live . A meio caminho através do meu set, eu de repente não pode faixas de sinalização. Eu apertar o botão no meu Native Instruments Kontrol Audio 1, nada. Oh menino. Coisa boa eu sei que meus clipes bem.
I finish the gig, and I start the long process of uncovering all the things I've done wrong to have this situation occur. My first call of course is to my friend Jon, Author of "Ableton Live 8 Power!". First thing he asks is if I'm using an internal drive, or an external drive. I am in fact using the internal laptop drive for all my music files. I was smart enough to have installed a 7200 rpm drive- many drives are 5400, and considered too slow for music work.

However, what I did was use up 495 gigs out of the available 500 gigs. This resulted in Ableton simply not having enough disc cache available to run properly. With 95% of my drive full, the Drive head has to travel all over the place as well, which slows it down.
Assim, a primeira dica, deixe de toneladas, e eu quero dizer toneladas de espaço no disco rígido. 10%, no mínimo.
Jon diz que muitas pessoas vão ainda mais longe, e usar uma unidade FireWire 800 para as amostras de música, e deixar a unidade interna para o trabalho do sistema. A teoria aqui é que a unidade de música tem uma cabeça de leitura dedicada à música amostras de leitura, e nada mais. Novamente, verifique se a unidade externa é 7200 rpm.
O sistema eo programa então cabeça de leitura do disco rígido interno é dedicada apenas a realização de operação do sistema e funções de operação do programa.
Playheads dois são melhores do que uma cabeça de jogar.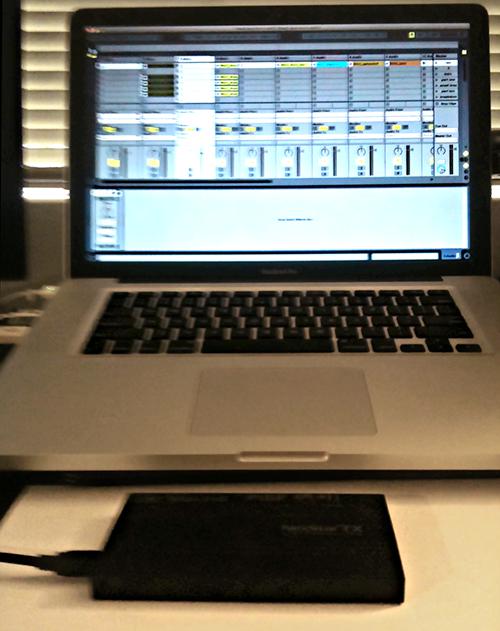 Por que Firewire 800?
Tem alguma Ableton, Logic hardware, software ou qualquer outro assunto? Não pendurar em torno de visitar os fóruns macProVideo para ajuda e conselhos!