Sono a un concerto, dj con Ableton Live . A metà strada attraverso il mio set, ho improvvisamente non può tracce stecca. Premo il pulsante sul mio Native Instruments Audio Kontrol 1, nulla. Oh boy. Per fortuna conosco i miei clip bene.
I finish the gig, and I start the long process of uncovering all the things I've done wrong to have this situation occur. My first call of course is to my friend Jon, Author of "Ableton Live 8 Power!". First thing he asks is if I'm using an internal drive, or an external drive. I am in fact using the internal laptop drive for all my music files. I was smart enough to have installed a 7200 rpm drive- many drives are 5400, and considered too slow for music work.

However, what I did was use up 495 gigs out of the available 500 gigs. This resulted in Ableton simply not having enough disc cache available to run properly. With 95% of my drive full, the Drive head has to travel all over the place as well, which slows it down.
Così la prima punta, lasciare tonnellate, e voglio dire tonnellate di spazio su disco libero. 10% al minimo.
Jon dice che molte persone vanno anche oltre, e utilizzare un disco FireWire 800 per i campioni di musica, e lascia l'unità interna per il lavoro di sistema. La teoria è che l'unità musica ha una testina di lettura dedicato ai campioni lettura della musica, e nient'altro. Anche in questo caso, assicurarsi che l'unità esterna è 7200 rpm.
Il sistema e il programma poi la testina di lettura del disco rigido interno dedicato al solo eseguendo il funzionamento del sistema e delle funzioni funzionamento del programma.
Due testine sono meglio di una testa giocare.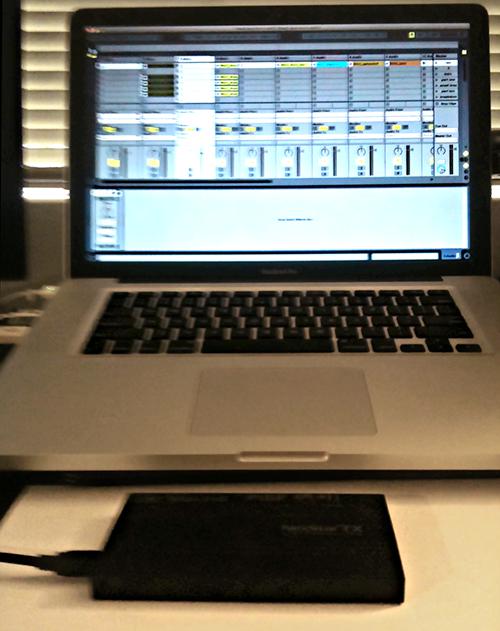 Perché Firewire 800?
Hai presente, Ableton Logic, hardware o eventuali problemi di software? Non appendere intorno a visitare il forum macProVideo per aiuto e consiglio!