I'm at a gig, djing with Ableton Live. Half way through my set, I suddenly can't cue tracks. I push the button on my Native Instruments Audio Kontrol 1, nothing. Oh boy. Good thing I know my clips well.
I finish the gig, and I start the long process of uncovering all the things I've done wrong to have this situation occur. My first call of course is to my friend Jon, Author of "Ableton Live 8 Power!". First thing he asks is if I'm using an internal drive, or an external drive. I am in fact using the internal laptop drive for all my music files. I was smart enough to have installed a 7200 rpm drive- many drives are 5400, and considered too slow for music work.

However, what I did was use up 495 gigs out of the available 500 gigs. This resulted in Ableton simply not having enough disc cache available to run properly. With 95% of my drive full, the Drive head has to travel all over the place as well, which slows it down.
So the first tip, leave tons, and I mean tons of hard drive space free. 10% at a minimum. But if you're gigging with the laptop, I'd advise at least 25% if not more. When I installed a 750 gig internal drive, and only used up about 200 gigs, with 550 gigs free, Ableton worked like a charm, the sounds were clean, no glitches, it was a noticeable improvement.
Jon says that many people go even further, and use a firewire 800 drive for music samples, and leave the internal drive for system work. The theory here is that the music drive has one read head dedicated to reading music samples, and nothing else. Again, make sure the external drive is 7200 rpm.
The system and program then have the internal hard drive's read head dedicated to just performing system operation and program operation functions.
Two playheads are better than one play head.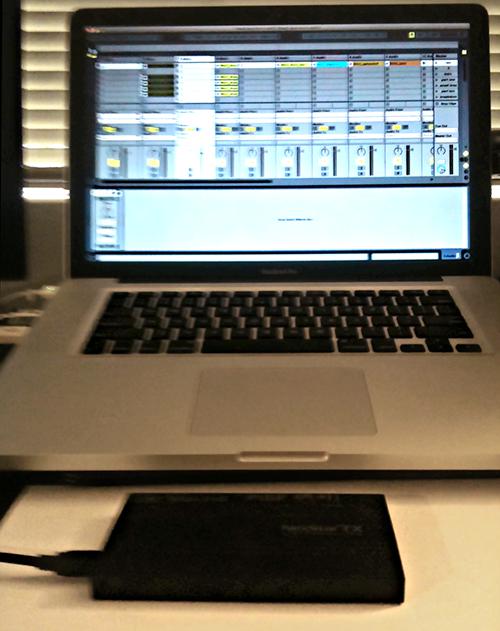 Why Firewire 800? Well. usb 2.0 and firewire 400 are close to each other in speed. Firewire 800 beats them both by a long shot for data rate transfers. Also, most midi controllers, and many audio interfaces out there use usb 2.0 - so save those slots on the laptop for other devices.
Got any Ableton, Logic, hardware or any software issues? Don't hang around visit the macProVideo forums for help and advice!