私は、ライブでとDJプレイですAbleton Liveを 。私のセットの途中、私は突然キュートラックすることはできません。私はNative InstrumentsのAUDIO KONTROL 1、何も上のボタンを押してください。ああ。私はよく私のクリップを知って良いこと。
I finish the gig, and I start the long process of uncovering all the things I've done wrong to have this situation occur. My first call of course is to my friend Jon, Author of "Ableton Live 8 Power!". First thing he asks is if I'm using an internal drive, or an external drive. I am in fact using the internal laptop drive for all my music files. I was smart enough to have installed a 7200 rpm drive- many drives are 5400, and considered too slow for music work.

However, what I did was use up 495 gigs out of the available 500 gigs. This resulted in Ableton simply not having enough disc cache available to run properly. With 95% of my drive full, the Drive head has to travel all over the place as well, which slows it down.
最初のヒントように、トンを残す、と私はハードドライブ空き容量のトンを意味する。最小で10%。
ジョンは多くの人々がさらに進み、音楽サンプルのためのFireWire 800ドライブを使用し、システムの作業用の内蔵ドライブのままにしておくことを言います。ここでの理論は、音楽のドライブは、音楽のサンプル、および他には何を読んで専用のヘッドを読み取ったものを持っているということです。再び、外付けドライブは7200回転であることを確認してください。
システムとプログラムは、単に実行してシステムの動作とプログラム動作の機能に専用の内蔵ハードドライブの読み取りヘッドを持っている。
二つの再生ヘッドが一再生ヘッドよりも優れています。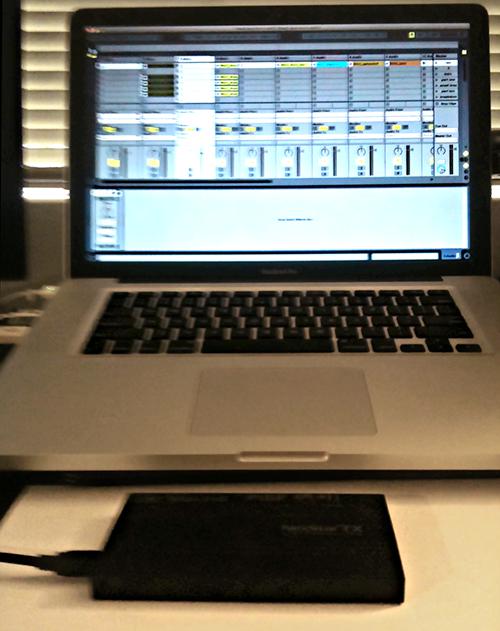 なぜ800 Firewireの?
どんなAbletonの、ロジック、ハードウェアまたはソフトウェアの問題があるの?たむろしないでくださいmacProVideoフォーラムを訪問支援やアドバイスのために!