Estoy en un concierto, pinchar con Ableton Live . A mitad de mi juego, de repente no puede pistas de señal. Pulso el botón de mi Native Instruments Audio Kontrol 1, nada. Oh, muchacho. Lo bueno es que conozco mis clips también.
I finish the gig, and I start the long process of uncovering all the things I've done wrong to have this situation occur. My first call of course is to my friend Jon, Author of "Ableton Live 8 Power!". First thing he asks is if I'm using an internal drive, or an external drive. I am in fact using the internal laptop drive for all my music files. I was smart enough to have installed a 7200 rpm drive- many drives are 5400, and considered too slow for music work.

However, what I did was use up 495 gigs out of the available 500 gigs. This resulted in Ableton simply not having enough disc cache available to run properly. With 95% of my drive full, the Drive head has to travel all over the place as well, which slows it down.
Así que el primer consejo, deje de toneladas, y me refiero a un montón de espacio de disco duro libre. 10% como mínimo.
Jon dice que muchas personas van incluso más allá, y utilizar un disco FireWire 800 para las muestras de música, y dejar la unidad interna de funcionamiento del sistema. La teoría aquí es que la unidad de la música tiene una cabeza de lectura dedicado a la lectura de muestras de música, y nada más. Una vez más, asegúrese de que la unidad externa es de 7200 rpm.
El sistema y el programa se han cabeza de lectura del disco duro interno que se dedica sólo a realizar la operación del sistema y las funciones de operación del programa.
Dos barras de reproducción son mejores que la cabeza juega un.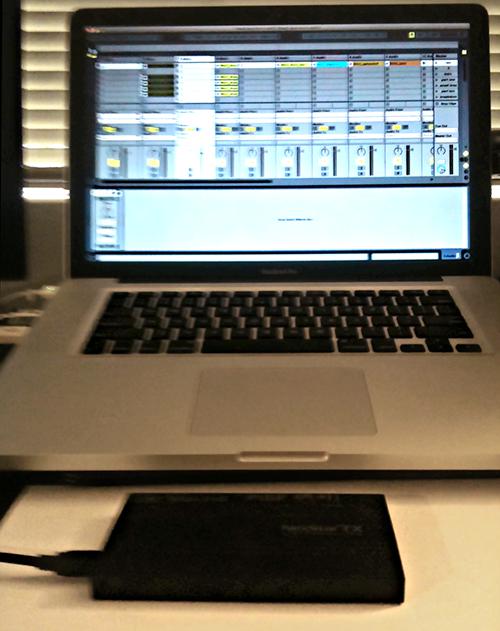 ¿Por qué Firewire 800?
¿Tienes alguna Ableton, Logic, el hardware o los problemas de software? No cuelgue alrededor de visitar los foros de macProVideo ayuda y consejo!