Melodyne has to be one of the most advanced software applications in regards to time stretching and pitch shifting capabilities. I find that you can take a simple melody or synth line you have created, pull it into Melodyne, and turn it into an absolutely amazing ambient soundscape. I will show you how with Melodyne's time-stretching abilities.

Paso 1 - Selección de la muestra de audio
Primero elige una muestra de audio que desea sacar a Melodyne. Me han exportado a un bucle de audio que he creado en Logic. Melodyne próximo lanzamiento y crear un proyecto de Melodyne con el mismo tempo que el bucle.
Para el tempo global, cambiar el tempo del archivo de audio. Ir a Archivo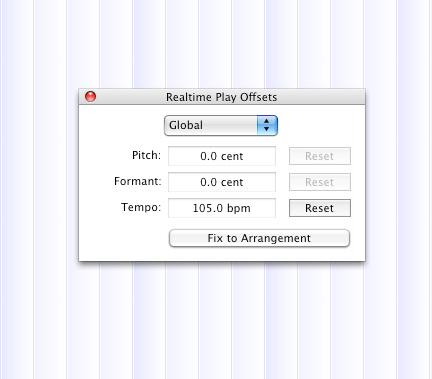 Our audio file's tempo is 105BPM, so we are changing the project to that.
Elija Asignar al proyecto, y elegir acuerdo en su conjunto, para dar a todo el arreglo que el tempo. A continuación, importe o arrastre el bucle en Melodyne.
Esto es lo que nuestro bucle como suena:
[Audio id = "2333"]
Paso 2 - Centro de Down que
Ahora es el momento de ver hasta dónde puede estirar este archivo de audio. Hemos tomado el ritmo y la dividió en 2 (que todavía quiero ser capaz de tirar de este archivo de nuevo en nuestro proyecto de Logic y mantenerse en sintonía con el proyecto), que nos da 56.5BPM. Ahora puede exportar este archivo de audio por ir a Archivo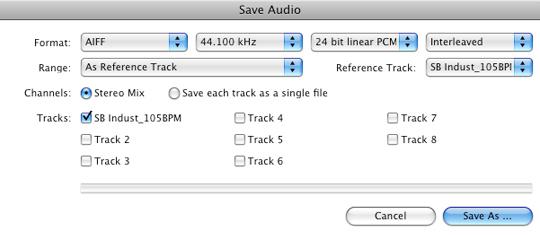 You can choose to save each separate track as a single file if you have imported more than one audio file into Melodyne. We have only imported one so we are going to choose to save the audio out as a stereo mix.
Melodyne no presenta tantos artefactos como el tiempo en el estiramiento de aplicaciones, que aún conserva gran parte de las cualidades de sonido del audio original. Tomar un escuchar a continuación:
Repita el mismo proceso pero ahora dividir el tempo a la mitad otra vez.
Aquí está la muestra de audio ahora en 26.25BPM:
Y aquí de nuevo ahora en 13.2BPM. Lo loco es que!
Lo que también se puede hacer es invertir el audio, entrando en los valores de tempo negativo. Interesantes sonidos inversa ambiente puede ser creado de esta manera.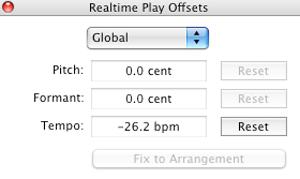 Paso 3 - Volver a su proyecto
Ahora puede sacar de estas muestras de nuevo en su proyecto relevante y crear interesantes texturas de sonido que las muestras están a tiempo pero se redujo a la mitad o un cuarto, etc .. del audio original. Como siempre que se acuerde dividir el tempo de las divisiones iguales que no debería tener ningún problema tirando de los archivos de nuevo en su proyecto, y la sincronización con el resto del audio.
Esto es lo que mi tiempo se extendía el sonido de piezas como puré de arriba en mi proyecto de Logic:
[Audio id = "2339"]
Paso 4 - Conclusión
Use Melodyne para crear sonidos interesantes en sus proyectos y se sorprenderá de los resultados. Para obtener más información acerca de Melodyne, consulte el tutorial de David Andris: