Melodyne has to be one of the most advanced software applications in regards to time stretching and pitch shifting capabilities. I find that you can take a simple melody or synth line you have created, pull it into Melodyne, and turn it into an absolutely amazing ambient soundscape. I will show you how with Melodyne's time-stretching abilities.

Schritt 1 - Wählen Sie Ihre Audio Sample
Zuerst wählen Sie eine Hörprobe, die Sie in Melodyne ziehen wollen. Ich habe eine Audio-Schleife I in Logic erstellt exportiert. Next Start von Melodyne und erstellen Sie eine Melodyne-Projekt mit dem gleichen Tempo wie die Schleife.
Für die Global Tempo, ändern Sie das Tempo Ihrer Audio-Datei. Gehen Sie zu Datei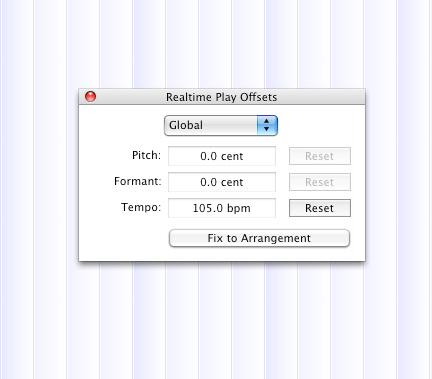 Our audio file's tempo is 105BPM, so we are changing the project to that.
Wählen Sie Fix zum Arrangement, und wählen Sie ganze Anordnung zu geben, die gesamte Anordnung, dass das Tempo. Dann importieren oder ziehen Sie die Schlaufe in Melodyne.
Hier ist, was unsere Schleife klingt:
[Audio-id = "2333"]
Schritt 2 - Stretch, dass Down-
Jetzt ist die Zeit, um zu sehen, wie weit wir können diese Audio-Datei zu strecken. Wir haben das Tempo genommen und teilten es durch 2 (wir wollen immer noch in der Lage sein, diese Datei wieder ziehen in unsere Logic-Projekt und den Aufenthalt in sync mit dem Projekt), das gibt uns 56.5BPM. Sie können nun den Export dieser Audio-Datei aus, indem Sie auf Datei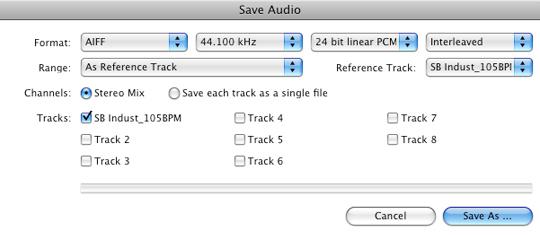 You can choose to save each separate track as a single file if you have imported more than one audio file into Melodyne. We have only imported one so we are going to choose to save the audio out as a stereo mix.
Melodyne nicht so viele Artefakte wie andere Time-Stretching-Anwendungen einzuführen, sie noch viel von der Original-Audio-Sound Qualitäten. Werfen Sie einen unten zu hören:
Wiederholen Sie diesen Vorgang aber jetzt teilen das Tempo in Hälfte wieder.
Hier ist die Audio-Sample nun 26.25BPM:
Und hier nun wieder auf 13.2BPM. Wie verrückt ist das!
Was können Sie auch tun, ist umgekehrt das Audio, indem Sie in der negativen tempo-Werte. Interessante Umgebungstemperatur reverse Sounds können auf diese Weise erstellt werden.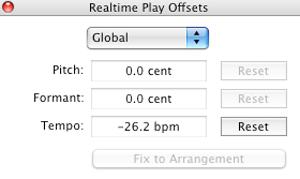 Schritt 3 - Zurück zu Ihrem Projekt
Sie können nun ziehen diese Proben wieder in Ihrem jeweiligen Projekt und erstellen Sie interessante Sound-Texturen wie die Proben noch in der Zeit verlangsamte sich aber um die Hälfte oder ein Viertel, etc. .. der Original-Audio. Solange Sie das Tempo durch gleiche Teile teilen erinnern sollten Sie keine Probleme haben, ziehen Sie die Dateien wieder in das Projekt und die Synchronisierung mit dem Rest der Audio.
Hier ist, was meine Zeit gestreckte Stücke klingen wie in mein Logic Projekt Püree:
[Audio-id = "2339"]
Schritt 4 - Fazit
Verwenden Sie Melodyne interessante Klanglandschaften in Ihre Projekte erstellen und Sie werden von dem Ergebnis begeistert sein. Weitere Informationen zu Melodyne, lesen Sie in David Andris Tutorial: