Poucos dias atrás um app popular, estúdio Rhythm por Pulse Code , tem o seu primeiro grande update. Para aqueles que havent se deparar com essa iPhone e música iPad fazendo app, aqui está o low-down: Studio Rhythm contém uma vasta coleção de instrumentos virtuais, como um completo drum machine 808, 303 sintetizador, sintetizador amostra com base, etc Há também um XY pad estilo de controle, um mixer com FX e dois novos instrumentos: O DR-9, a 909 drum machine estilo e do sintetizador fita Hornet.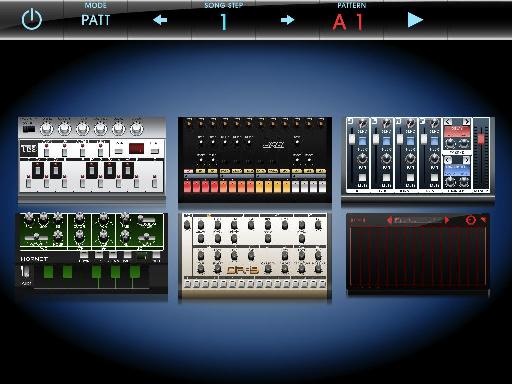 O zoom espaço de trabalho.
Rhythm Studio tem
Export to audio paste

Emailing song file

The Hornet Synth

909 Style DR-9 Drum Machine

Linear knob control (which makes it a whole lot easier to adjust the controls in my opinion).

Songs can be locked to prevent overzealous post-production!

The Gate FX allows you to slice up sounds like a good 'gater' does

You can now have up to 4 instruments per song and it's easy enough to choose which instruments are in each song, too. Mixer and Control Pad functionality and design has been streamlined.

Graças à recente atualização se sente mais fácil ir sobre a criação de sons do que antes. Também foi muito divertido explorar o synth Hornet nova e DR-9 Drum Machine. No geral eu tenho que dizer que achei estúdio Rhythm intuitiva e fácil de usar. Programação dos instrumentos com o pad XY é especialmente satisfatório para fazer seus próprios grooves e padrões exclusivos. A Mixer, com o seu construído em FX, controles de nível de volume, e exibir olhar encantador LED é direto para pegar o jeito de se youve já usou um DAW como o GarageBand, Logic ou Cubase.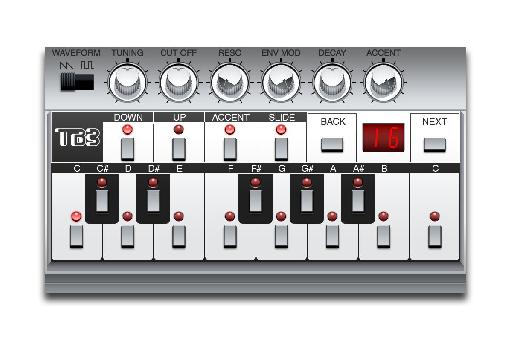 A TB-3 Transistor Bass.
Em termos de criação de músicas a criação de padrões e de edição (copiar e colar) controla torná-lo um pouco fácil e viciante de usar. Você foi avisado!
O que está faltando? Bem, se o código de pulso pode adicionar a funcionalidade multi-touch em uma atualização futura faria sons de programação e criação de peças ainda mais rápido e mais agradável.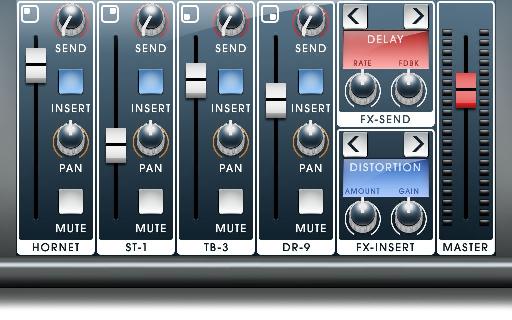 O Mixer é agora combinado com o seção FX.
Em conclusão este é um app pequeno grande criação de música para iPhone e iPad que eu gostava de usar como um mini-bloco de notas para idéias e doodles sonora enquanto on-the-go. E em apenas USD $ 0,99 (0,79 GBP) seu download certamente vale a pena para o iPhone ou músicos iPad.
Download Studio Rhythm da App Store do iTunes aqui .