The Adam Audio A8H monitor + Sonarworks: A Breakthrough for Any Studio
If you're looking to purchase studio monitors, read this review of the Adam Audio A8H.
If you're poring over studio monitor reviews, I know what you're looking for. You want to find that magical transaudient box that will take your mixing skills to the next level. You want it at a price you can afford, and you want the speaker to work its magic in your current mixing environment. Perhaps you are even trading elbows with the laws of physics in your current room, but stay with me, because Adam Audio and Sonarworks may have the supernal solution to all of your desires.
Why A8H?
Studio monitors are arguably the most important single investment you will make, but they won't deliver their full reward unless you keep two critical and interrelated actions in mind: first, choosing the best monitor you can afford, and secondly, tuning your mixing space. To do this well, room treatment is unavoidable—at least to eliminate first reflections and trap any exaggerated bass frequencies. Once you have a treated room, it's important to tune your monitors to your unique room acoustics. While many high-end monitors offer some degree of tuning, the Adam Audio A Series takes this capability to a new level of accessibility and effectiveness.
The A8H comes with a built-in 96 kHz-24-bit Digital Signal Processor (DSP), and through a partnership with Sonarworks, provides users with a comprehensive toolkit for precise room analysis. With these tools you can assess your room's acoustics and apply corrections directly to the A8H's DSP. This unique combination elevates the A8H's performance and value, surpassing other monitors at even twice the price.
A8H Sound Quality
What first strikes you about the A8H is the absolute clarity across the entire frequency range. Painters occasionally use a technique called scumbling: applying a slightly opaque glaze to give the painting a softer look. The A8H is scumble-free, giving the stunning impression of polished crystal that allows every detail of your mix to shine through with precision and definition.
In fact, if there is one word to describe the A8H, it is "definition". When properly set up, these monitors create a sense of spaciousness that transcends traditional left-right channels. You can stare directly at one of the speakers and still ask yourself, "Is the sound really coming from that box?" Instead of discrete stereo channels there is a pure, continuous field of sound floating in front of you. Each track dances on this rich sound stage and can be positioned with precision. Reverb tails are silky and delicate, allowing you to create distinct pockets of space around individual instruments. There is a lovely, fatigue-free high end without a hint of brittleness. The bass is tight and well balanced. Nothing is vague, loose, or flabby. How is this done? It must be some numinous combination of the unique cabinet shape, the ribbon waveguide, the speakers and the electronics, but however it is achieved, the A8H is an absolute delight to use – exceptional - right out of the box.
A8H Details
The Adam A8H arrives in a heavy cardboard box-within-a-box. Included is a short power cable and a Quick Start manual. The speaker is enclosed in a soft cloth bag and suspended in a foam cradle within the inner box. The soft bag is a thoughtful and practical flourish that caresses the monitor and makes it easy to lift the heavy (30 pound) monitor out of the cradle without incident. There is no plastic, tape, or other packaging detritus that might cause damage during unpacking; very well-executed packaging.
The monitors are beautiful; with their sliced angles and satisfying dimensions, they mimic a heavy block of carved black granite.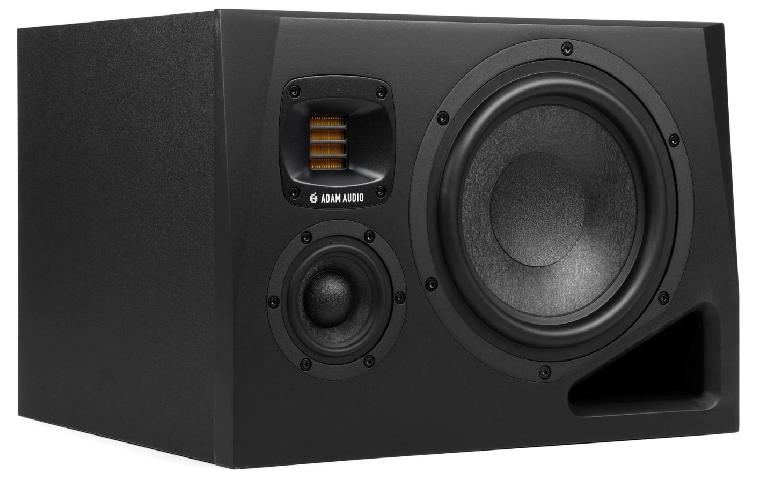 The monitor has four M8 x 20mm recessed threaded inserts if you wish to bolt the monitor to your stands (I did so). The companion bolts are not included, but I found them readily available.
The full manual can be downloaded from the Adam Audio website HERE. The manual is excellent, don't ignore it. It gives you a clear overview of the monitor's many features, specific advice on monitor positioning, and a table of suggested tuning settings for the four-band equalizer on the rear panel—all gauged to the size of your room and your preferred monitor position.
When ordering, it is important to remember that the A8H comes in a left and a right configuration. Adam Audio states that the preferred stereo orientation is horizontal with the ribbon tweeters on the inside of the listening triangle. If you insist, you can position the monitor vertically by rotating the tweeter/waveguide module. This is covered in the manual which also includes advice for using A8H's in multi-speaker setups.
The A8H is a three-way, tri-amplified monitor with an RMS 200w 8" Multi-Layer Mineral (MLM) woofer, 55w 3.5-inch MLM midrange, and Adam Audio's X-ART 15w ribbon tweeter. If that doesn't sound like enough power, don't worry, it is. I can attest that the output of these monitors is more than adequate for virtually any size control room. I spent a week using the A8H's essentially as PA speakers in a large (1800 square foot) recording studio doing live improvisation sessions with the Electronic Art Ensemble. We used the A8H's (along with a pair of Quested VS2108's) to bathe the studio in sound. The A8H's alone kicked out all of the undistorted decibels we needed.
Running my new monitors as PA speakers was also a good burn-in process (yes, Adam Audio does recommend an eight-hour burn-in for the A Series). See this excellent Adam Audio Burn-in Video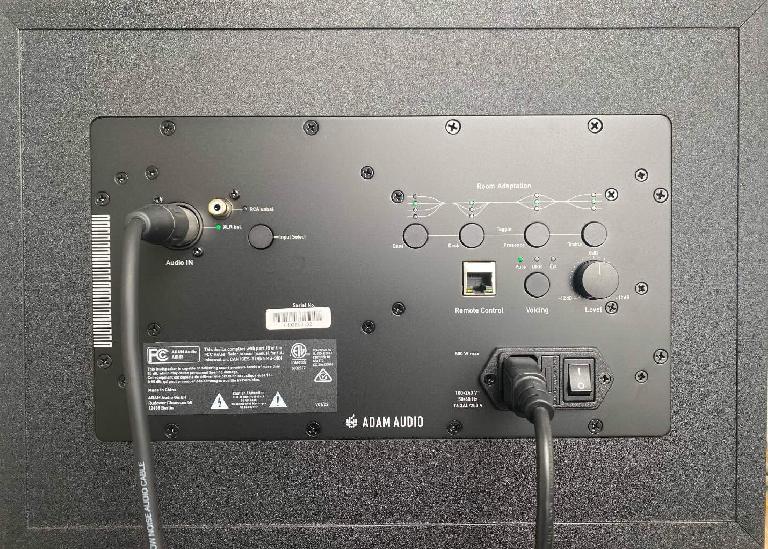 The rear panel has a -12 dB to +12 dB Level (volume) control. This is typically used as a level balance if you are switching between several different brands of monitors in your setup. A multi-color indicator light is clearly visible on the front of the monitor that can communicate up to 9 different functional modes.
There are three Voicing modes selectable by button on the rear panel (and from within the "A Control" software that we will discuss below). The three modes are clearly indicated by a status light. The three voicings are: "Pure," an anechoically flat response ideal for mixing, "UNR" (Uniform Natural Response), a "warmer" response curve that is great for enjoying your music when you aren't trying to extract every last detail from your mix, and "Ext" (External or Extended), which is your SoundID custom room calibration that we will discuss shortly. An RJ45 connector allows you to connect Adam Audio's "A Control" software via an ethernet cable. This gives you remote access to the advanced controls within the monitor (for example, a 6 band equalizer with frequency, gain, Q, and Filter Type), and enables you to upload the custom calibration you will create with the Sonarworks SoundID application.
Combining A8H and Sonarworks for Room Analysis
While the A8H offers exceptional audio quality on its own, its true potential is unlocked when paired with Sonarworks SoundID Reference software and their reference microphone. This software allows you to analyze your room and create a custom EQ curve that can be uploaded directly into the A8H's Digital Signal Processor. This feature alone sets the A8H apart from other studio monitors and allows you to achieve a level of accuracy and precision that was previously unattainable.
The Test
I wanted to see what improvements were possible using only the internal DSP and the Sonarworks calibration files. To push these tools to the limit, I decided not to test A8H/Sonarworks combination in a proper control room. Instead, I set up a mixing session in my living room. This is an untreated, slightly asymmetrical, and lightly damped space. I reasoned that this would be a better test for a typical home studio, and if the A8H/Sonarworks combination did a good job here, they would be stellar in any environment.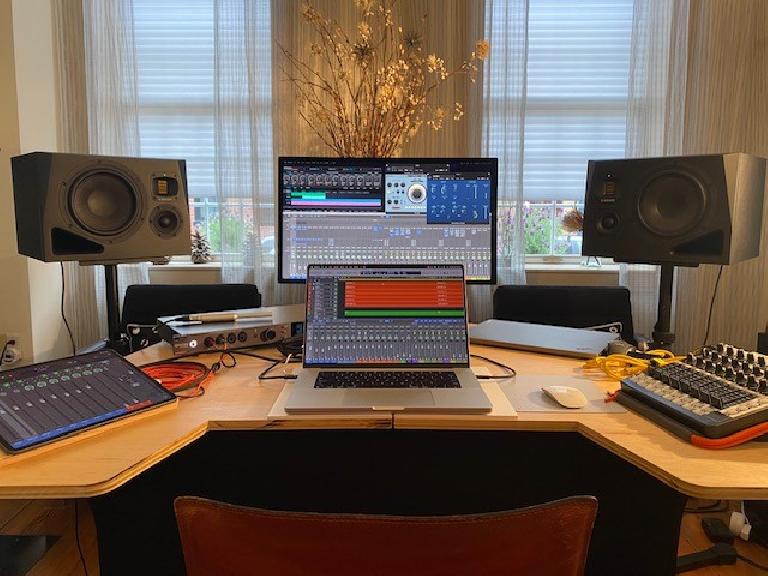 Let me point out that all of the superlatives I mentioned previously about the A8H's sound quality existed in my living room, even before tuning. These are terrific monitors, but after tuning. . .
Sonarworks SoundID Reference Software and Reference Microphone
To get the most out of your A8H monitors in your room, the Sonarworks SoundID Reference software and microphone are essential. SoundID is a full-fledged suite of tools allowing you to not only make your monitors "flat" in your space, but to tune them to virtually any preference.
When you order the Sonarworks system, you receive a condenser mic, registration key, and a very simple, 4-step "Get Started" guide. Log-on to the Sonarworks site, register, and download the software. This process is straightforward. I used a Mac M1 Max running macOS Ventura (Ventura was not yet listed as a supported OS at the time I did my test, but everything worked flawlessly).
The SoundID software itself walks you through the setup and calibration process. The on-screen instructions and 3-D graphics make it nearly impossible for you to screw it up. The entire process takes about 30 minutes.
SoundID instructs you where and how to hold the calibration microphone. The software runs a series of tones from about 40 directed positions. Any skepticism I had about the accuracy of the software was vaporized when the application first measured the exact distance between the monitors and the listening position using only audio tones.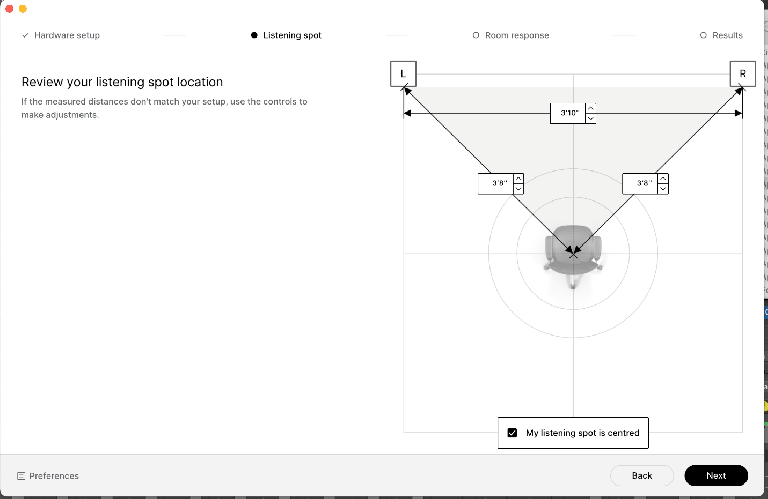 Below is screenshot from one step of the calibration process. The "30" in the lower left corner indicates the number of measurement-positions remaining. The software clearly indicates when the microphone is in the proper position required to make the measurement and then executes the measurement automatically.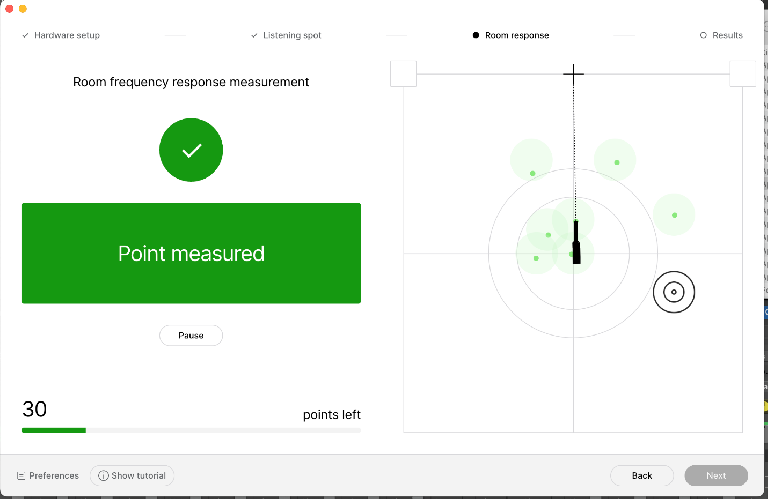 The anechoic frequency response for the A8H looks like this: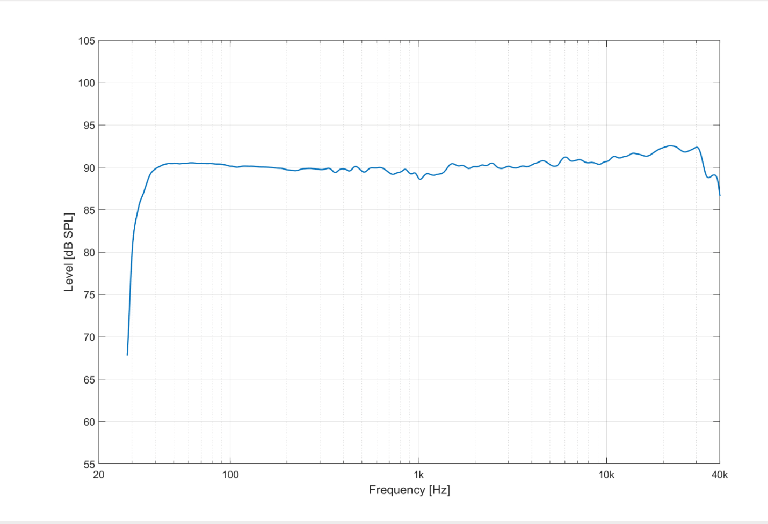 The analysis curve of my living room looked like this: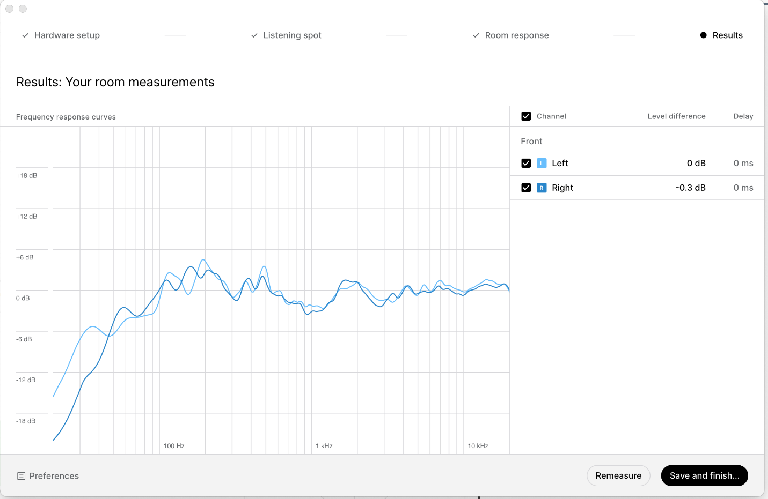 SoundID allows you to play with various corrections and monitor them in real-time; both instructive and entertaining: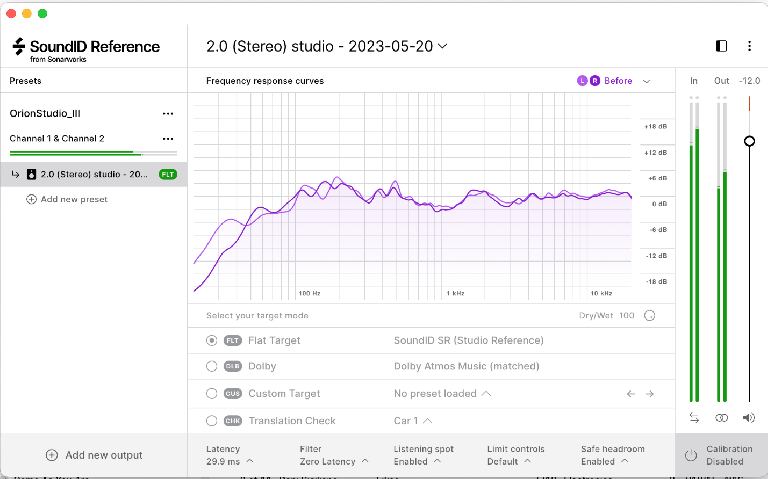 While you are here, you can also use the Sonarworks SoundID application directly (without uploading to the Adam Audio DSP). SoundID inserts a virtual audio output on the Mac, and applies your selected calibration.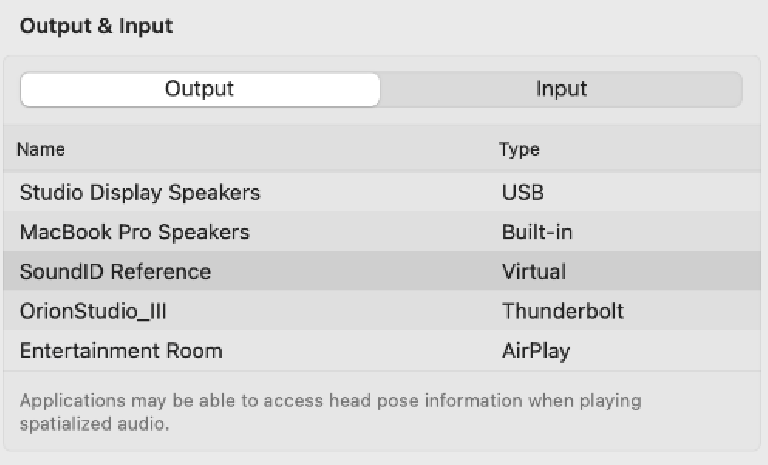 SoundID has dozens of presets loaded that you can apply to your monitors on the fly. There is a long list of different speaker models: cars, headphones, laptops, smartphones, studio speakers, TV's etc, even Dolby curves. Would you like to hear your mix on NS11's or on a mixcube? Just select it. Or you can draw in the response you like. SoundID is a fantastic tool. Ahh, but selecting FLAT and using the room calibration I did with the reference mic—that added a startling presence to the A8H's.
Here is the final "flat" curve, ready to export and upload to the A8H DSP: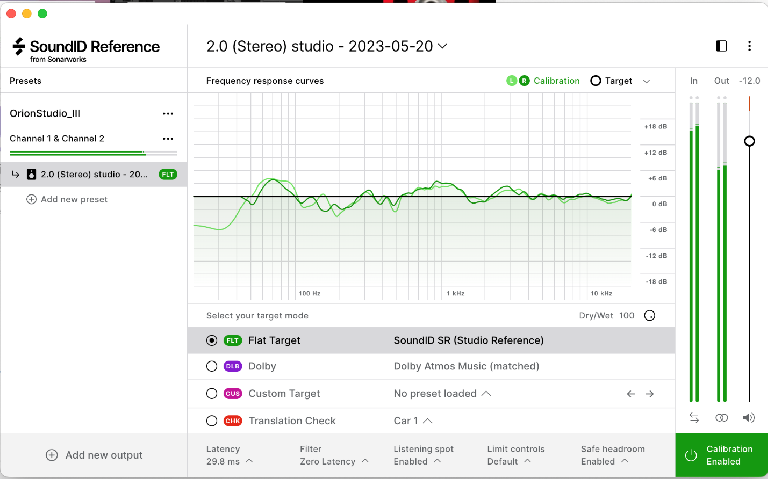 Next you "export" the curve, which saves it to a dedicated folder on your hard drive. Then using the Adam Audio "A Control" software you upload the curve into the A8H's DSP via the ethernet inputs on the rear panel. This process is simple and straightforward. Adam Audio has an excellent video that walks you through the upload process
At this point you no longer need the ethernet connections, the A Control software or the SoundID application running. The "Voicing" button on the rear panel of the monitors now gives you easy access to Adam's two default tunings (Pure & UNR) plus your custom room tuning, delivering a latency-free, tuned monitor.
Remember too that SoundID allows you to store an unlimited number of custom calibration curves. Imagine moving your monitors to different rooms, each of which has its own stored tuning curve that can be manipulated with the SoundID Software, or uploaded into the A8H DSP. The Adam A Control software also offers several advanced capabilities that I didn't cover, such as the ability to apply delay and gain to individual loudspeakers, ensuring maximum flexibility in tuning your system to your exact requirements.
Sonarworks and A8H Results
I was expecting a subtle change akin to the latest $29.99 gimcrack plugin; You first hear it bypassed and say, "Okay". . . And then you hear it engaged! And you go, "Mmm. Okay. Yeah. Let me hear that again. . ." The Sonarworks room correction was not subtle. It was a stunning improvement. Instead of a vague warm feeling, it was like glimpsing your soul-mate across a field of flowers. There was an overwhelming additional presence and clarity in the midrange with a corresponding tightening and cleanliness in mid-bass frequencies. Everything was more alive. Engaging the curve was like a stage magician theatrically yanking a sheet off the speakers. Go forth and tune your A8Hs brothers and sisters.
Required Accessories
The communication protocol between your computer and the A8H is ethernet, so I did need to buy a 2-port ethernet hub to connect my Mac to the two A8Hs (I used a StarTech USB-C to Dual Gigabit Ethernet Adapter, about $70)
The Sonarworks software and microphone are a bargain, A BARGAIN, at around $300.
Conclusion
Is the A8H the right monitor for you? If you are cash-rich and have over $8000 to spend, there are other options, including Adam's S Series, but at UNDER $3000 a pair, the power and articulation of the A8H scores it as the best studio monitor currently available—right out of the box. Spend a modest $300 for the Sonarworks SoundID mic and software, and you'll have all the professional tools you need to make these superb monitors sing in your studio—or in many different rooms if you choose to take your studio on the go (save the A8H boxes, cradles, and fabric bag for transport).
And so, in our little world of the recording studio, we can now kneel in orison and place the Adam Audio A8H and Sonarworks tuning technologies in their rightful place among the notable inventions such as the zipper, the printing press, the jar, shoes, paper, the elevator, the fader, eyeglasses, shampoo, the telephone, pizza, the periodic table, general relativity, quantum mechanics and the ballpoint pen. Well done Adam Audio and SonarWorks.