My Impressions of Expressive E's Osmose: A Paradigm Shift in Expressive Synthesis and Performance
Osmose by Expressive E is a game changer for electronic performers and composers seeking a deeper level of expression.
Osmose bridges the gap between musical intentions and their sonic manifestation
As an electronic music performer and composer, I'm always looking for revolutionary instruments that redefine the boundaries of musical expression. I first saw a prototype of Osmose at SuperBooth several years ago and was very intrigued. After unpacking it and laying my hands on the instrument, I knew instantly it was something special. This keyboard synthesizer isn't just a piece of hardware; it bridges the gap between musical intentions and their sonic manifestation.
What truly captured my attention right from the start was Osmose's dedication to providing a palette of expressive control. As someone who's always been fascinated by instruments like the Zen Drum and the Buchla Multi-Dimensional Input Port 222e, I hold a deep reverence for tools that allow me to convey emotions far beyond the confinement of mere notes. Each press of a key transforms into an opportunity to breathe life into performances and compositions – from the gentle, breath-like nuances to soaring sweeps.

Here's an example of some fun sound design explorations (totally unprocessed) improvised just minutes after booting it up to illustrate how quick and easy it is to get creative!
The Eagan Matrix synth engine
Of course, an extraordinary instrument deserves an equally extraordinary sound engine to complement its capabilities, and that's where the Eagan Matrix synth engine nestled within Osmose truly shines. This modular system offers an intricate web of sonic possibilities, and with over 500 presets, it's easy to start exploring them. Thanks to the emphasis on real-time expressiveness and control, performers can mold and change sounds in new ways that weren't possible before.

The engine's innate ability to dynamically respond to various performance gestures – from pressure to velocity and pitch – perfectly aligns with the fundamental ethos of Expressive E's Osmose keyboard synthesizer.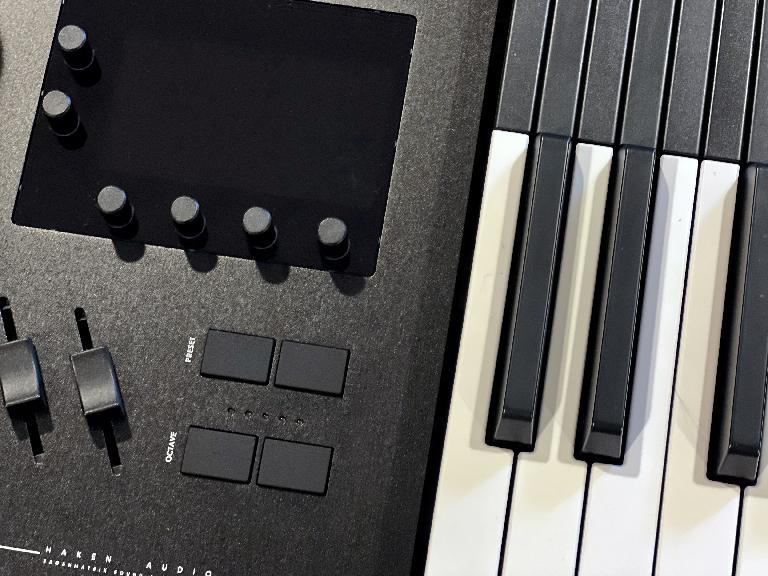 The synergy between the expressive controller and the Eagan Matrix engine is a match made in sonic heaven, allowing for dynamic soundscapes that react and evolve in real time with my touch. By seamlessly integrating an expressive controller with the awe-inspiring Eagan Matrix synth engine, and complementing it all with an array of captivating presets, Osmose beckons us to a realm of sonic possibilities that I've only begun to scratch the surface of.
Tech Specs
-49 full-size keys with three-dimensional control
-Standalone synthesizer, MPE MIDI Controller, and classic MIDI controller
-EaganMatrix, a digital modular engine by Haken Audio
-Up to 24 voices
-DIN MIDI In, MIDI Out/Thru, USB Type B
For more information and to reserve your very own Osmose go to: https://www.expressivee.com/2-osmose