Solo pochi giorni fa un app popolare, Studio Ritmo da Pulse Code , ha avuto il suo primo aggiornamento importante. Per coloro che havent incontrare questo iPhone e musica iPad facendo applicazione, heres il low-down: Studio Ritmo contiene una vasta collezione di strumenti virtuali come una completa drum machine 808, 303 sintetizzatore, sintetizzatore campione base, ecc C'è anche un XY stile pad di controllo, miscelatore con FX e 2 nuovi strumenti: Il DR-9, un 909 stile drum machine e il sintetizzatore nastro Hornet.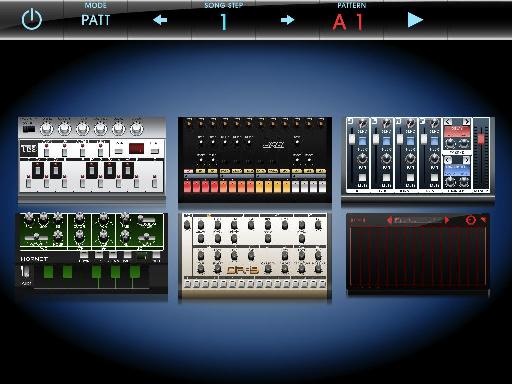 Il ingrandito di lavoro.
Ritmo Studio ha
Export to audio paste

Emailing song file

The Hornet Synth

909 Style DR-9 Drum Machine

Linear knob control (which makes it a whole lot easier to adjust the controls in my opinion).

Songs can be locked to prevent overzealous post-production!

The Gate FX allows you to slice up sounds like a good 'gater' does

You can now have up to 4 instruments per song and it's easy enough to choose which instruments are in each song, too. Mixer and Control Pad functionality and design has been streamlined.

Grazie al recente aggiornamento ci si sente più facile andare sulla creazione di suoni di quello che faceva prima. E 'stato anche molto divertente esplorare la nuova Hornet synth e DR-9 Drum Machine. Nel complesso devo dire che ho trovato Studio Ritmo intuitivo e facile da usare. Gli strumenti di programmazione con il pad XY è particolarmente soddisfacente per rendere il vostro groove e modelli unici. Il Mixer, con i suoi costruito in FX, controlli di livello del volume, e bella mostra cercando LED è semplice da ottenere il blocco di se youve mai usato una DAW come GarageBand, Logic o Cubase.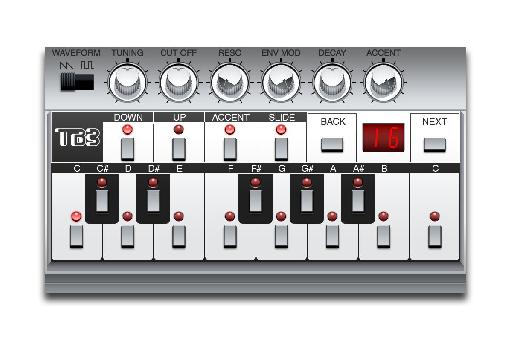 La TB-3 Transistor Bass.
In termini di creare le tue canzoni la creazione e la modifica di modello (copia e incolla) controlli lo rendono un facile e poco coinvolgente per l'uso. Siete stati avvertiti!
Cosa manca? Beh, se Pulse Code potrebbe aggiungere funzionalità multi-touch in un futuro aggiornamento che avrebbe fatto la programmazione suoni e parti creando ancor più veloce e più divertente.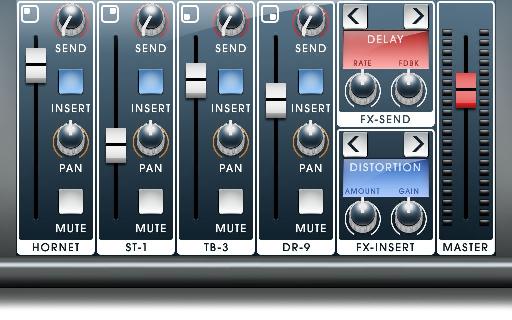 Il Mixer è ora unita con la sezione FX.
In conclusione questo è un piccolo grande applicazione la creazione di musica per iPhone e iPad che mi sono divertito con un mini taccuino di idee e scarabocchi sonore, mentre on-the-go. E a soli $ 0.99 USD (0,79 GBP) il suo scaricamento sicuramente vale la pena per iPhone o iPad musicisti.
Scarica Studio Ritmo da App Store di iTunes qui .