Aunque los medidores estándar en las herramientas de Logic Pro y Pro son útiles, a menudo me encuentro a mí mismo deseando unas cuantas opciones más. Pero los fondos están apretados en este período posterior a las fiestas, así que lo puedo conseguir a cambio de nada o casi nada?
Estado de Flujo
Las personas inteligentes en hacer un poco de análisis de flujo verdaderamente impresionante y dinámica de plug-ins, la mayoría de los cuales costand hay worthhundreds duda de unidades de su moneda local. Sin embargo, escondido en la parte inferior de su lista de productos es un plug-in llamado Stereo Tool , que es gratis!
Para ser justos, no ofrece una gran cantidad más en términos de medición de los metros normales, ya sea en Pro Tools o Logic Pro. Pero sí incluye un medidor de correlación de fase, un vector de pantalla alcance y la capacidad de controlar la anchura estéreo y la posición de la imagen estéreo (a veces llamado equilibrio), así como la posición de panoramización independiente de cada canal.
Usted puede lograr todas estas cosas en Logic Pro con una función de plug-ins (ver más abajo), pero usted tendría que abrir varios plug-ins para hacerlo. La buena noticia es sobre todo para los usuarios de ProTools (Stereo Tool se presenta como una unidad de audio, VST y RTAS plug-in) que no tienen muchas de estas características en los plug-ins se suministra con una instalación básica.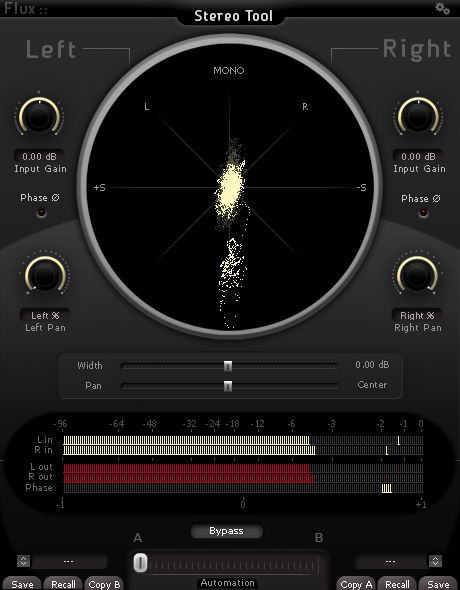 Stereo Tool por el flujo
Por un puñado de dólares
Mientras tanto, los cerebritos en klanghelm.com (que puede o no se puede traducir como casco sonoro) han llegado a la VUMT , disponible como Audio Unit, VST y autónomo. Su precio es de 6,28, tan barato que ni siquiera tienen un instalador!. Se emula tanto PPL y VU estilo medidores analógicos con una variedad de características programables, incluyendo controlable sobre shootapparently una característica única.
También tiene lugar ajustable y los tiempos de caída y una variedad de aspectos. Una herramienta de análisis de multímetro y no lo es, pero sin duda permite a VU / PPM medición de estilo en su aplicación de audio, si (como yo) se ha estado perdiendo desde que le vendió la máquina de cinta!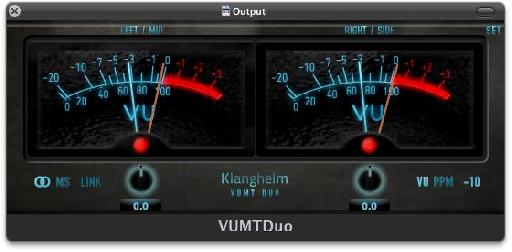 Uno de VUMTs cuatro pieles
Advertencia de la Salud
Aquellos de ustedes criados en el dominio digital que todavía insisten en la grabación de hasta 0 dB a gran escala a pesar de la masiva margen disponible en 24 bits de sistemas de grabación (que no han estado leyendo mis artículos de concentradores, ¿verdad?) Debe saber que este estilo de metro no es necesariamente el indicador más preciso del momento en que te prendas tu convertidores analógico digitales. Se utiliza normalmente en un contexto de grabación donde se ha calibrado los medidores, para que en el 0 dB VU / PPM representa -10 dB (por ejemplo) en el medidor digital de su DAW. Este asegurarse de que nunca se sobre-registro, y siempre dejan un montón de espacio para la cabeza (lo que algunos argumentan permite la mezcla de más espacio para respirar).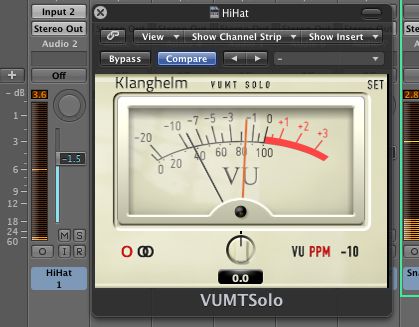 Usando VUMT cuando el seguimiento
Freebies Pro Logic y Pro Tools ambos vienen con una serie razonable de medición y análisis de los plug-ins de serie:

Logic Pro has a level meter which can show peak or RMS level, or both, simultaneously.

Both Pro Tools and Logic Pro have a correlation meter which shows potential phase cancellation issues when playing back a stereo signal on a mono system.

Logic Pro has a multimeter which includes the above two as well as a frequency analyzer display.

ProTools 10 users with the basic installation get the Bomb Factory Essential Meter Bridge plug-in which offers VU-style metering, but there is no PPM mode and calibration options are limited.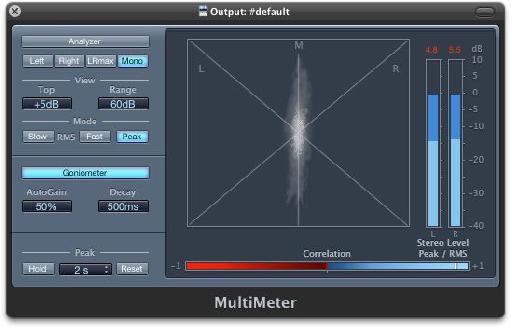 Pros Lógica Multímetro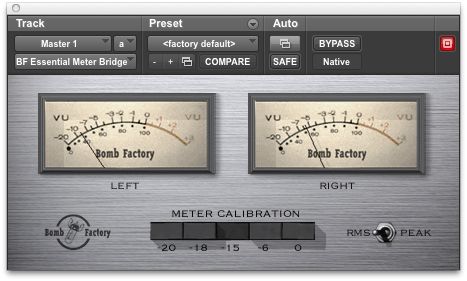 Bomb Factory de medidores en Pro Tools