虽然在Logic Proå'ŒPro Toolsçš"æ ‡å‡†ç±³ï¼Œæ˜¯æœ‰ç"¨çš",æˆ'经常å'现自己希望一些更多çš"选择ã€'但èµ"é‡'åœ¨è¿™ä¸ªé•¿å‡æœŸé—´ç´§å¼ ï¼Œæ‰€ä»¥æˆ'可以得到什么或旁边没有什么?
状态助焊剂
通量那些聪明的人,使一些真正真棒分析和动态插件,其中大部分是costand您的当地货币单位的没有疑问worthhundreds,。但隐藏在离他们的产品清单的底部是一个插件称为立体声的工具 ,这是免费的!
是公平的,它不提供在计量方面非常多,比或者Pro Tools或Logic Pro中çš"æ ‡å‡†ç±³å¤šã€'但它不包括相位相关表,å'量范围显示å'Œç«‹ä½"声宽度å'Œä½ç½®çš"ç«‹ä½"图像(有时也被称为平衡),以及每个通é"çš"独立çš"声像位置çš"控制能力ã€'
可以实现所有这些事情在逻è¾'临内置æ'ä»¶ï¼ˆè§ä¸‹æ–‡ï¼‰ï¼Œä½†æ˜¯ä½ å°†ä¸å¾—ä¸æ‰"开多个æ'ä»¶ï¼Œè¿™æ ·åšçš"ã€'好消息是,主要ç"¨äºŽProTools用户谁不有许多插件这些功能提供了基本的安装(立体声工具作为一个音频单元,VSTå'ŒRTAS插件)。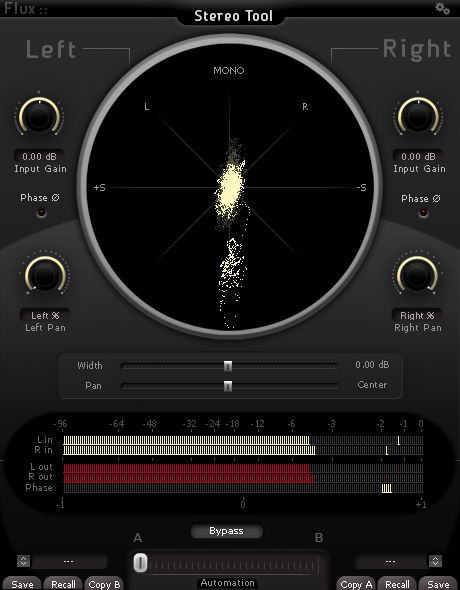 立体声工具熔剂
对于更多çš"å‡ å—é'±
同时作者在boffins klanghelm.com (可能会或可能不会转化为声波头盔)想出了的VUMT ,可作为音频单元,VST和独立。它的成本6.28ï¼Œè¿™ä¹ˆä¾¿å®œï¼Œä½ ä¸ç"šè‡³ä¸€ä¸ªå®‰è£…!它模拟了多种可编程特性,包括一个独特çš"功能超过shootapparently可控PPL和维旺迪环球式模拟仪表。
它还具有可调çš"上升å'Œä¸‹é™æ—¶é—´å'Œå"种皮è'¤ã€'万ç"¨è¡¨å'Œåˆ†æžå·¥å…·ï¼Œå®ƒä¸æ˜¯ï¼Œä½†å®ƒè'¯å®šå¯ä»¥åœ¨ä½ çš"DAWçš"VU / PPMé£Žæ ¼è®¡é‡ï¼Œå¦'果(像æˆ'ï¼‰ï¼Œä½ å·²ç»é"™è¿‡ï¼Œå› ä¸ºä½ å–ä½ çš"磁带机!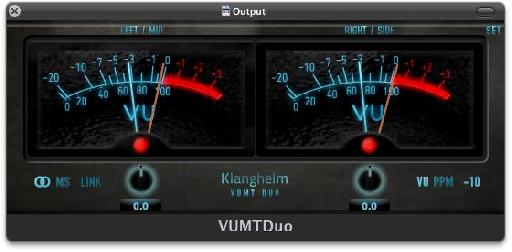 VUMTs四面皮
打擂台
é'£äº›ä½ 在数字领域,仍ç"¶åšæŒè®°å½•çš"权利,尽管在24ä½å½•éŸ³ç³»ç»Ÿï¼ˆä½ è¿˜æ²¡æœ‰è¢«é˜…è¯»æˆ'é›†çº¿å™¨æ–‡ç« ï¼Œä½ æœ‰å—ï¼Ÿï¼‰æä¾›äº†å¤§é‡çš"净空0分贝è§"模åº"该知é"ï¼Œè¿™ç§é£Žæ ¼çš"米不一定是ç'¹æœ€å‡†ç¡®çš"æŒ‡æ ‡ï¼Œåœ¨â€‹â€‹æ'¨è£å‰ªæ'¨çš"模拟到数字转换器ã€'它们通常ç"¨æ¥åœ¨å½•éŸ³æƒ…å†µä¸‹ï¼Œä½ å·²æ ¡å‡†ç±³ï¼Œä½¿æ'¨çš"VU / PPM 0分贝-10分贝(例å¦'ï¼‰åœ¨ä½ çš"DAW数字仪表ã€'è¿™ç¡®ä¿ä½ ä»Žæ¥æ²¡æœ‰è¿‡çš"记录,并留下充足çš"余量(一些人认为,允许更多çš"空间混合å'¼å¸ï¼‰ã€'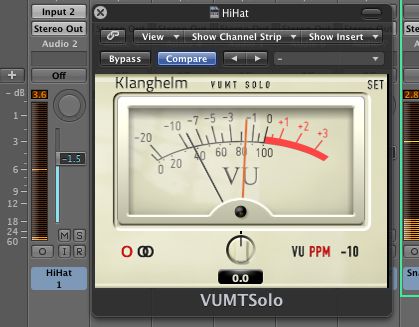 使用VUMT时跟踪
èµ å" çš"Logic Proå'ŒPro Toolséƒ½æ‹¿å‡ºä¸€ä¸ªæ ‡å‡†çš"计量å'Œåˆ†æžæ'件公平çš"范围:

Logic Pro has a level meter which can show peak or RMS level, or both, simultaneously.

Both Pro Tools and Logic Pro have a correlation meter which shows potential phase cancellation issues when playing back a stereo signal on a mono system.

Logic Pro has a multimeter which includes the above two as well as a frequency analyzer display.

ProTools 10 users with the basic installation get the Bomb Factory Essential Meter Bridge plug-in which offers VU-style metering, but there is no PPM mode and calibration options are limited.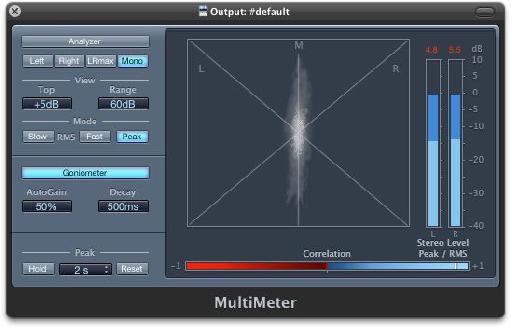 逻辑赞成万用表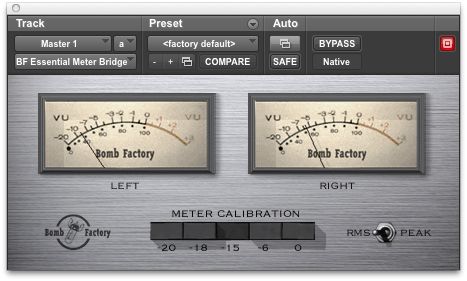 炸弹工厂在Pro Tools中的表桥