Obwohl die Standard-Meter in Logic Pro und Pro Tools nützlich sind, ich finde mich oft wollen für ein paar weitere Optionen. Aber Fonds sind eng in dieser post-Ferienzeit, so was kann ich für nichts oder fast nichts zu bekommen?
State of Flux
Diese kluge Leute bei Flux machen einige wirklich genial Analyse und dynamische Plug-Ins, von denen die meisten costand gibt keine Zweifel worthhundreds der Einheiten der lokalen Währung. Aber weg an der Unterseite ihrer Produkte Liste ausgeblendet ist ein Plug-in namens Stereo Tool , das kostenlos!
Um fair zu sein es bietet nicht sehr viel mehr in Bezug auf die Dosierung als die Standard-Meter entweder in Pro Tools oder Logic Pro. Aber es gehört ein Phasenkorrelationsanzeige, einen Vektor Umfang Display und die Möglichkeit, die Stereo-Breite und Position der Stereo-Bild (manchmal auch als Balance), sowie die unabhängigen Pan-Position der einzelnen Kanäle steuern.
Sie können all diese Dinge in Logic Pro mit integrierten Plug-Ins (siehe unten) zu erreichen, aber Sie müssten mehrere Plug-Ins zu öffnen, um dies zu tun. Die gute Nachricht ist vor allem für ProTools Anwender (Stereo Tool kommt als Audio Unit, VST und RTAS-Plug-in), die nicht über viele dieser Funktionen in der Plug-Ins mit einer Basis-Installation geliefert.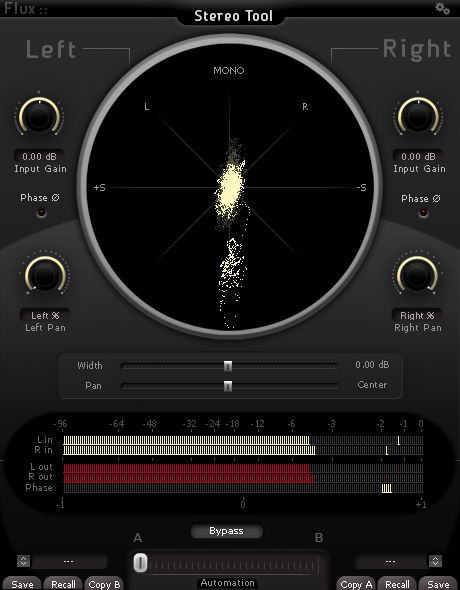 Flux Stereo Tool durch
Für ein paar Dollar mehr
Inzwischen sind die Tüftler bei klanghelm.com (was kann oder auch nicht, wie Sonic Helm übersetzen) haben sich mit dem kommen VUMT , erhältlich als Audio Unit, VST und Standalone. Es kostet 6,28, so billig, Sie bekommen nicht einmal einen Installer!. Es emuliert sowohl PPL und VU-Meter analogen Stil mit einer Vielzahl von programmierbaren Eigenschaften, einschließlich steuerbar über shootapparently ein einzigartiges Merkmal.
Es hat auch einstellbare Anstiegs-und Abfallzeit und eine Vielzahl von Skins. Ein Multimeter und Analyse-Tool ist es nicht, aber es ist sicherlich erlaubt VU / PPM Stil Metering in Ihrer DAW, wenn (wie ich) Sie bisher verpasst haben, da Sie Ihre Bandmaschine verkauft!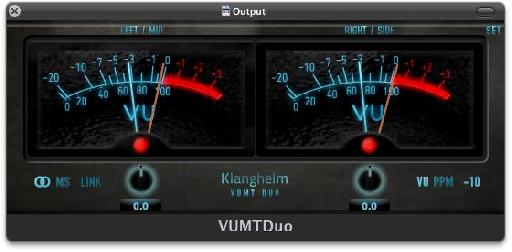 Einer der vier VUMTs Skins
Gesundheit Warnung
Diejenigen von euch, aufgewachsen in der digitalen Domäne, die immer noch darauf bestehen, die Aufzeichnung bis hin zu 0 dB Full-Scale trotz der massiven Kopffreiheit auch in 24-Bit-Aufnahme-Systeme (man ist nicht das Lesen meiner Hub Artikel, haben Sie?) Sollten wissen, dass Dieser Stil der Zähler ist nicht unbedingt die genaueste Indikator für den Punkt, an dem Sie Ihren Clip Analog-Digital-Wandler. Sie werden in der Regel mehr in einem Aufnahmestudio Kontext, wo Sie die Meter kalibriert haben, so dass 0 dB auf Ihrer VU / PPM stellt -10 dB (zum Beispiel) auf Ihrer DAW digitales Messgerät verwendet. Diese sorgen dafür, dass Sie noch nie über-Rekord, und lassen immer genügend Kopffreiheit (was einige argumentieren, ermöglicht es dem Mix mehr Raum zum Atmen).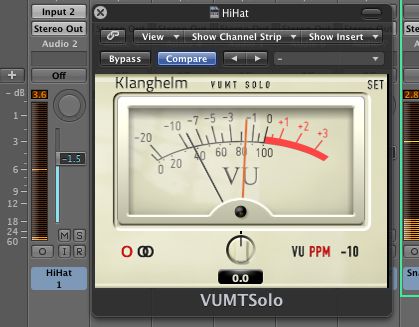 Mit VUMT bei der Verfolgung
Freebies Logic Pro und Pro Tools sowohl mit einem fairen Angebot an Mess-und Analyse-Plug-Ins zur Standardausstattung:

Logic Pro has a level meter which can show peak or RMS level, or both, simultaneously.

Both Pro Tools and Logic Pro have a correlation meter which shows potential phase cancellation issues when playing back a stereo signal on a mono system.

Logic Pro has a multimeter which includes the above two as well as a frequency analyzer display.

ProTools 10 users with the basic installation get the Bomb Factory Essential Meter Bridge plug-in which offers VU-style metering, but there is no PPM mode and calibration options are limited.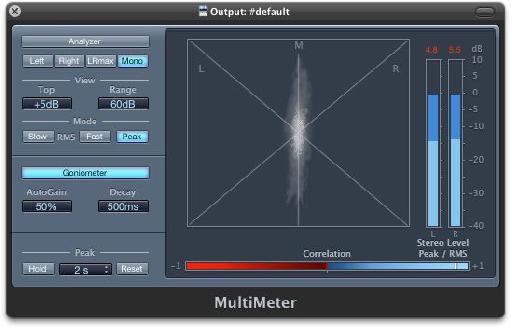 Logic Pro MultiMeter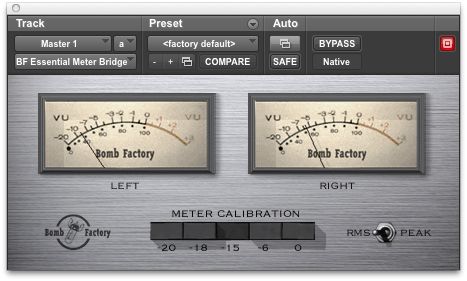 Bomb Factory Meter Bridge in Pro Tools