Embora os medidores padrão em Ferramentas Logic Pro e Pro são úteis, muitas vezes eu me pego desejando mais algumas opções. Mas os fundos estão apertados neste período pós-férias, então o que posso fazer por nada ou quase nada?
Estado de Fluxo
Essas pessoas inteligentes em Flux fazer alguma análise verdadeiramente impressionante e dinâmica plug-ins, a maioria dos quais costand há worthhundreds dúvida de unidades de sua moeda local. Mas escondido no fundo da sua lista de produtos é um plug-in chamado Stereo Tool , que é gratuito!
Para ser justo, não oferece muita coisa mais em termos de medição do que os medidores padrão em qualquer Pro Tools ou Pro Logic. Mas inclui um medidor de correlação de fase, um visor âmbito vector e da capacidade para controlar a largura estéreo e posição da imagem estéreo (algumas vezes chamado de equilíbrio), bem como a posição de pan independente de cada canal.
Você pode conseguir todas essas coisas em Pro Logic com built-in plug-ins (ver abaixo), mas você teria que abrir vários plug-ins para fazê-lo. A boa notícia é principalmente para usuários de ProTools (Stereo Tool vem como uma Unidade de Áudio, VST e RTAS plug-in) que não têm muitos desses recursos no plug-ins fornecidos com uma instalação básica.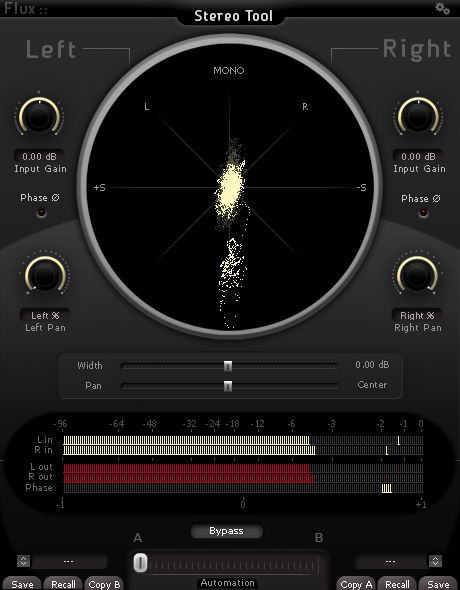 Stereo Tool por Flux
Por uns Dólares a Mais
Enquanto isso, os boffins em klanghelm.com (que podem ou não traduzir como capacete sonoro) vêm-se com o VUMT , disponível como Audio Unit, VST e independente. Custa 6,28, tão barato que nem sequer receber um instalador!. Ele emula tanto PPL e VU de estilo medidores analógicos com uma variedade de características programáveis, incluindo controlável sobre shootapparently uma característica única.
Também tem origem ajustável e tempos de queda e uma variedade de peles. Uma ferramenta de multímetro e análise não é, mas certamente permite VU / PPM medição estilo em seu DAW se (como eu) você faltou desde que você vendeu sua máquina de fita!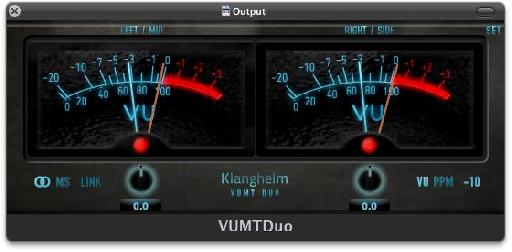 Um dos quatro VUMTs peles
Aviso Saúde
Aqueles de vocês trouxe no domínio digital, que ainda insistem em gravar direito até 0 dB em grande escala, apesar da enorme margem disponível em 24 bits sistemas de gravação, você não tem lido os meus artigos de Hub, você já?) Deve saber que este estilo de metro não é necessariamente o indicador mais preciso do ponto em que você prenda o seu conversores de analógico para digital. Eles são mais comumente utilizadas em um contexto de gravação onde você calibrados os medidores de modo que 0 dB no VU / PPM representa -10 dB (por exemplo) no medidor digital da sua DAW. Esta certeza de que você nunca sobre o registro, e sempre deixar muito espaço (que alguns argumentam permite a mistura mais espaço para respirar).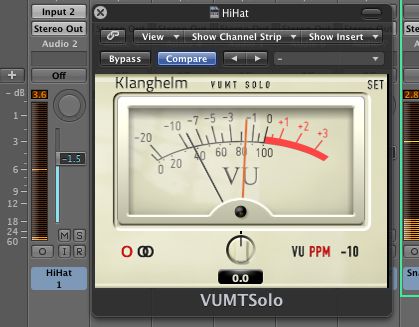 Usando VUMT quando o controle
Freebies Logic Pro e Pro Tools ambos vêm com uma gama razoável de medição e análise de plug-ins como padrão:

Logic Pro has a level meter which can show peak or RMS level, or both, simultaneously.

Both Pro Tools and Logic Pro have a correlation meter which shows potential phase cancellation issues when playing back a stereo signal on a mono system.

Logic Pro has a multimeter which includes the above two as well as a frequency analyzer display.

ProTools 10 users with the basic installation get the Bomb Factory Essential Meter Bridge plug-in which offers VU-style metering, but there is no PPM mode and calibration options are limited.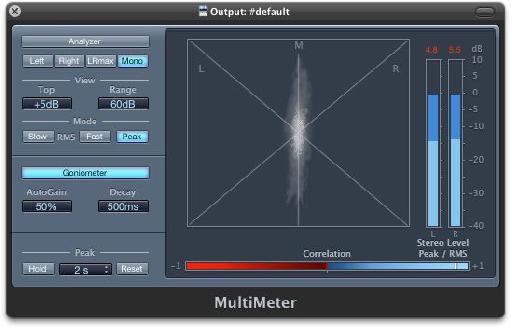 Multímetro Prós Logic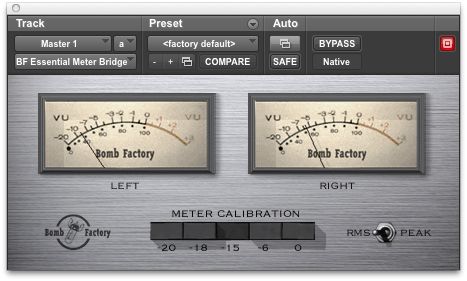 Bomba Meter Bridge Fábrica em Pro Tools