Although the standard meters in Logic Pro and Pro Tools are useful, I often find myself wishing for a few more options. But funds are tight in this post-holiday period, so what can I get for nothing or next to nothing?

State of Flux
Those clever people at Flux make some truly awesome analysis and dynamic plug-ins, most of which cost'"and are no doubt worth'"hundreds of units of your local currency. But hidden away at the bottom of their products list is a plug-in called Stereo Tool, which is free!
To be fair it doesn't offer an awful lot more in terms of metering than the standard meters in either Pro Tools or Logic Pro. But it does include a phase correlation meter, a vector scope display and the ability to control the stereo width and position of the stereo image (sometimes called balance), as well as the independent pan position of each channel.
You can achieve all of these things in Logic Pro with built-in plug-ins (see below) but you would have to open multiple plug-ins to do so. The good news is mainly for ProTools users (Stereo Tool comes as an Audio Unit, VST and RTAS plug-in) who don't have many of these features in the plug-ins supplied with a basic installation.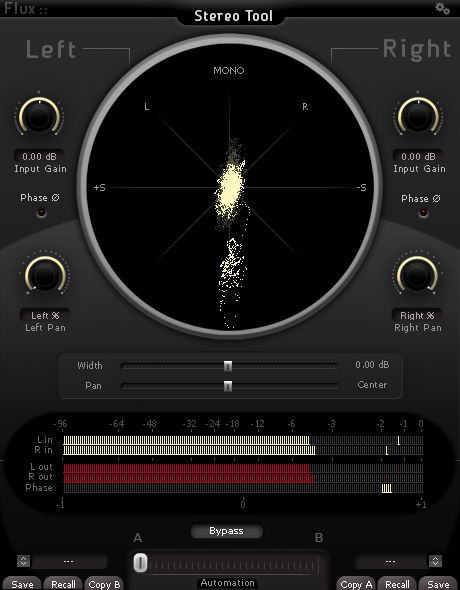 Stereo Tool by Flux
For a Few Dollars More'