Although the standard meters in Logic Pro and Pro Tools are useful, I often find myself wishing for a few more options. But funds are tight in this post-holiday period, so what can I get for nothing or next to nothing?

State of Flux
Those clever people at Flux make some truly awesome analysis and dynamic plug-ins, most of which cost—and are no doubt worth—hundreds of units of your local currency. But hidden away at the bottom of their products list is a plug-in called Stereo Tool, which is free!
To be fair it doesn't offer an awful lot more in terms of metering than the standard meters in either Pro Tools or Logic Pro. But it does include a phase correlation meter, a vector scope display and the ability to control the stereo width and position of the stereo image (sometimes called balance), as well as the independent pan position of each channel.
You can achieve all of these things in Logic Pro with built-in plug-ins (see below) but you would have to open multiple plug-ins to do so. The good news is mainly for ProTools users (Stereo Tool comes as an Audio Unit, VST and RTAS plug-in) who don't have many of these features in the plug-ins supplied with a basic installation.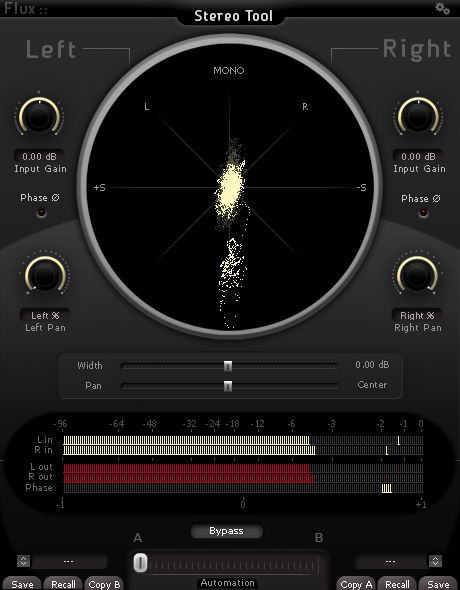 Stereo Tool by Flux
For a Few Dollars More…
Meanwhile the boffins at klanghelm.com (which may or may not translate as sonic helmet) have come up with the VUMT, available as Audio Unit, VST and standalone. It costs €6.28, so cheap you don't even get an installer!. It emulates both PPL and VU-style analog meters with a variety of programmable characteristics, including controllable over shoot—apparently a unique feature.
It also has adjustable rise and fall times and a variety of skins. A multimeter and analysis tool it isn't, but it certainly allows VU/PPM style metering in your DAW if (like me) you have been missing that since you sold your tape machine!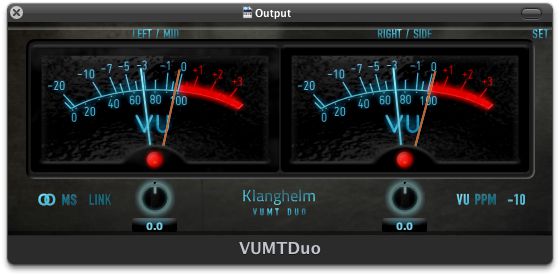 One of VUMT's four skins
Health Warning
Those of you brought up in the digital domain who still insist on recording right up to 0 dB full-scale despite the massive headroom available in 24 bit recording systems (you haven't been reading my Hub articles, have you?) should know that this style of meter is not necessarily the most accurate indicator of the point at which you clip your analog to digital converters. They are more usually used in a recording context where you have calibrated the meters so that 0 dB on your VU/PPM represents -10 dB (for example) on your DAW's digital meter. This make sure that you never over-record, and always leave plenty of headroom (which some argue allows the mix more room to breathe).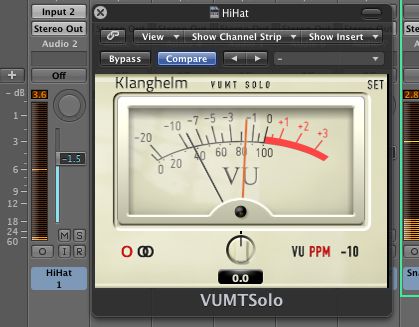 Using VUMT when tracking
Freebies
Logic Pro and Pro Tools both come with a fair range of metering and analysis plug-ins as standard:
Logic Pro has a level meter which can show peak or RMS level, or both, simultaneously.

Both Pro Tools and Logic Pro have a correlation meter which shows potential phase cancellation issues when playing back a stereo signal on a mono system.

Logic Pro has a multimeter which includes the above two as well as a frequency analyzer display.

ProTools 10 users with the basic installation get the Bomb Factory Essential Meter Bridge plug-in which offers VU-style metering, but there is no PPM mode and calibration options are limited.

Logic Pro's MultiMeter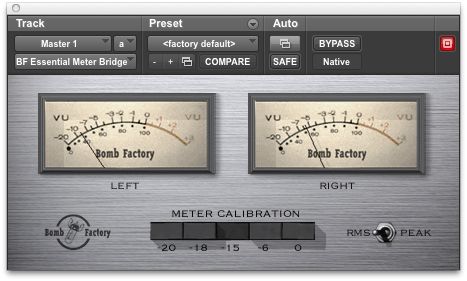 Bomb Factory Meter Bridge in Pro Tools