Anche se gli standard metri in Strumenti Logic Pro e Pro sono utili, mi ritrovo spesso a desiderare qualche opzione in più. Ma i fondi sono stretti in questo post-periodo di vacanza, quindi cosa posso ottenere per niente o quasi niente?
State of Flux
Quelle persone intelligenti a Flux fare un po 'di analisi veramente impressionante e dinamica plug-ins, la maggior parte dei quali sono costand worthhundreds dubbio di unità di valuta locale. Ma nascosto in fondo alla loro lista dei prodotti è un plug-in chiamato Strumento Stereo , che è gratuito!
Ad essere onesti non offre un sacco di più in termini di dosaggio rispetto agli standard metri sia in Pro Tools o Pro Logic. Ma include un metro correlazione di fase, un display portata vettore e la capacità di controllare la larghezza stereo e la posizione dell'immagine stereo (talvolta chiamato equilibrio), nonché la posizione pan indipendente di ciascun canale.
È possibile ottenere tutte queste cose in Pro Logic con built-in plug-ins (vedi sotto), ma si dovrebbe aprire più plug-in per farlo. La buona notizia è soprattutto per gli utenti di ProTools (strumento si presenta come uno Stereo Audio Unit, VST e RTAS plug-in) che non hanno molte di queste caratteristiche nel plug-in fornito con una installazione di base.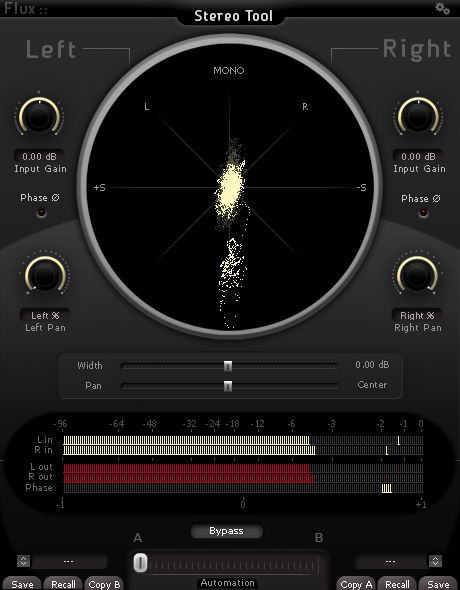 Strumento Stereo di Flux
Per qualche dollaro in più
Nel frattempo, i cervelloni di klanghelm.com (che può o non può tradurre come sonic casco) sono venuti con il VUMT , disponibile come Audio Unit, VST e standalone. Il costo è di 6,28, così a buon mercato non è nemmeno ottenere un installer!. Emula sia PPL e analogici VU metri stile con una varietà di caratteristiche programmabili, tra cui più controllabile shootapparently una caratteristica unica.
Essa ha anche luogo regolabile e tempi di caduta e una varietà di pelli. Uno strumento multimetro e l'analisi non è, ma consente certamente VU / PPM misurazione stile nella DAW se (come me) avete mancato che, poiché hai venduto la tua macchina a nastro!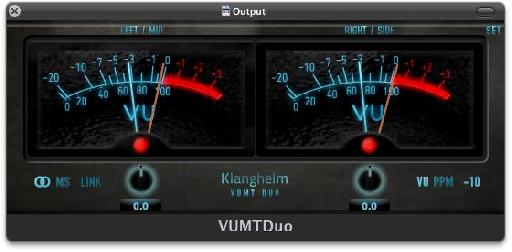 Uno dei quattro skin VUMTs
Salute Warning
Quelli di voi che ha portato nel dominio digitale che ancora insistono a registrare fino a 0 dB su larga scala, nonostante la massiccia headroom disponibili nei sistemi a 24 bit di registrazione (non hai letto i miei articoli Hub, è vero?) Dovrebbe sapere che questo stile di metro non è necessariamente l'indicatore più accurato del punto in cui agganciare il tuo convertitori analogico-digitali. Sono più di solito usato in un contesto di registrazione in cui è stato calibrato in modo che i metri 0 dB sul VU / PPM rappresenta -10 dB (per esempio) sul contatore digitale della vostra DAW. Questo assicurarsi che non hai mai più-record, e lasciare sempre un ampio margine (che alcuni sostengono permette il mix più spazio per respirare).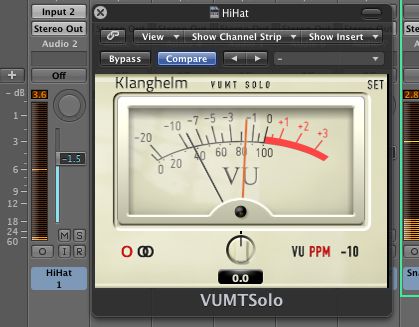 Utilizzando VUMT durante l'inseguimento
I tuoi annunci gratuiti Logic Pro e Pro Tools entrambi sono dotati di una vasta fiera di misurazione e di analisi plug-ins di serie:

Logic Pro has a level meter which can show peak or RMS level, or both, simultaneously.

Both Pro Tools and Logic Pro have a correlation meter which shows potential phase cancellation issues when playing back a stereo signal on a mono system.

Logic Pro has a multimeter which includes the above two as well as a frequency analyzer display.

ProTools 10 users with the basic installation get the Bomb Factory Essential Meter Bridge plug-in which offers VU-style metering, but there is no PPM mode and calibration options are limited.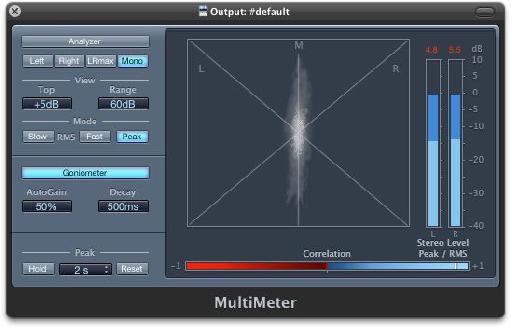 Logic Pro Multimetro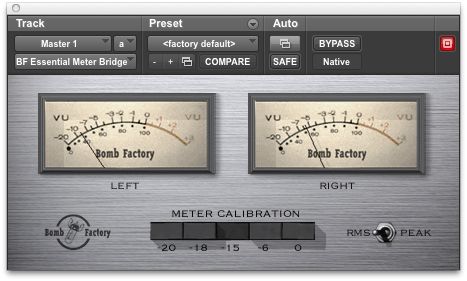 Bomb Meter Bridge fabbrica in Pro Tools