Bien que les compteurs standard dans les outils de Logic Pro et Pro sont utiles, je me retrouve souvent désireux de quelques options supplémentaires. Mais les fonds sont bien serrés en cette période post-vacances, de sorte que puis-je obtenir pour rien ou presque rien?
State of Flux
Ces gens intelligents à faire une certaine analyse de flux véritablement impressionnant et dynamique des plug-ins, dont la plupart sont Costand aucun doute worthhundreds d'unités de votre monnaie locale. Mais caché au fond de leur liste de produits est un plug-in appelé Stereo Tool , qui est gratuit!
Pour être juste, il n'offre pas énormément plus en termes de dosage que les mètres standard dans les deux Pro Tools ou Logic Pro. Mais il inclut un compteur de corrélation de phase, un écran de l'oscilloscope vectoriel et la capacité de contrôler la largeur stéréo et la position de l'image stéréo (parfois appelé l'équilibre), ainsi que la position panoramique indépendant de chaque canal.
Vous pouvez obtenir toutes ces choses dans Logic Pro avec haut-plug-ins (voir ci-dessous), mais vous devez ouvrir plusieurs plug-ins de le faire. Les bonnes nouvelles sont principalement destiné aux utilisateurs ProTools (Stereo Tool est comme un Audio Unit, VST et RTAS plug-in) qui n'ont pas beaucoup de ces caractéristiques dans les plug-ins fournis avec une installation de base.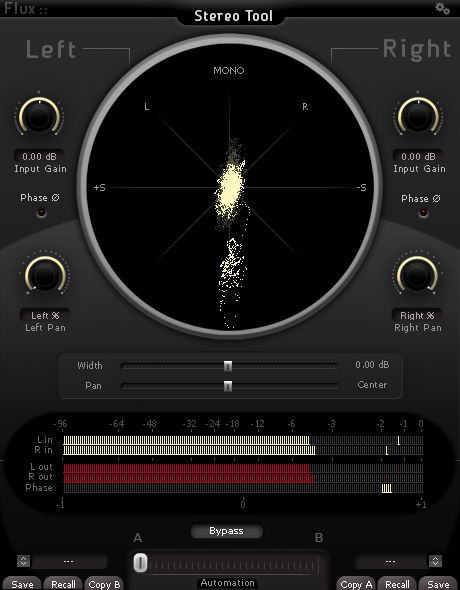 Stereo Tool par Flux
Pour quelques dollars de plus
En attendant, les boffins à klanghelm.com (qui peut ou peut ne pas traduire par un casque sonore) ont mis au point avec le VUMT , disponible en Audio Unit, VST et autonome. Il en coûte 6.28, donc pas cher vous n'avez même pas obtenir un installateur!. Il émule à la fois PPL et VU-mètres analogiques de style avec une variété de caractéristiques programmables, y compris contrôlable sur shootapparently une caractéristique unique.
Il a également lieu réglable et temps de chute et une variété de skins. Un outil de multimètre et d'analyse, il n'est pas, mais il permet certainement de mesure de style VU / PPM dans votre DAW si (comme moi) vous avez été absent que depuis vous avez vendu votre magnétophone!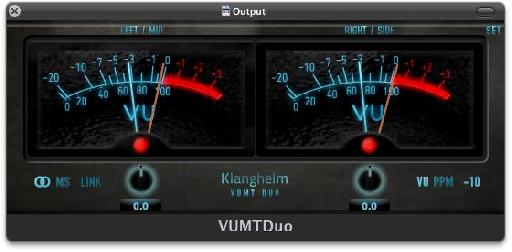 L'un des quatre peaux VUMTs
Avertissement de la santé
Ceux d'entre vous a amené dans le domaine numérique qui insistent toujours sur l'enregistrement jusqu'à 0 dB à pleine échelle, malgré la marge de manœuvre massif disponible en 24 bits des systèmes d'enregistrement (vous n'avez pas lu mes articles Hub, avez-vous?) Doivent savoir que ce style de compteur n'est pas nécessairement l'indicateur le plus précis de l'endroit où vous fixez votre convertisseurs analogique-numérique. Ils sont plus souvent utilisés dans un contexte d'enregistrement où vous avez calibré les compteurs de sorte que 0 dB sur votre VU / PPM représente -10 dB (par exemple) sur le compteur numérique de votre DAW. Cette assurez-vous que vous n'avez jamais plus un record, et toujours laisser suffisamment de marge de sécurité (dont certains font valoir permet le mélange de plus d'espace pour respirer).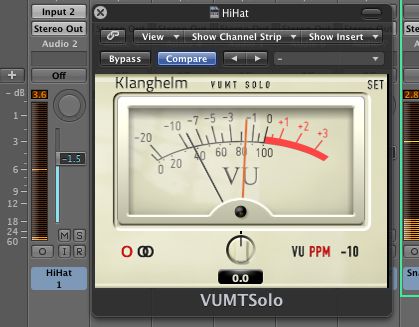 Utilisation VUMT lors du suivi
Freebies Logic Pro et Pro Tools à la fois venir avec une gamme juste mesure et l'analyse des plug-ins en standard:

Logic Pro has a level meter which can show peak or RMS level, or both, simultaneously.

Both Pro Tools and Logic Pro have a correlation meter which shows potential phase cancellation issues when playing back a stereo signal on a mono system.

Logic Pro has a multimeter which includes the above two as well as a frequency analyzer display.

ProTools 10 users with the basic installation get the Bomb Factory Essential Meter Bridge plug-in which offers VU-style metering, but there is no PPM mode and calibration options are limited.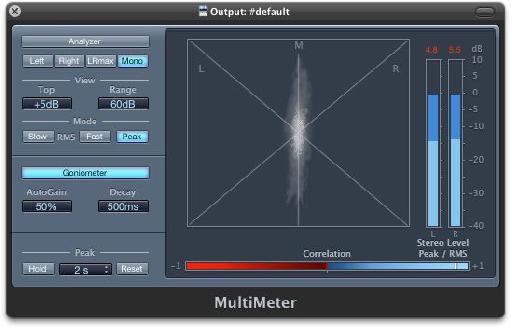 Logic Avantages MultiMeter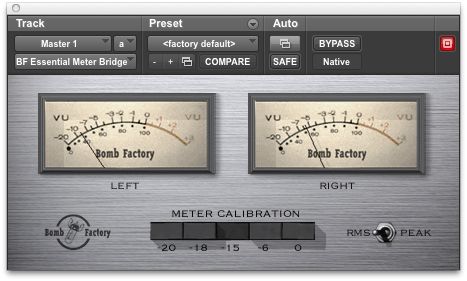 Meter Bridge Bomb Factory dans Pro Tools