Tive a sorte de ser capaz de experimentar B173 mic pré amp do Black Lion Áudio . É um pequeno e compacto pré mic, com um som que é inspirado pelo clássico Neve 1073 mic pré. Todo o circuito é Classe A, eo B173 BLA é projetado para ser um híbrido do vintage Neve 1073 sólida e tem o soco e esclarecer de pré-amplificadores modernos. Como todos os produtos Black Lion Audio, que proporciona um som de alta qualidade, é construído com componentes de boa qualidade e é um preço acessível. Mas como bom é que o BLA B173 realmente o som? Eu colocá-lo à prova em uma sessão de gravação de fim de semana para descobrir ...


O B173 BLA é baseado na Neve 1073, 'pré-amplificador de microfone mais desejável do mundo ". Lançado em 1970, o 1073 tem um grande som que complementa qualquer gênero, do pop ao rock e ao hip hop. Tornou-se um pré-amplificador muito popular, e tem uma tag igualmente elevado preço a combinar a sua reputação. O B173 tem um muito menor faixa de preço, o que o torna acessível para pequenos estúdios, e
Primeiras Impressões


O B173 BLA está alojado em um metal azul 1/2 chassis bonito rack, e seu design é minimalista e funcional. No painel frontal, não pisou ganho de microfone, controle de nível de saída, alimentação fantasma, fase e entrada DI (útil para guitarras e teclados). Na parte de trás do BLA B173, não há uma única entrada XLR e 1/4 saída balanceada. Há também a entrada para o adaptador de energia, que vem com o aparelho.
"The B173 provides high quality, Neve-like sound for a price that producers and musicians can actually afford."
Eu gostei imediatamente a simplicidade do layout, e em uma sessão de estúdio que era fácil de operar e estabelecer níveis. O Ganho Mic é um interruptor pisou variando de 12 a 80 dB ganho max, com doze configurações de nível escalonadas. Foi muito simples de configurar o B173, eu só alimentado-o e esperou alguns minutos, uma vez que requer cerca de um período de aquecimento 2-3 minuto.
Eu testei o B173 fora vocals de gravação, e guitarras elétricas, usando uma variedade de microfones. Escuta de volta para as gravações, minhas gravações vocais soou completo, guitarras elétricas soou phat e cada tipo de microfone soou clara e distinta. O piso de ruído na B173 parecia ser muito baixo, embora eu notei um aumento muito ligeiro quando o ganho do microfone foi fixado um valor mais alto.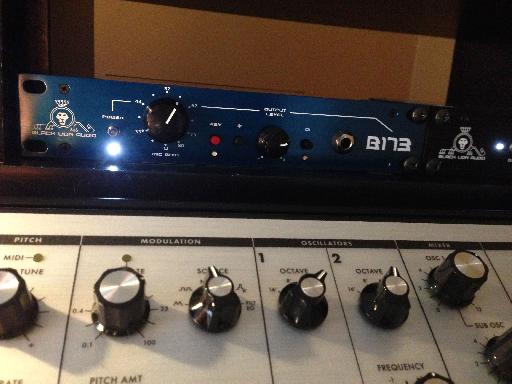 Conclusão
"Once its in your rack, you might not want it to leave!"
No geral, eu realmente gostei do som do B173 e achei fácil de incorporar esta pré mic em meu estúdio. Uma vez que se senta em um chassi de 1/2 rack, este pré mic vai caber facilmente em pequenos estúdios. Também poderia ser facilmente colocados juntos com outro de pres mic do Black Lion de áudio, como o Auteur para preencher um rack de tamanho completo. O B173 é um grande mic pré qualidade que os produtores e engenheiros vão apreciar; uma vez a sua em seu rack, você pode não querer que sair! O B173 oferece alta qualidade, som Neve-like por um preço que os produtores e músicos podem realmente pagar. Agora, isso é música para os meus ouvidos!
Preço:
Prós:
Contras:
Rede: