Tuve la suerte de poder probar B173 micrófono preamplificador de León Negro Audio . Es un pequeño y compacto previo de micro, con un sonido que está inspirado en el clásico de Neve 1073 mic pre. Todo el circuito es de Clase A, y el B173 BLA está diseñado para ser un híbrido de la vendimia Neve 1073 sonido y tienen el punzón y aclarar de preamplificadores modernos. Al igual que todos los productos León Negro Audio, que ofrece un sonido de alta calidad, está construido con componentes de buena calidad ya un precio asequible. Pero lo bueno que tiene el BLA B173 realmente suena? Lo puse a prueba en una sesión de grabación de fin de semana para descubrir ...


El B173 BLA se basa en el Neve 1073, 'preamplificador de micrófono más deseable del mundo ". Lanzado en 1970, el 1073 tiene un gran sonido que complementa cualquier género, desde el pop hasta el rock hasta el hip hop. Se ha convertido en un preamplificador muy popular, y tiene un igualmente alto precio a la altura de su reputación. El B173 tiene un punto de precio mucho más bajo, lo que hace que sea accesible para estudios más pequeños, y
Primeras Impresiones


El B173 BLA está alojado en un chasis de metal azul medio lindo estante, y su diseño es minimalista y funcional. En el panel frontal, le pisó ganancia de micrófono, control de nivel de salida, alimentación phantom, fase y entrada DI (útil para guitarras o teclados). En la parte posterior de la BLA B173, hay una sola entrada XLR y una salida balanceada cuarto. También está la entrada para el adaptador de corriente, que viene con la unidad.
"The B173 provides high quality, Neve-like sound for a price that producers and musicians can actually afford."
Inmediatamente me gustó la simplicidad del diseño, y en una sesión de estudio era fácil de operar y fijo los niveles. La ganancia del micrófono es un interruptor escalonado que van desde 12 a 80 dB de ganancia máxima, con doce ajustes de nivel escalonadas. Era muy sencillo de configurar el B173, acabo alimentado para arriba y esperó unos minutos, ya que requiere de un período de calentamiento de dos y cincuenta y ocho minuto.
He probado el B173 a cabo la grabación de voces y guitarras eléctricas que utilizan una variedad de micrófonos. Escuchar de nuevo a las grabaciones, mis grabaciones de voz sonaba llena, guitarras eléctricas sonaba fantástico y cada tipo de micrófono sonaba distinta y clara. El ruido de fondo en el B173 parecía ser muy bajo, a pesar de que hice notar un aumento muy leve cuando la ganancia del micrófono se fijó un valor más alto.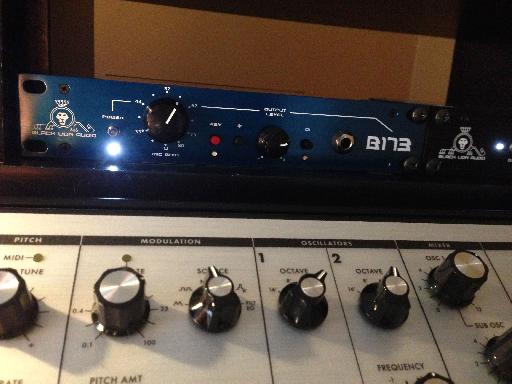 Conclusión
"Once its in your rack, you might not want it to leave!"
En general, me gustó mucho el sonido de la B173 y me pareció fácil de incorporar este previo de micro en mi estudio. Ya que se encuentra en un chasis de rack 1/2, esto previo de micro encajará fácilmente en estudios más pequeños. Podría también ser fácilmente emparejado junto con otro de la presión de micro de León Negro Audio, como el Autor de llenar un estante de tamaño completo. El B173 es un gran previo de micro de calidad que los productores y los ingenieros podrán apreciar; una vez que su en su estante, puede que no desee que salga! El B173 ofrece una alta calidad, sonido Neve-como por un precio que los productores y músicos realmente pueden permitirse. Ahora que es música para mis oídos!
Precio:
Pros:
Contras:
Web: