Ich hatte das Glück, um auszuprobieren Black Lion Audio die B173 Mic Pre Amp . Es ist eine kleine und kompakte Mikrofonvorverstärker, mit einem Sound, der durch den klassischen Neve 1073 Mikrofonvorverstärker inspiriert ist. Die gesamte Schaltung ist der Klasse A und der BLA B173 wurde entwickelt, um eine Mischung aus dem Jahrgang 1073 Neve Sound und haben den Stempel und Klärung des modernen Vorverstärkern. Wie alle Black Lion Audio-Produkte, bietet er eine hohe Klangqualität, wird mit guter Qualität Komponenten gebaut und ist preisgünstig. Aber wie gut ist die BLA B173 eigentlich klingen? Ich habe es auf die Probe in ein Wochenende Aufnahme-Session, um herauszufinden ...


Die BLA B173 ist an der Neve 1073, "der weltweit begehrtesten Mikrofonvorverstärker 'basiert. In den 1970er Jahren ins Leben gerufen, die 1073 hat einen großen Klang, jedes Genre Komplimente, von Pop bis Hip Hop Rock. Es hat sich zu einem sehr beliebten Vorverstärker und hat einen ebenso hohen Preis zu seinem Ruf entspricht. Die B173 hat einen viel niedrigeren Preis, die zugänglich für kleinere Studios macht, und
Erste Eindrücke


Die BLA B173 ist in einem niedlichen blauen Metall 1/2 Rack-Gehäuse untergebracht sind, und das Design ist sowohl minimal als auch funktional. Auf der Frontplatte, ist es Mic Gain Ausgangspegel, Phantomspeisung, Phase und DI-Eingang (nützlich für Gitarren oder Keyboards) verstärkt. Auf der Rückseite des BLA B173 gibt es ein einziges XLR-Eingang und eine ausgewogene 1/4 ausgegeben. Es gibt auch den Eingang für das Netzteil, das mit dem Gerät kommt.
"The B173 provides high quality, Neve-like sound for a price that producers and musicians can actually afford."
Ich sofort gefiel die Einfachheit des Layouts, und in einer Studio-Session war es einfach zu bedienen und zu festgelegten Werten. Die Mic Gain ist ein Stufenschalter im Bereich von 12 dB bis 80 max Zunahme, mit zwölf trat Pegeleinstellungen. Es war sehr einfach, um das Setup der B173, ich habe gerade mit Strom versorgt es und wartete ein paar Minuten, da es über eine zwei- bis dreiminütigen Aufwärmphase benötigt wird.
Getestet habe ich die B173 aus Aufnahme von Gesang und Gitarren mit einer Vielzahl von Mikrofonen. Hören zurück zu den Aufnahmen, klang meine Gesangsaufnahmen voller klang Gitarren phat und jeder Art von Mikrofon klang deutlich und klar. Das Grundrauschen auf der B173 schien sehr gering zu sein, obwohl ich bemerken eine sehr leichte Zunahme, wenn die Mikrofonempfindlichkeit wurde ein höherer Wert eingestellt.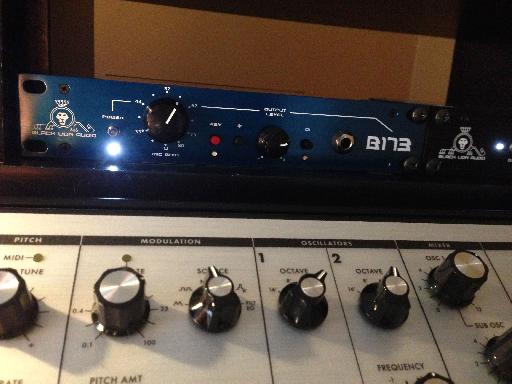 Abschluss
"Once its in your rack, you might not want it to leave!"
Insgesamt habe ich wirklich den Klang der B173 gefallen und fand es einfach, diese Mikrofonvorverstärker in meinem Studio zu integrieren. Da es in einem 1/2 Rack-Gehäuse sitzt, wird diese Mikrofonvorverstärker leicht in kleineren Studios passen. Es könnte auch einfach zusammen mit einem anderen von Black Lion Audio die Mic Preamps, wie den Auteur gepaart, füllen Sie ein voller Größe Rack werden. Die B173 ist eine große Qualität Mikrofonvorverstärker, dass Produzenten und Toningenieure schätzen; sobald seine in Ihrem Rack, könnten Sie nicht wollen, dass es zu verlassen! Die B173 bietet hochwertige, Neve-Sound zu einem Preis, Produzenten und Musikern tatsächlich leisten. Nun, das ist Musik in meinen Ohren!
Preis:
Vorteile:
Nachteile:
Web: