Ho avuto la fortuna di essere in grado di provare B173 microfono preamplificatore di Black Lion Audio . E 'un piccolo e compatto pre microfonico, con un suono che è ispirato al classico Neve 1073 Mic Pre. L'intero circuito è di classe A, e il B173 BLA è progettato per essere un ibrido della vendemmia Neve 1073 suono e hanno il pugno e chiarire di preamplificatori moderni. Come tutti i prodotti Black Lion Audio, che offre un suono di alta qualità, è costruito con componenti di buona qualità ed è un prezzo ragionevole. Ma quanto è buono fa il BLA B173 in realtà il suono? Ho messo alla prova in una sessione di registrazione fine settimana per scoprire ...


Il B173 BLA si basa sulla Neve 1073, 'più desiderabile microfono preamplificatore del mondo'. Lanciato nel 1970, il 1073 ha un grande suono che complimenta ogni genere, dal pop al rock all'hip hop. E 'diventato un preamplificatore molto popolare, e ha un tag altrettanto elevato prezzo che corrisponda alla sua reputazione. Il B173 ha un prezzo molto più basso, che rende accessibile per studi più piccoli, e
Prime Impressioni


Il B173 BLA è ospitato in un simpatico blu metallico 1/2 rack chassis, e il suo design è minimale e funzionale. Sul pannello frontale, c'è a gradini guadagno microfono, controllo del livello di uscita, alimentazione phantom, fase e ingresso DI (utile per le chitarre e tastiere). Sul retro del BLA B173, c'è un solo ingresso XLR e 1/4 uscita bilanciata. C'è anche l'ingresso per l'alimentatore, che viene fornito con l'unità.
"The B173 provides high quality, Neve-like sound for a price that producers and musicians can actually afford."
Mi è subito piaciuto la semplicità del layout, e in una sessione di studio è stato facile da usare e impostare i livelli. Il Gain Mic è un interruttore a gradini che vanno da 12 dB a 80 guadagno massimo, con dodici impostazioni del livello di gradini. E 'stato molto semplice per configurare il B173, ho appena acceso su e attese qualche minuto in quanto non richiede di un periodo di riscaldamento 2-3 minuto.
Ho testato il B173 fuori la registrazione della voce e chitarre elettriche che utilizzano una varietà di microfoni. Ascoltando di nuovo le registrazioni, le mie registrazioni vocali sembrava pieno, chitarre elettriche suonavano phat e ogni tipo di microfono suonava netta e chiara. Il rumore di fondo sulla B173 sembrava essere molto bassa, anche se ho notato un leggero aumento quando il guadagno del microfono è stato fissato un valore più alto.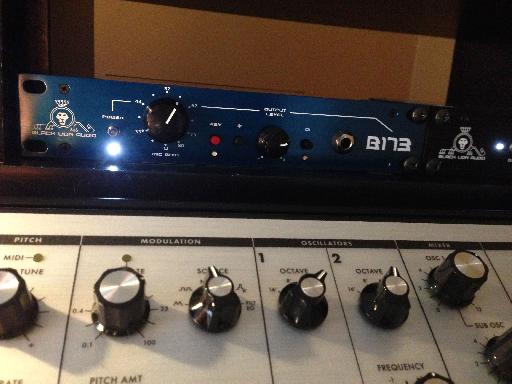 Conclusione
"Once its in your rack, you might not want it to leave!"
Nel complesso, mi è piaciuto molto il suono del B173 e l'ho trovato facile incorporare questa pre microfono nel mio studio. Dal momento che si trova in un rack chassis 1/2, questa pre microfonico si adatta facilmente in studi più piccoli. Potrebbe anche essere facilmente accoppiato con un altro di preamplificatori microfonici di Black Lion Audio, come ad esempio il Auteur di compilare un rack pieno di dimensioni. Il B173 è un grande microfono pre qualità che i produttori e gli ingegneri potranno apprezzare; una volta la sua in rack, non si potrebbe desiderare a lasciare! Il B173 offre alta qualità, suono Neve simile per un prezzo che i produttori e musicisti possono realmente permettersi. Ora che è musica per le mie orecchie!
Prezzo:
Pro:
Contro:
Web: