Je ai eu la chance de pouvoir essayer B173 micro préampli de Black Lion Audio . Ce est un petit et compact préampli micro, avec un son qui est inspiré par le classique Neve 1073 Mic Pre. L'ensemble du circuit est de classe A et le B173 BLA est conçu pour être un hybride du millésime 1073 Neve son et avoir le poinçon et de clarifier des préamplis modernes. Comme tous les produits Black Lion Audio, il offre un son de haute qualité, est construit avec des composants de bonne qualité et à prix abordable est. Mais comment bien ne l'BLA B173 fait sonner? Je l'ai mis à l'épreuve dans une session d'enregistrement de week-end pour le découvrir ...


Le B173 BLA est basé sur le Neve 1073, «préampli micro le plus désirable du monde». Lancé dans les années 1970, le 1073 a un gros son qui complimente ne importe quel genre, de la pop au rock en passant par le hip-hop. Il est devenu un préampli très populaire, et dispose d'une étiquette de prix aussi élevé pour correspondre à sa réputation. Le B173 a un point de prix beaucoup plus bas, ce qui le rend accessible pour les petits studios, et
Premières Impressions


Le B173 BLA est logé dans un châssis rack bleu métallique 1/2 mignon, et sa conception est à la fois minimal et fonctionnel. Sur le panneau avant, il ya intensifié gain micro, sortie contrôle de niveau, l'alimentation fantôme, phase et entrée DI (utile pour les guitares et claviers). Sur le dos de la BLA B173, il ya une seule entrée XLR et un quart sortie symétrique. Il ya aussi l'entrée pour l'adaptateur d'alimentation, qui est livré avec l'appareil.
"The B173 provides high quality, Neve-like sound for a price that producers and musicians can actually afford."
Je ai immédiatement aimé la simplicité de la mise en page, et dans une session de studio ce était facile à utiliser et définir les niveaux. Le Mic Gain est un commutateur à gradins allant de 12 à 80 dB de gain max, avec douze réglages de niveau gradins. Ce était très simple à configurer le B173, je ai juste alimenté en place et attendit quelques minutes car il ne nécessite sur une période d'échauffement de deux à trois minute.
Je ai testé le B173 sur enregistrement des voix et des guitares électriques en utilisant une variété de microphones. Réécoutant les enregistrements, mes enregistrements vocaux sonné complète, guitares électriques sonné phat et chaque type de microphone sonnait clair et précis. Le bruit de fond sur le B173 semblait être très faible, même si je ai remarqué une très légère hausse lorsque le gain micro a été fixé une valeur plus élevée.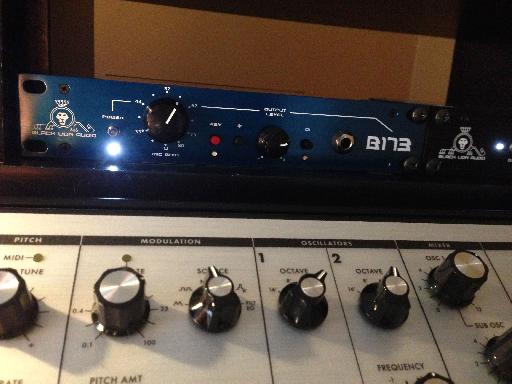 Conclusion
"Once its in your rack, you might not want it to leave!"
Dans l'ensemble, je ai vraiment aimé le son de la B173 et trouvé qu'il était facile d'intégrer ce préampli micro dans mon studio. Comme il se trouve dans un châssis rack 1/2, ce préampli micro se adapte facilement dans les petits studios. Il pourrait également être facilement jumelé avec un autre des préamplis micro de Black Lion Audio, comme l'Auteur de remplir un rack complet de taille. Le B173 est un grand pré micro de qualité que les producteurs et ingénieurs apprécieront; une fois que son dans votre rack, vous ne voulez pas qu'il se en aille! La B173 offre une qualité de son Neve comme pour un prix que les producteurs et les musiciens peuvent se permettre. Maintenant, ce est la musique à mes oreilles!