I was lucky to be able to try out Black Lion Audio's B173 mic pre amp. Its a small and compact mic pre, with a sound that's inspired by the classic Neve 1073 mic pre. The entire circuit is Class A, and the BLA B173 is designed to be a hybrid of the vintage Neve 1073 sound and have the punch and clarify of modern preamps. Like all of the Black Lion Audio products, it delivers high quality sound, is built with good quality components and is affordably priced. But how good does the BLA B173 actually sound? I put it to the test in a weekend recording session to find out...


The BLA B173 is based on the Neve 1073, 'the world's most desirable microphone preamp'. Launched in the 1970s, the 1073 has a big sound that compliments any genre, from pop to rock to hip hop. It has become a very popular preamp, and has an equally high price tag to match its reputation. The B173 has a much lower price point, which makes it accessible for smaller studios, and producers who are looking to expand their rig.
First Impressions


The BLA B173 is housed in a cute blue metal 1/2 rack chassis, and its design is both minimal and functional. On the front panel, there's stepped mic gain, output level control, phantom power, phase and DI input (useful for guitars or keyboards). On the back of the BLA B173, there's a single XLR input and a balanced 1/4" output. There's also the input for the power adapter, which comes with the unit.
"The B173 provides high quality, Neve-like sound for a price that producers and musicians can actually afford."
I immediately liked the simplicity of the layout, and in a studio session it was easy to operate and set levels. The Mic Gain is a stepped switch ranging from +12 dB to +80 max gain, with twelve stepped level settings. It was very straightforward to setup the B173, I just powered it up and waited a few minutes as it does require about a two to three minute warm-up period.
I tested the B173 out recording vocals, and electric guitars using a variety of microphones. Listening back to the recordings, my vocal recordings sounded full, electric guitars sounded phat and each type of microphone sounded distinct and clear. The noise floor on the B173 seemed to be very low, although I did notice a very slight increase when the mic gain was set a higher value.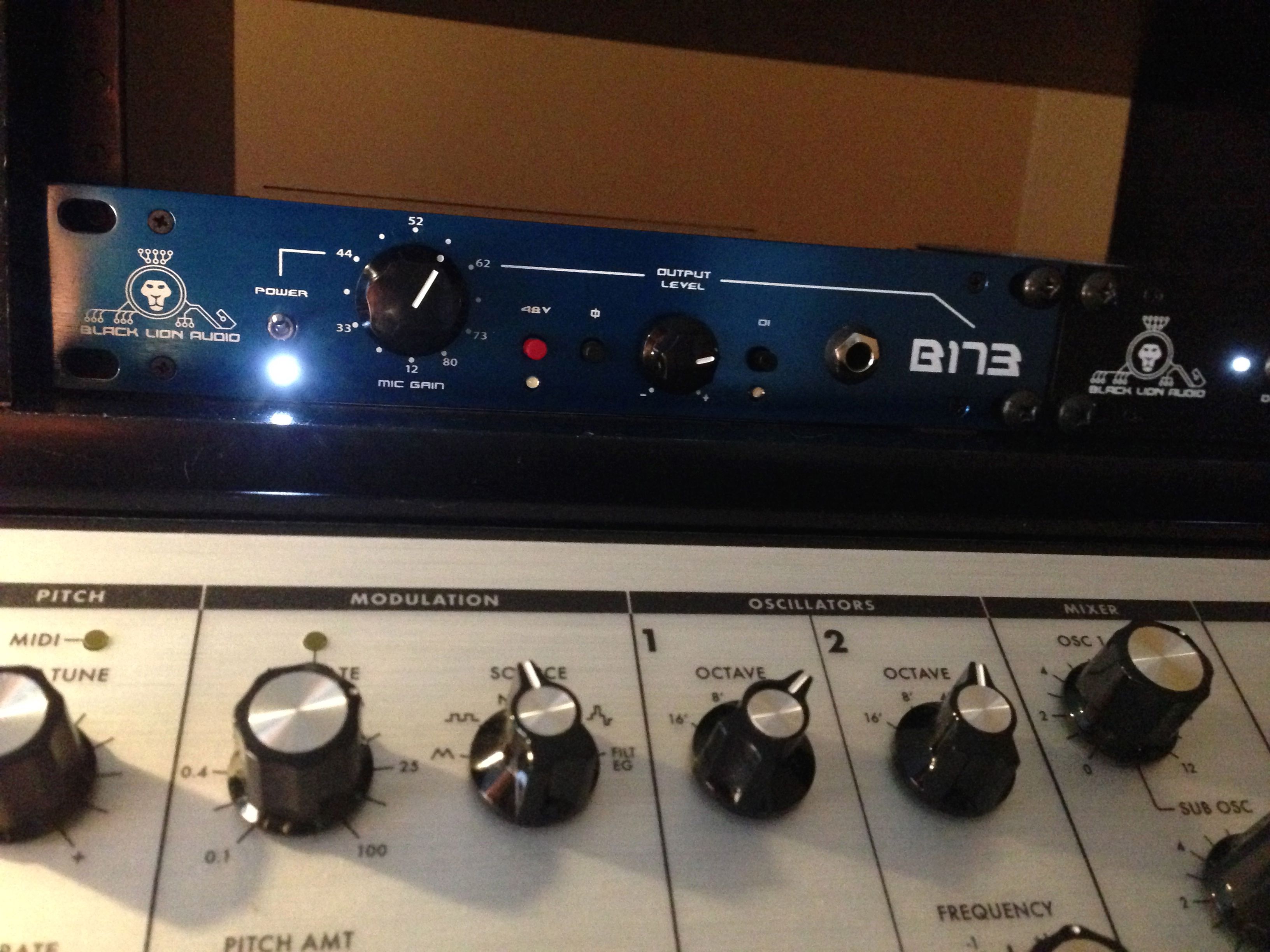 Conclusion
"Once its in your rack, you might not want it to leave!"
Overall, I really liked the sound of the B173 and found it easy to incorporate this mic pre into my studio. Since it sits in a 1/2 rack chassis, this mic pre will fit easily into smaller studios. It could also be easily paired together with another of Black Lion Audio's mic pres, such as the Auteur to fill out a full sized rack. The B173 is a great quality mic pre that producers and engineers will appreciate; once its in your rack, you might not want it to leave! The B173 provides high quality, Neve-like sound for a price that producers and musicians can actually afford. Now that's music to my ears!
Price: $649 USD

Pros: Hybrid Vintage Neve 1073/Modern Sound. Minimal layout. Cool Futuristic/retro design.
Cons: I would personally prefer a mic gain input that wasn't stepped, and an XLR output instead of the balanced 1/4" output. However, the quality for the price point really does outweigh these personal preferences!
Web: http://blacklionaudio.com