Step Sequenzer zeigen sich ganz über dem Platz, jetzt, da die Weinlese, Synthesizer Erweckung ist in vollem Gange. Infolgedessen sind viele neue und alte Schule Unternehmen springen auf die Aktion. Akai hat eine sehr coole Lösung bei der Erfüllung beide Welten mit einem neuen, USB-Controller mit den legendären MPC Pads Akai Pro ist bekannt unterstützen vorgeschlagen, zusammen mit ein sehr slick Step-Sequenzer, der sowohl auf dem Computer, und außerhalb es funktioniert ... auf Ihrem iOS-Gerät wven.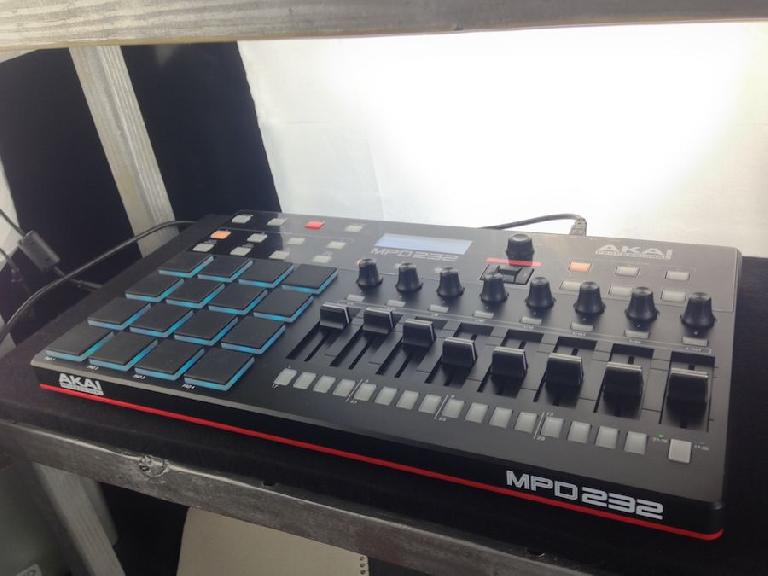 Getting Down with the 232
Setup war ein Kinderspiel, zumindest, wo Ableton betraf. Wie alle neuen Akai MPDs die MPD232 wurde, sobald es eingeschaltet wurde eingestellt, und an meinen Laptop angeschlossen, während Ableton Live lief. Einmal drinnen, wurde ich zu einem anderen wunderbaren Mapping Setup begrüßt. Die acht Potentiometer zugeordnet Cutoff, Sample Start, Länge filtern, und so weiter, automatisch, wenn eine Drum-Rack liegt in einer besonders reizvolle Art und Weise. Dies machte es Spaß, zwicken, sobald ich anfing, in den sie mit dem Step-Sequenzer (mehr dazu in Kürze). Zwar war dies nur cool, wenn Sie wurden mit Hilfe einer Trommel zu einer Zeit. Sequencer Fokus schaltet wie eine andere Trommel aus dem Sequenzer-Pattern, jedes Mal ausgelöst. Dies macht es sehr einfach, andere Trommeln aus Versehen zu ändern in Ihrem Rack, Erzielung eines Schall Sie nicht wollen kann.
Ich wählte die MPD232 als Taktquelle einzurichten, so dass ich die Tap Tempo-Taste verwenden, um in immer das Tempo, wo ich gehört, dass es in meinem Kopf zu unterstützen. Und auch nur, um die volle MPD Erfahrung. Sobald Tempo eingerichtet wurde, begann ich immer nach unten mit den Pads, die genau wie wobei die Pads mit dem MPD218 und MPD226 enthalten sind.
Wie der 226 werden die MPD232 Pads leuchtet konstant, und die Farbe wechseln, wenn sie gedrückt wird oder wenn das Pad Banks A
Note Repeat ist auch ein großer Hit mit mir, wie gut. Wenn Sie zu Riff und spielen und wollen, dass es ist sehr nützlich.
Full Level, zum Beispiel bewirkt, dass die MPD232 nur solche Nachrichten die höchste Geschwindigkeit von den Pads, unabhängig davon, wie hart Sie zu treffen. Ich selbst benutze diese viel für die Festlegung der Hauptschlag (Kick und Snare), und dann später zu deaktivieren, wenn ich will mehr Dynamik Auftritte mit der hallo-Hut, und andere Proben, die Sie möglicherweise nicht vollständig wollen in Ihrem Gesicht .
Note Repeat ist auch ein großer Hit mit mir, wie gut. Es
Durability
Pads, Buttons und Potentiometer sind sicher an seinem Platz, und gab mir viel Selbstvertrauen für die Aufnahme dieser Vorrichtung auf der Straße, mit Ausnahme der Fader. Dies sind die gleichen Fader des MPD262 verwendet, und während sie wie Seide zu bewegen, sie sind ein wenig wackelig und das Gefühl, dass sie leicht zu sprengen konnte sie in einem engen Rucksack. Dort
Sequencer
Ich habe eine Menge von gemischten Gefühlen auf dem Sequenzer. Während ich die 808-ish Scrollen und das integrierte Mikroskop Style-Editor (in SEQ EDIT Modus gefunden) wirklich genießen, fand ich es etwas frustrierend, dass ich kann,
Dies ist eine Art irritierend wie die 232 ist mit einem integrierten DC IN ausgestattet. Das heißt: Sie können eine DC-Adapter zu verwenden, und führen Sie das MPD232 als eigenständiges Gerät.
Also, im Grunde, haben wir eine sehr voll ausgestattete Controller, der mit einem MIDI Out und MIDI IN (kommt durch inklusive 1/8
Erstellen von Mustern in Schritt Zeit oder die Aufnahme in Echtzeit über SEQ REC kann einige lustige Ergebnisse erstellen.
Der Sequenzer ermöglicht auch schnelle Übergänge zwischen Zeit Divisionen mit dem TIME DIV-Taste. Sie können nicht nur steuern die Zeitbereiche der Note Repeat, aber Sie können auch schnell zwischen Zeiteinteilungen mit Ihnen Musterfolge, wie gut.
Software
Die MPD232, wie die anderen Geräte in der MPD Linie kommt mit einem großen Angebot an Software von Drittanbietern. Ableton Live Licht enthalten ist, für neue Musiker / DJs, die nicht über eine DAW, mit zu arbeiten, zunächst. MPC Essentials-Pro ist als auch für diejenigen, die wählen, würde das Musizieren die Akai Weise enthalten. Seltsamerweise würde Lagen nicht meine Seriennummer für die MPD232 zu akzeptieren. Hoffentlich bekommen sie dies behoben haben, bevor Sie den Hörer ein MPD232 der eigenen.
SONiVOX
Conclusion
Als Controller, ich denke, die MPC232 ist ein wirklich nettes Kauf. Die Pads, die Fader, die Tasten und der Aufbau, abgesehen von den Fadern, sind eine wahre Freude zu bedienen und ernsthaft reagiert. Ich mag in der Lage, mit Ableton es zu kontrollieren, und es
Allerdings, wenn Sie rein suchen für
Preis: 299 $
Pros: Schöne LEDs, schön gebaut, sehr entgegenkommend und hat ein paar coole zusätzliche Funktionen wie Full Level, Note Repeat, MPC-Grundlagen, viele Beispiele und können eigenständige Arbeit, und mit iOS-Geräten.
Nachteile: Step-Sequenzer können Muster in der Hardware nicht zu speichern. Installation der Software kann ein wenig frustrierend sein, insbesondere, wenn Seriennummern betroffen sind.