Step sequencer stanno mostrando in tutto il luogo, ora che l'annata, sintetizzatore rinascita è in pieno svolgimento. Di conseguenza, un sacco di nuove e vecchie società di scuola stanno saltando in azione. Akai ha proposto una soluzione molto fresco per aiutare a soddisfare entrambi i mondi con una nuova, controller USB con i leggendari pastiglie MPC Akai Pro è conosciuto per, insieme a uno step sequencer molto lisci che funziona sia nel vostro computer, e al di fuori di esso ... wven sul dispositivo iOS.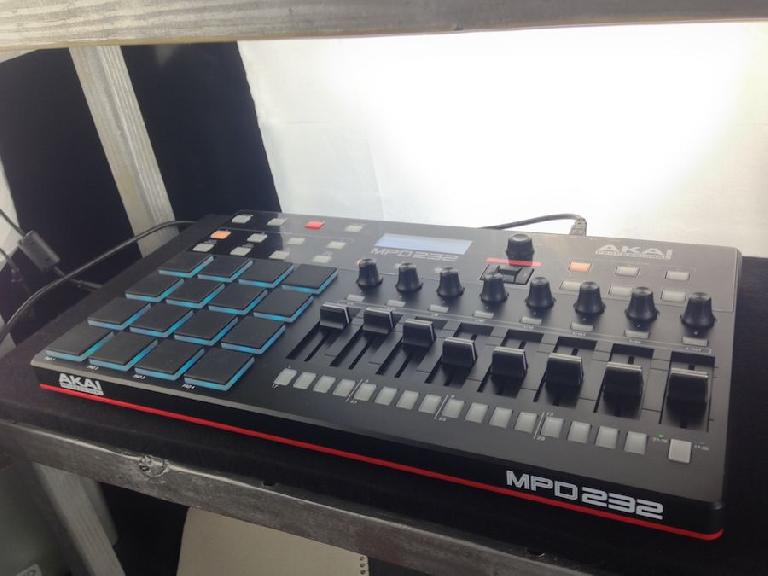 Getting Down with the 232
L'installazione non è un gioco da ragazzi, almeno dove Ableton era preoccupato. Come tutti i nuovi Akai MPDs, il MPD232 è stato istituito, non appena è stato acceso e collegato al mio computer portatile, mentre Ableton Live è in esecuzione. Una volta dentro, sono stato accolto a un'altra impostazione di mappaggio meraviglioso. Gli otto potenziometri vengono mappati a Filter Cutoff, Sample Start, Lunghezza, e così via, automaticamente, quando un Drum Rack è in su, in modo particolarmente delizioso. Questo ha reso le cose divertenti da modificare, una volta che ho iniziato a ricevere per esso con lo step sequencer (più su quello a breve). Anche se, questo è stato solo freddo se si stesse utilizzando un tamburo alla volta. Fuoco Sequencer passa come un tamburo diverso viene azionato dall'interno del pattern sequencer, di volta in volta. Questo rende molto facile da modificare accidentalmente altri tamburi nel rack, ottenendo un suono non si può decidere.
Ho scelto di impostare il MPD232 come sorgente di clock, in modo da poter usare il pulsante Tap Tempo per aiutare a ottenere il tempo in cui ho sentito nella mia testa. E, anche solo per ottenere la piena esperienza MPD. Una volta che il tempo è stato istituito, ho cominciato a scendere con i pad che sono esattamente come le pastiglie corrispondente rientra nella MPD218 e MPD226.
Come la 226, le pastiglie MPD232 sono costantemente illuminati, e il cambiamento di colore quando premuto, o quando il Pad Banks A
Note Repeat è anche un grande successo con me, pure. Quando si desidera riff e e giocare è molto utile.
Livello completa, per esempio, fa sì che il MPD232 di inviare solo la più alta velocità dalle pastiglie, indipendentemente dalla forza si colpisce. Io stesso, uso questo uno molto per stabilire il ritmo principale (calcio e militare), e poi la disattivazione in un secondo momento, quando voglio prestazioni più dinamici con l'hi-hat, e altri campioni che non si può decidere pienamente in faccia .
Note Repeat è anche un grande successo con me, pure. Esso
Durability
Pad, tasti e potenziometri siano saldamente in posizione, e mi ha dato molta fiducia per l'assunzione di questo dispositivo sulla strada, ad eccezione dei fader. Questi sono gli stessi fader utilizzati sul MPD262, e mentre si muovono come seta, sono un po 'traballante e sentire come si potrebbe facilmente rompere fuori in uno zaino stretto. Là
Sequencer
Ho un sacco di sentimenti contrastanti sul sequencer. Mentre mi piace molto lo scorrimento 808-ish e l'editor stile microscopio incorporato (trovato in Seq modalità Modifica), ho trovato sorta di frustrante che posso
Questa è una specie di fastidioso come il 232 è dotato di un built-in DC IN. Significato: È possibile utilizzare un adattatore di corrente continua, ed eseguire il MPD232 come dispositivo autonomo.
Quindi, in sostanza, abbiamo un controllo molto attrezzato che viene con un MIDI Out e MIDI IN (attraverso incluso 1/8
La creazione di modelli in tempo passo, o la registrazione in tempo reale via SEQ REC può creare alcuni risultati divertenti.
Il sequencer permette anche di rapide transizioni tra le Divisioni volta utilizzando il tasto TIME DIV. Non solo è possibile controllare le divisioni di tempo di Note Repeat, ma è anche possibile passare rapidamente tra le divisioni di tempo con te sequenza di pattern, pure.
Software
Il MPD232, come gli altri dispositivi della linea di MPD è dotato di una grande quantità di software di terze parti. Ableton Live Luce è inclusa, per i nuovi musicisti / dj che non possono avere una DAW con cui lavorare, inizialmente. MPC Essentials Pro è incluso così, per coloro che avrebbero scelto di fare musica il modo Akai. Stranamente, Essentials non avrebbero accettato il mio numero di serie per il MPD232. Speriamo, ottengono questo fisso prima di prendere una MPD232 di tua scelta.
SONiVOX
Conclusion
Come un controller, penso che il MPC232 è davvero un bel acquisto. I pad, i fader, i pulsanti e la formazione, a parte i fader, sono un vero piacere da usare e sono seriamente reattivo. Mi piace essere in grado di controllare Ableton con esso, e
Tuttavia, se siete alla ricerca esclusivamente per
Prezzo: 299 $
Pro: Bei LED, bello costruire, molto reattivo e ha alcune funzioni interessanti extra, come Full Level, Note Repeat, MPC Essentials, un sacco di campioni, e può lavorare autonomo, e con i dispositivi iOS.
Contro: step sequencer non può memorizzare i modelli in hardware. L'installazione del software può essere un po 'frustrante, soprattutto quando i numeri di serie sono interessati.