Secuenciadores por pasos están apareciendo por todo el lugar, ahora que el vintage, renacimiento sintetizador es totalmente en marcha. Como resultado, una gran cantidad de nuevos y viejos empresas escolares están saltando en la acción. Akai ha propuesto una solución muy fresco para ayudar en la satisfacción de ambos mundos con un controlador USB nuevo con los pads MPC legendarios Akai Pro es conocida, junto con un secuenciador por pasos muy pulido que funciona tanto en su ordenador, y fuera de ella ... wven en tu dispositivo iOS.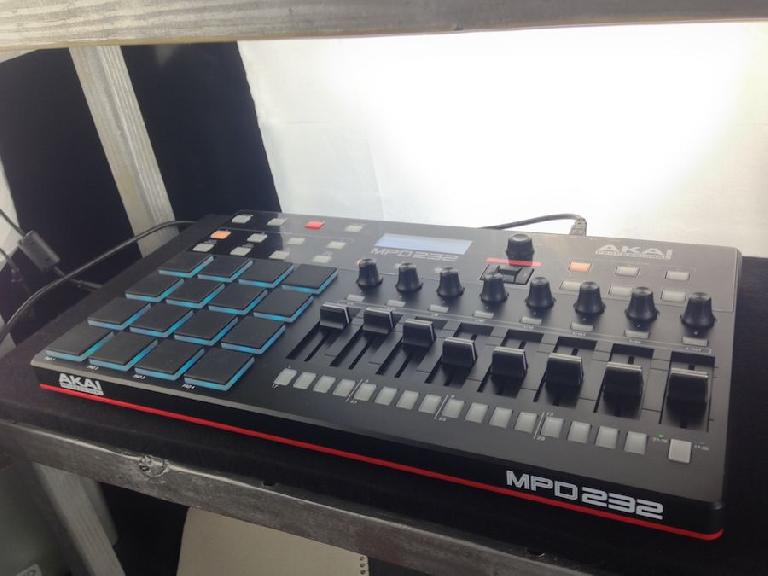 Getting Down with the 232
El programa de instalación de una brisa, al menos cuando Ableton se refiere. Como todos los de la nueva Akai MPD, el MPD232 se creó tan pronto como se enciende, y conectado a mi ordenador portátil, mientras que Ableton Live corría. Una vez dentro, me dio la bienvenida a otra configuración maravillosa mapeo. Los ocho potenciómetros se asignan a Filter Cutoff, Muestra en Inicio, Longitud, y así sucesivamente, de forma automática, cuando un Drum Rack está para arriba, de una manera particularmente encantador. Esto hizo que las cosas divertidas para modificar, una vez que empecé a recibir a ella con el secuenciador por pasos (más sobre esto en breve). Sin embargo, esto sólo era genial si estuviera utilizando un tambor a la vez. Enfoque secuenciador cambia como un tambor diferente se dispara desde dentro del secuenciador de patrones, cada vez. Esto hace que sea muy fácil de modificar accidentalmente otros tambores en el rack, logrando un sonido puede que no desee.
Elegí para configurar el MPD232 como fuente de reloj, por lo que podría utilizar el botón Tap Tempo para ayudarle a obtener el ritmo de juego, donde lo oí en mi cabeza. Y, también sólo para obtener la experiencia completa MPD. Una vez que el tempo se creó, empecé a recibir abajo con las almohadillas que son exactamente igual que las pastillas se incluyen con el MPD218 y MPD226.
Al igual que el 226, las almohadillas MPD232 están constantemente iluminados, y el cambio de color cuando se presionan, o cuando el cojín Banks
Note Repeat es también un gran éxito conmigo, también. Cuando desee riff y y juega con él es muy útil.
Nivel completo, por ejemplo, hace que el MPD232 enviar solamente la velocidad más alta de las almohadillas, sin importar lo difícil de llegar. Yo mismo utilizo éste mucho para establecer el ritmo principal (bombo y la caja), y luego desactivarlo después, cuando quiero actuaciones más dinámicas con el hi-hat y otras muestras de que es posible que no quieran plenamente en su cara .
Note Repeat es también un gran éxito conmigo, también. Ello
Durability
Pad, botones y potenciómetros están en su lugar, y me dio mucha confianza para la toma de este dispositivo en la carretera, con excepción de los faders. Estos son los mismos faders utilizados en la MPD262, y mientras se mueven como la seda, que son un poco tambaleante y sienten que podrían fácilmente busto fuera en una mochila apretada. Ya está
Sequencer
Tengo un montón de sentimientos encontrados sobre el secuenciador. Aunque me gusta mucho el desplazamiento 808-ish y el editor de estilo microscopio incorporado (que se encuentra en modo de edición Sec), me pareció un poco frustrante que puedo
Esto es un poco irritante como el 232 viene equipado con un built-in DC IN. Significado: Se puede utilizar un adaptador de CC, y ejecutar el MPD232 como un dispositivo independiente.
Así que, esencialmente, tenemos un controlador muy equipada que viene con una salida MIDI y MIDI IN (a través incluido 08.01
Creación de patrones en el tiempo paso, o grabar en tiempo real a través de la SEC REC puede crear algunos resultados divertidos.
El secuenciador también permite transiciones rápidas entre divisiones de tiempo utilizando el botón DIV TIEMPO. No sólo se puede controlar las divisiones de tiempo de repetición de nota, pero también se puede cambiar rápidamente entre las divisiones de tiempo con ustedes secuencia de patrones, también.
Software
El MPD232, al igual que los otros dispositivos en la línea MPD viene con una gran cantidad de software de terceros. Ableton Live Luz se incluye, para los nuevos músicos / DJs que pueden no tener un DAW para trabajar, inicialmente. MPC Esencial Pro se incluye también, para aquellos que elegirían hacer música la manera Akai. Extrañamente, Essentials no aceptarían mi número de serie para el MPD232. Con suerte, consiguen esta fijo antes de coger un MPD232 de su cuenta.
SONiVOX
Conclusion
Como controlador, creo que el MPC232 es una compra muy agradable. Las almohadillas, los deslizadores, los botones y la construcción, además de los faders, son un verdadero placer de usar y están seriamente sensible. Me gusta ser capaz de controlar Ableton con ella, y
Sin embargo, si usted está buscando simplemente por
Precio: $ 299
Pros: Beautiful LEDs, bonita construcción, muy sensible y tiene algunas características interesantes extras como Nivel completo, Note Repeat, MPC Essentials, un montón de muestras, y puede trabajar independiente, y con los dispositivos iOS.
Contras: Paso secuenciador no puede almacenar los patrones en el hardware. La instalación del software puede ser un poco frustrante, especialmente cuando los números de serie se refiere.