Passo sequenciadores estão aparecendo em todo o lugar, agora que o vintage, sintetizador avivamento é totalmente em andamento. Como resultado, muitas empresas novas e antigas escolas estão saltando em ação. Akai propôs uma solução muito legal para ajudar a satisfazer dois mundos com um novo controlador USB com o lendário almofadas MPC Akai Pro é conhecida, juntamente com um seqüenciador passo muito liso que funciona tanto em seu computador, e fora dela ... wven no seu dispositivo iOS.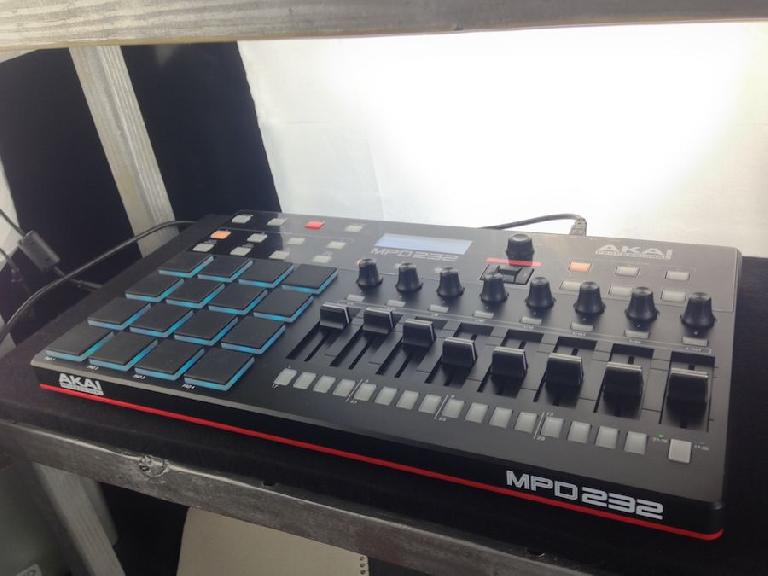 Getting Down with the 232
Setup foi uma brisa, pelo menos quando Ableton estava em causa. Como todos os da nova Akai MPDs, o MPD232 foi criado assim que foi ligado, e conectado ao meu laptop, enquanto o Ableton Live estava correndo. Uma vez lá dentro, eu estava recebidos para outra configuração de mapeamento maravilhoso. Os oito potenciômetros são mapeados para Filter Cutoff, Sample Start, Length, e assim por diante, de forma automática, quando um Drum Rack é para cima, de uma forma particularmente delicioso. Isso fez com que as coisas divertidas para ajustar, uma vez que eu comecei a ficar nele com o seqüenciador passo (mais sobre isso em breve). No entanto, este foi apenas legal se você estivesse usando um cilindro de cada vez. Sequenciador de foco muda como um tambor diferente é disparada a partir do sequenciador de padrões, de cada vez. Isto torna muito fácil de modificar acidentalmente outros tambores em seu rack, conseguindo um som que você pode não querer.
Eu fui eleito para configurar o MPD232 como a fonte do relógio, para que eu pudesse usar o botão Tap Tempo para auxiliar na obtenção do ritmo onde ouvi isso na minha cabeça. E, também só para ter a experiência completa MPD. Uma vez ritmo foi criado, eu comecei a ficar para baixo com as almofadas que são exatamente como as pastilhas de ser incluído com o MPD218 e MPD226.
Tal como o 226, as almofadas MPD232 estão constantemente iluminado, e mudam de cor quando pressionado, ou quando o Pad Banks A
Note Repeat também é um grande sucesso comigo, também. Quando você quiser riff e jogá-lo e vem em muito acessível.
Nível completo, por exemplo, faz com que o MPD232 apenas para enviar a maior velocidade das almofadas, independentemente de quão duro você bate. Eu, pessoalmente, use este muito para que institui a página beat (bumbo e caixa), e, em seguida, desativá-lo mais tarde, quando eu quero performances mais dinâmicas com o oi-hat, e outras amostras que você não pode querer plenamente na sua cara .
Note Repeat também é um grande sucesso comigo, também. isto
Durability
Almofadas, botões e potenciômetros estão firmemente no lugar, e me deu muita confiança para tomar este dispositivo na estrada, com excepção dos faders. Estes são os mesmos faders utilizados na MPD262, e enquanto eles se movem como a seda, eles são um pouco vacilante e sentir como eles poderiam facilmente busto fora em uma mochila apertado. Lá
Sequencer
Eu tenho um monte de sentimentos mistos sobre o seqüenciador. Enquanto eu realmente aproveitar a rolagem 808-ish eo editor de estilo microscópio built-in (encontrado em Seq modo de edição), eu achei meio frustrante que eu puder
Este é tipo de irritante como o 232 vem equipado com um built-in DC IN. Significado: Você pode usar um adaptador DC, e executar o MPD232 como um dispositivo autônomo.
Então, essencialmente, temos um controlador muito totalmente equipada, que vem com um MIDI Out e MIDI IN (através incluídos 1/8
Criação de padrões em tempo passo, ou a gravação em tempo real via SEQ REC pode criar alguns resultados divertidos.
O seqüenciador também permite transições rápidas entre divisões de tempo utilizando o botão DIV TIME. Não apenas você pode controlar as divisões de tempo da Nota Repita, mas você também pode alternar rapidamente entre divisões de tempo com você seqüência padrão, também.
Software
O MPD232, como os outros dispositivos na linha MPD vem com uma grande oferta de software de terceiros. Ableton Live Luz está incluído, para novos músicos / DJs que podem não ter um DAW para trabalhar, inicialmente. MPC Essentials Pro está incluído, bem como, para aqueles que iria escolher fazer música do jeito Akai. Estranhamente, o Essentials não aceitar o meu número de série para o MPD232. Felizmente, eles obter este corrigido antes de pegar um MPD232 de seu próprio país.
Sonivox
Conclusion
Como um controlador, acho que o MPC232 é realmente um nice compra. As almofadas, os faders, os botões eo de construção, além dos faders, são um verdadeiro prazer de usar e estão seriamente responsivo. Eu gosto de ser capaz de controlar Ableton com ele, e ele
No entanto, se você está procurando apenas para
Preço: $ 299
Prós: LEDs bonito, agradável de compilação, muito sensível e tem alguns recursos extras interessantes, como nível máximo, Note Repeat, MPC Essentials, os lotes de amostras, e pode trabalhar autônomo, e com dispositivos iOS.
Contras: Passo sequenciador não pode armazenar padrões de hardware. Instalação de software pode ser um pouco frustrante, especialmente onde os números de série estão em causa.