Step Sequencers are showing up all over the place, now that the vintage, synthesizer revival is fully underway. As a result, lots of new and old school companies are jumping in on the action. Akai has proposed a very cool solution to assist in satisfying both worlds with a new, USB controller with the legendary MPC pads Akai Pro is known for, along with a very slick step sequencer that works both in your computer, and outside of it... wven on your iOS device.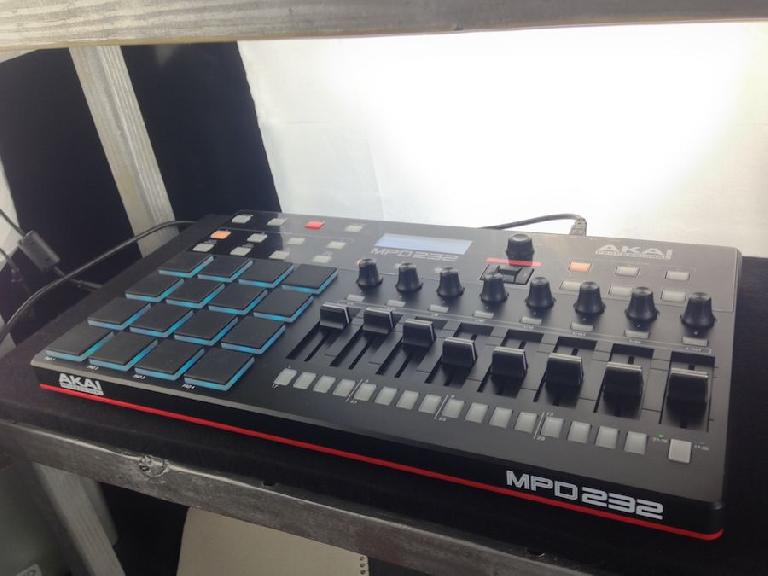 Getting Down with the 232
Setup was a breeze, at least where Ableton was concerned. Like all of the new Akai MPDs, the MPD232 was set up as soon as it was turned on, and connected to my laptop, while Ableton Live was running. Once inside, I was greeted to another wonderful mapping setup. The eight potentiometers are mapped to Filter Cutoff, Sample Start, Length, and so on, automatically, when a Drum Rack is up, in a particularly delightful manner. This made things fun to tweak, once I started getting in to it with the step sequencer (more on that soon). Though, this was only cool if you were using one drum at a time. Sequencer focus switches as a different drum is triggered from within the sequencer pattern, each time. This makes it very easy to accidentally modify other drums in your rack, achieving a sound you may not want.
I elected to set up the MPD232 as the clock source, so that I could use the Tap Tempo button to assist in getting the tempo where I heard it in my head. And, also just to get the full MPD experience. Once tempo was set up, I started getting down with the Pads which are exactly like the pads being included with the MPD218 and MPD226.
Like the 226, the MPD232 pads are constantly illuminated, and change color when pressed, or when the Pad Banks A–D are switched out. They also sport the Full Level, Note Repeat and 16 Level Buttons, which really help out in certain situations.
Note Repeat is also a big hit with me, as well. When you want to riff and and play it comes in very handy.
Full Level, for example, causes the MPD232 to only send the highest velocity from the pads, regardless of how hard you hit. I, myself, use this one a lot for establishing the main beat (kick and snare), and then disabling it later, when I want more dynamic performances with the hi-hat, and other samples that you may not want fully in your face.
Note Repeat is also a big hit with me, as well. It's not a real arpeggiator, but when you want to riff and and play in some time signatures in a way that you may not normally be able to pull off, it comes in very handy.
Durability
Pads, buttons and potentiometers are securely in place, and gave me a lot of confidence for taking this device on the road, with exception of the faders. These are the same faders used on the MPD262, and while they move like silk, they are a little wobbly and feel like they could easily bust off in a tight backpack. There's no real worry, here, but if you pick one up, just keep an eye out.
Sequencer
I have a lot of mixed feelings on the sequencer. While I really enjoy the 808-ish scrolling and the built-in microscope style editor (found in Seq Edit mode), I found it kind of frustrating that I can't save any patterns! Nowhere in the manual does it have any advice for how this can be done.
This is kind of irritating as the 232 comes equipped with a built-in DC IN. Meaning: You can use a DC adapter, and run the MPD232 as a standalone device.
So, essentially, we have a very fully equipped controller that comes with a MIDI Out and MIDI IN (through included 1/8" to 5 Pin Din Adapters), that has a built-in sequencer. But, you can only create one sequence at a time. And, when the sequence/pattern is deleted, or the MPD is turned off, the pattern goes away... unless you saved it as MIDI in a DAW. If you're willing to overlook this, then you'll have some fun. Creating patterns in step time, or recording in real time via SEQ REC can create some fun results, especially, when you start adding in some Note Repeat, and some funky, fine samples.
Creating patterns in step time, or recording in real time via SEQ REC can create some fun results.
The sequencer also allows quick transitions between Time Divisions using the TIME DIV button. Not only can you control the time divisions of Note Repeat, but you can also switch quickly between time divisions with you pattern sequence, as well.
Software
The MPD232, like the other devices in the MPD line comes with a large supply of third-party software. Ableton Live Light is included, for new musicians/DJs that may not have a DAW to work with, initially. MPC Essentials Pro is included as well, for those who would choose making music the Akai way. Strangely, Essentials would not accept my serial number for the MPD232. Hopefully, they get this fixed before you pick up an MPD232 of your own.
SONiVOX Big Bang Drums 2 and SONiVOX Big Bang Cinema Percussion 2 are both included, so you'll get a very nice library of percussive instruments and drums, right off the bat.
Conclusion
As a controller, I think the MPC232 is a really nice purchase. The pads, the faders, the buttons and the build, aside from the faders, are a real pleasure to use and are seriously responsive. I like being able to control Ableton with it, and it's really one of the first transports, outside of the good old QWERTY keyboard that I found myself wanting to use instead. The regular buttons just feel like the old MPC buttons, and I'm not even talking about the pads. I just appreciate the construction and the seeming reliability.
However, if you're looking purely for a standalone sequencer, the MPD232 might not be your first choice. Its sequencer really seems like it's intended as more of an additional feature, rather than a stand-out one. Because there is no way to store patterns, you're going to be constantly building up sequences from scratch.
Price: $299
Pros: Beautiful LEDs, nice build, very responsive and has some cool extra features like Full Level, Note Repeat, MPC Essentials, lots of samples, and can work standalone, and with iOS devices.
Cons: Step sequencer cannot store patterns in hardware. Software installation can be a little frustrating, especially where serial numbers are concerned.