Есть куча виртуальных инструментов там, что преуспеть в любом количестве задач. Но одна вещь, которую я заметил, что всегда будет один плагин, который начнет тенденцию, тогда не будет сотни других плагинов, которые выйдут сразу после, чтобы попытаться лучше, или по крайней мере конкурировать с оригинальный плагин.
Microtonic является одним из моды, и на мой взгляд, до сих пор даже не мелкий конкуренции. Назвать это просто драм-машина действительно было бы обидно, потому что это намного больше чем это.
Конечно, это первая основная функция заключается на основе шаблонов машины перкуссия, которые могут быть вызваны в режиме реального времени, а также. Но, где большинство на основе шаблонов драм-машин стараются выглядеть как старый, старинный драм-машина, Microtonic делает никаких попыток: это то, что это такое.
It's second main function is where, in my opinion, it really, really shines. This is the ability to quickly and easily create percussion sounds of your own. You don't even need experience with synthesis, it's laid out in a very, very simple manner with large dials, and pulsing lights.

It really could be more than enough with just what's listed above, a reliable synth-based percussion module, but it goes even farther.
Within the last 2 releases of Microtonic, it is slowly becoming it's own program. And, personally, I think it should have a stand-alone version one day. In the last 2 versions, Microtonic has grown with the ability to have more complex MIDI routings, and accept more kinds of MIDI messages.
Also, there is a new Morph slider that will truly blow your mind. You can actually morph between different drum edits of your set in real-time. This creates a whole new twist on rhythm creation, as the sounds are literally changing as the drums are pounding out. This is extremely cool when mixed with the new Edit All command that allows you to edit functions like distortion across the whole kit.
Там в новом редакторе Матрица также, что позволяет редактировать все 8 барабанах одновременно. Это немаловажный того, как он позволяет быстро выбить моделей без необходимости переключения между различными каналами барабан. Престижность большого времени на это.
Also, you can directly copy Patternarium patterns in to Microtonic. But, not only do you get the patterns, you get the sound too! As Patternarium is a constantly evolving drum loop/sound library, you reap the benefits with Microtonic. You can either use these constantly generating loops in your own songs, or modify them until they work perfectly. Alternatively, simply use the drum kits for new patterns, with the added possibility of saving individual sounds from the downloaded kits. It's truly incredible, and so far ahead of it's time that most don't get the coolness.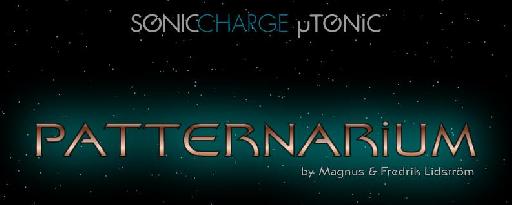 Here's one new feature that I should mention right now for those of you who have never tried Microtonic. There is a new trial system that allows you to use Microtonic unhindered for 3 weeks! The weeks of use are only counted as you use Microtonic, too, so what are you waiting for?
PS Microtonic вряд ли даже делает брешь в вашем процессор! Это загрузка процессора очень мала! Вы можете скачать его здесь .
Проверьте этот учебник о синтезе .