Há toneladas de instrumentos virtuais por aí que se destacam em qualquer número de tarefas. Mas uma coisa que eu notei é que sempre haverá um plug-in que irá iniciar uma tendência, em seguida, haverá centenas de outros plug-ins que vai sair logo após tentar melhor, ou pelo menos competir com os originais plug-in.
Microtonic é um dos formadores de opinião, e na minha opinião, ainda é, mesmo sem a concorrência menor. Chamá-lo apenas uma máquina de tambor seria realmente um insulto, porque é muito mais do que isso.
Concedido, a primeira função principal é um padrão baseado em máquina de percussão, que pode ser acionado em tempo real também. Mas, onde a maioria baseada em padrões drum machines tentar olhar como uma velha máquina de tambor, vintage, Microtonic não faz nenhuma tentativa qualquer: é o que é.
It's second main function is where, in my opinion, it really, really shines. This is the ability to quickly and easily create percussion sounds of your own. You don't even need experience with synthesis, it's laid out in a very, very simple manner with large dials, and pulsing lights.

It really could be more than enough with just what's listed above, a reliable synth-based percussion module, but it goes even farther.
Within the last 2 releases of Microtonic, it is slowly becoming it's own program. And, personally, I think it should have a stand-alone version one day. In the last 2 versions, Microtonic has grown with the ability to have more complex MIDI routings, and accept more kinds of MIDI messages.
Also, there is a new Morph slider that will truly blow your mind. You can actually morph between different drum edits of your set in real-time. This creates a whole new twist on rhythm creation, as the sounds are literally changing as the drums are pounding out. This is extremely cool when mixed with the new Edit All command that allows you to edit functions like distortion across the whole kit.
Há um editor Matrix novos, bem que lhe permite editar todos os 8 cilindros simultaneamente. Este não é um pequeno acréscimo, já que permite que você rapidamente knock out padrões sem ter de alternar entre os canais de tambor diferente. Kudos tempo grande em um presente.
Also, you can directly copy Patternarium patterns in to Microtonic. But, not only do you get the patterns, you get the sound too! As Patternarium is a constantly evolving drum loop/sound library, you reap the benefits with Microtonic. You can either use these constantly generating loops in your own songs, or modify them until they work perfectly. Alternatively, simply use the drum kits for new patterns, with the added possibility of saving individual sounds from the downloaded kits. It's truly incredible, and so far ahead of it's time that most don't get the coolness.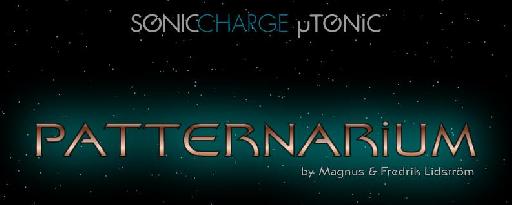 Here's one new feature that I should mention right now for those of you who have never tried Microtonic. There is a new trial system that allows you to use Microtonic unhindered for 3 weeks! The weeks of use are only counted as you use Microtonic, too, so what are you waiting for?
PS Microtonic nem sequer faz um dente em seu processador! É o uso da CPU é pequena! Você pode baixá-lo aqui .
Confira este tutorial em Síntese .