Hay un montón de instrumentos virtuales que hay que destacar en cualquier número de tareas. Pero una cosa que he notado es que siempre habrá un plug-in que se iniciará una tendencia, entonces habrá cientos de plug-ins que van a salir inmediatamente después de tratar de mejorar, o al menos competir con los original de plug-in.
Microtonic es una de las tendencias, y en mi opinión, todavía sin la competencia de menor importancia. Para llamar simplemente una caja de ritmos realmente un insulto, porque es mucho más que eso.
Por supuesto, es la primera función principal es un modelo basado en la máquina de percusión, que se pueden activar en tiempo real también. Sin embargo, donde la mayoría basadas en patrones cajas de ritmos tratar de verse como una máquina antigua, tambor vintage, Microtonic no intenta en absoluto: es lo que es.
It's second main function is where, in my opinion, it really, really shines. This is the ability to quickly and easily create percussion sounds of your own. You don't even need experience with synthesis, it's laid out in a very, very simple manner with large dials, and pulsing lights.

It really could be more than enough with just what's listed above, a reliable synth-based percussion module, but it goes even farther.
Within the last 2 releases of Microtonic, it is slowly becoming it's own program. And, personally, I think it should have a stand-alone version one day. In the last 2 versions, Microtonic has grown with the ability to have more complex MIDI routings, and accept more kinds of MIDI messages.
Also, there is a new Morph slider that will truly blow your mind. You can actually morph between different drum edits of your set in real-time. This creates a whole new twist on rhythm creation, as the sounds are literally changing as the drums are pounding out. This is extremely cool when mixed with the new Edit All command that allows you to edit functions like distortion across the whole kit.
Hay un nuevo editor de Matrix, así que te permite editar los 8 tambores al mismo tiempo. Esto no es una pequeña adición, ya que le permite sofocar rápidamente los patrones sin tener que cambiar entre canales de tambor diferente. Felicitaciones a lo grande en este caso.
Also, you can directly copy Patternarium patterns in to Microtonic. But, not only do you get the patterns, you get the sound too! As Patternarium is a constantly evolving drum loop/sound library, you reap the benefits with Microtonic. You can either use these constantly generating loops in your own songs, or modify them until they work perfectly. Alternatively, simply use the drum kits for new patterns, with the added possibility of saving individual sounds from the downloaded kits. It's truly incredible, and so far ahead of it's time that most don't get the coolness.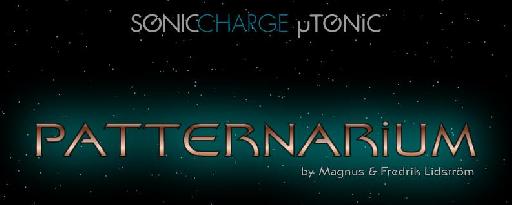 Here's one new feature that I should mention right now for those of you who have never tried Microtonic. There is a new trial system that allows you to use Microtonic unhindered for 3 weeks! The weeks of use are only counted as you use Microtonic, too, so what are you waiting for?
PS Microtonic casi no hace mella en el procesador! Es el uso de CPU es muy pequeño! Puede descargarlo aquí .
Echa un vistazo a este tutorial sobre síntesis .