Ci sono tonnellate di strumenti virtuali là fuori che si distinguono in un qualsiasi numero di compiti. Ma una cosa che ho notato è che ci sarà sempre un plug-in che inizierà un trend, allora ci saranno centinaia di altri plug-in che uscirà subito dopo per cercare di migliorare, o almeno competere con i plug-in originale.
Microtonic è uno dei trendsetter, e a mio parere, è ancora senza concorrenza minori. Per chiamare semplicemente una drum machine sarebbe davvero offensivo, perché è molto di più.
Certo, è la prima funzione principale è un modello basato su macchina a percussione, che può essere attivato in tempo reale pure. Ma, dove la maggior parte drum machine pattern-based prova a guardare come un vecchio, drum machine vintage, Microtonic non fa alcun tentativo di sorta: è quello che è.
It's second main function is where, in my opinion, it really, really shines. This is the ability to quickly and easily create percussion sounds of your own. You don't even need experience with synthesis, it's laid out in a very, very simple manner with large dials, and pulsing lights.

It really could be more than enough with just what's listed above, a reliable synth-based percussion module, but it goes even farther.
Within the last 2 releases of Microtonic, it is slowly becoming it's own program. And, personally, I think it should have a stand-alone version one day. In the last 2 versions, Microtonic has grown with the ability to have more complex MIDI routings, and accept more kinds of MIDI messages.
Also, there is a new Morph slider that will truly blow your mind. You can actually morph between different drum edits of your set in real-time. This creates a whole new twist on rhythm creation, as the sounds are literally changing as the drums are pounding out. This is extremely cool when mixed with the new Edit All command that allows you to edit functions like distortion across the whole kit.
C'è un nuovo editor di Matrix e che permette di modificare tutti gli 8 batterie contemporaneamente. Questa non è una piccola aggiunta, in quanto consente a battere rapidamente i modelli senza dover passare da un canale diverso tamburo. Kudos alla grande su questo.
Also, you can directly copy Patternarium patterns in to Microtonic. But, not only do you get the patterns, you get the sound too! As Patternarium is a constantly evolving drum loop/sound library, you reap the benefits with Microtonic. You can either use these constantly generating loops in your own songs, or modify them until they work perfectly. Alternatively, simply use the drum kits for new patterns, with the added possibility of saving individual sounds from the downloaded kits. It's truly incredible, and so far ahead of it's time that most don't get the coolness.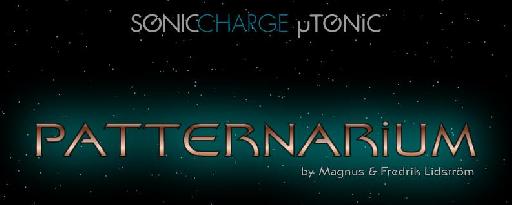 Here's one new feature that I should mention right now for those of you who have never tried Microtonic. There is a new trial system that allows you to use Microtonic unhindered for 3 weeks! The weeks of use are only counted as you use Microtonic, too, so what are you waiting for?
PS Microtonic poco fa anche una ammaccatura nel vostro processore! E 'l'utilizzo della CPU è molto piccolo! Potete scaricarlo qui .
Guardate questo tutorial sulla sintesi .